LM Thapar School of Management- Interview with Dr. Padmakumar Nair, Director on Admission, Cutoff, Placements
Established in 2007, LM Thapar School of Management (LMTSM) is ranked 54 in the NIRF India Rankings 2020: Management. It comes under the flagship of Thapar Institute of Engineering and Technology (Deemed-to be-University). Career360 interacted with Dr.Padmakumar Nair, Director, LM Thapar School of Management to get more details about the admission process, facilities available at campus, placements and why students should choose to study at LM Thapar School of Management. Read on excerpts from the interview below.
Latest - Admission Open Now, Apply Here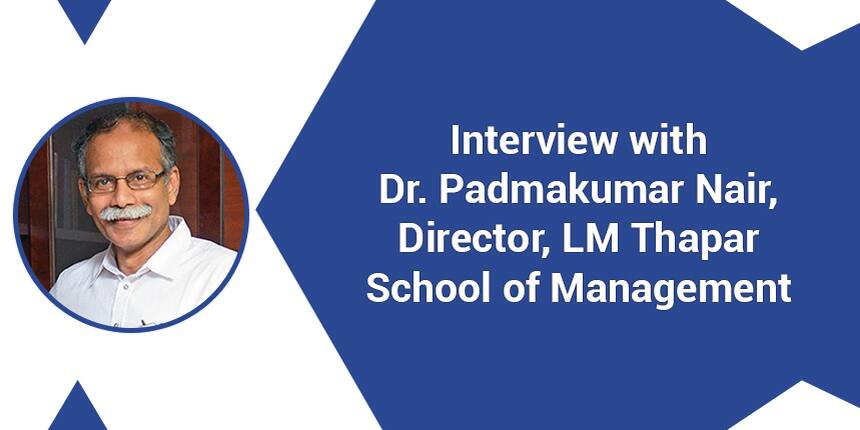 Careers360: Please elaborate about LM Thapar School of Management.
Dr. Padmakumar Nair: We have been in existence for the last 40 years as one of the leading engineering universities in India. Recently we are also ranked number 1 private university in the country by the Times Higher Education (THE). Also, Thapar's Computer Scienceprogramme is one of the best in the country. If you look at our Business school, LM Thapar School of Management, we are about 14 years old and recently we got the intimation from AACSB. Our final report for accreditation has been accepted, only one progress report and a visit are left and we are sure that we will be accredited soon. Today Thapar University is not just an engineering University; we have solid economics, psychologyprogrammes. This year we have also founded the ThaparSchool of Liberal Arts and Sciences. We have faculty members from around the globe, so we can say that we have a diverse group of global scholars teaching all these programmes.
6 min read
Apr 07, 2022
Read More
8 min read
Mar 05, 2022
Read More
Careers360: Tell us about the admissions process, cutoffs and other important details that aspirants need to know to get admission.
Dr. Padmakumar Nair: Theadmission process at LM Thapar School of Managementis a bit long drawn. However, if the interviewer gets convinced that the students are unique and will enrich the learning experience of that group then they have a good chance of getting admitted to the university. So, we don't have a cutoff; it is always that composite performance that we look at.
Watch the full interview of Dr. Padmakumar Nair
Careers360: How diverse is the culture in the university?
Dr. Padmakumar Nair: We are extremely diversified when it comes to gender and religion. Talking about gender diversity, for the past three years we have 50-53 percent females; in fact, we have more females than males. On the disciplinary diversity front, we are doing extremity well. We have more non-engineering students than engineering ones. Geographical diversity - we are pan North India. We don't have that many students from the south but we are open to having students from all regions and religions of the world.
Careers360: What is the mission of the University?
Dr. Padmakumar Nair: Our mission statement has four important pillars- global sensitivity, excellence seeking, a social entrepreneurial mindset and true professionalism. The idea is that what is good for the corporation, should be good for the community, country and the world at large. A true professional would be someone who would be seeking excellence. So, these four pillars are very important for us.
Careers360: What are the hostel facilities offered at the campus?
Dr. Padmakumar Nair: Our campus andinfrastructure is far better than other universities across the world. I can say that our campus is like a 3 plus star hotel. Also, I would like to highlight that we are very particular about keeping our campus clean. We have a lush green and clean campus.
Careers360: What are the locational advantages to the students studying at the university?
Dr. Padmakumar Nair: While location is very important, more important is innovative curriculum, excellence seeking pedagogyand so on. Chandigarh airport is about 35 minutes away from our business school. Location apart, we are very dynamic with respect to designing curriculum pedagogy. If I look at the last five years, we have top class professors coming from all over the world to teach here.
Careers360: Kindly throw some light on placements at LM Thapar School of Management.
Dr. Padmakumar Nair:For the last five years it has always been more than 90 percent. Last year, the average salary was 7 lakhs and the highest was about 14 to16 lakhs. The highest salary in the last five years was 24 lakhs but average salary has been fluctuating between 6 to 7 lakhs. Fortunately, COVID did not affect us that much in terms of placement. The only drawback during COVID was that the placement season got slightly extended.
Careers360: What kind of students should prefer LM Thapar School of Management?
Dr. Padmakumar Nair: Someone who is open minded, pro-social and emphatic is the right fit and a good preference. We would like to have students who have a good chance of becoming givers. A giver is not loser but is someone who would ultimately achieve a lot for himself/ herself, for the organization, and for the world. So, we encourage students who are open minded and have empathy. For us this is very important as we believe that empathy is a mother of excellence.
LM Thapar School of Management, Thapar Institute of Engineering and Technology, Dera Bassi Updates and Articles
Questions related to LM Thapar School of Management, Thapar Institute of Engineering and Technology, Dera Bassi
Showing 5 out of 5 Questions
LM Thapar School of Management, Thapar Institute of Engineering and Technology, Dera Bassi