How to crack GE-PI: Think and do out of the box which panellists would remember, says Manisha Joshi of MICA
How to crack GE PI: The uniqueness of MICA selection process lies in the fact that unlike other B-schools conducting Group Discussion or Writing Ability Test, but Group Exercise. Candidates appearing for the selection process have to appear for Group Exercise (GE) and Personal Interview (PI) rounds. In this series of how to crack GE-PI rounds, Manisha Joshi, a first year student of MICA mentions that she appeared in the GE-PI rounds twice and how she cracked the round in her second attempt.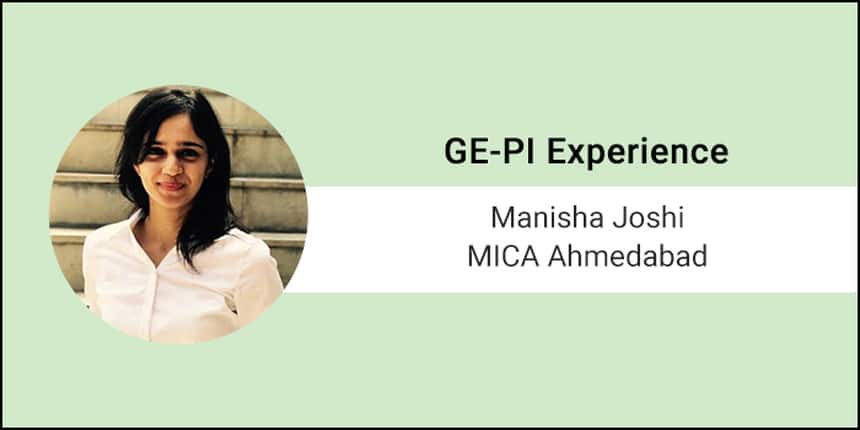 Manisha, an Economics graduate, was asked majority of the Personal Interview questions on her graduation subject and why she wanted to pursue PGDM in Communication from MICA along with drawing a correlation between Economics and Marketing. She also shares how she ideated and executed the Group Exercise topic by enacting a skit.
Excerpts from the interview.
Careers360: What was your topic or theme for Group Exercise and how many members were there?
Manisha: Our topic was "You are a group of MICANS and you have to go to a village in Rajasthan and educate the people about Government pension schemes. Most of the villagers are above the age of 60 and are illiterate. Enact a skit to depict the entire scenario." There were eight members, three girls and five boys.
Careers360: What was your approach towards the topic? How much did you contribute in your GE?
Manisha: My approach was to think out of the box and do something which the panellists would remember. Also while ideating and deliberating with the team, I ensured that we read the problem statement multiple times every now and then.
I played the scribe, the time keeper and the overall coordinator. I came up with three innovative solutions including a tag line, making the panellists laugh. 
Careers360: So what was the final outcome of the exercise and how was the overall experience?
Manisha: We enacted a well thought of play with a suicidal farmer and a distraught wife who is rescued by the micavaani team.  It was a fun activity. It was important to catch the attention of the panellists without over doing it. 
Careers360: How was your overall experience at MICA personal interview?
Manisha: My personal interview was a good mix of it being stressful and relaxing. There was a panel of three interviewers. One faculty, one alumni member and one industry expert.
I was tested on my confidence, my basic knowledge about my subjects (I have pursued my graduation in Economics). I was also asked questions around the likes and dislikes which I had filled in my form. I was very calm while answering all the questions.
Careers360: How was your interview experience at MICA vis a vis other B-schools?
Manisha: I have appeared for two interviews at MICA. The first one was a year ago and was purely a stress interview. I fumbled a lot and didn't know the answers to a lot of questions.
Prior to my this year's MICA interview I also gave an interview for IMT Ghaziabad. It was a fairly easy interview with very straightforward questions. The interview this year at MICA was the best one. The panellists observe you right from the time you enter the interview room. I greeted them and told them that this was my second attempt at MICA. They begun with few generic questions (Tell us something about yourself. Why MICA? Why Marketing?) and then moved on to specific ones. They asked me to name five things which made it to the newspaper that day. I listed four but they seemed satisfied. They asked me that if I were to teach at MICA (teaching was mentioned as one of my likes), then which method of teaching would I adopt and why. I was asked the GDP of India, the difference between GDP and GNP,  inflation, recession, giffen goods.
I was also asked to connect Economics and Marketing. I was able to do that easily since I was prepared for this question. I had also mentioned the importance of Economics in the field of marketing in my SOP. They also asked me that how has consumer behaviour changed in the last 10 years.
I was then asked a question around the committees of MICA. I told them that I would love to join MICAVaani. I was asked where do I see myself five years from now? Why do I want to get into market research? Why do I dislike melodramatic Hindi TV series? and what if, as a part of my job I would have to work alongside them? I told them that I would keep my personal biases far away from my work.
Careers360: Which questions were most difficult to answer and how did you tackle them?
Manisha: There was one point in the interview where they tried to grill me. I had written Interviews as one of my dislikes. One of the panellists asked me why do I dislike interviews, was it because I was always so underprepared for them? This caught me off guard. But then I realised it was just an act and I proceeded to tell them that in my opinion, in a group exercise the panellists can see a truer version of the candidates as opposed to in an interview where there is a desk which comes in between the candidate and the panellists and some amount of originality is lost as candidates become extremely formal and conscious. They seemed happy with this answer.
Careers360: How did you tackle questions which you couldn't answer?
Manisha: I was asked some factual questions around Economics (most of which I could answer) but there was a question around buying behaviour during inflation where I fumbled. However, I asked for a minute, and used a rough paper to write a few pointers. When I was still unable to come to a definite answer, I told them that I might need some more time and if they could ask me something else instead.
The panel wasn't rude. Two of them were poker faced and the third one was a little friendly. They quickly moved on to the next set of questions. 
Careers360: What were the most interesting questions you were asked? Please share your answers as well.
Manisha: Why MICA? I explained it to them using my own "camera theory". : If I want to become a professional photographer and I have to buy a camera device, I'll choose Canon over a Samsung camera for the simple reason that canon has been working only and only on making cameras for the last few decades. Therefore they are far more superior. Similarly, MICA has been focussing on marketing and communication since its inception.
I was asked, what were the three trends in consumer behaviour change over the last few years. I had linked my B.Sc. Economics with Consumer behaviour and marketing in my SOP. I was also asked why do I dislike interviews.
Careers360: How did you prepare yourself for PI?
Manisha: I did a lot of mock interviews and ensured that there is no place where I fumble on basic questions. I went through a lot of websites which has posted reviews and interview experiences with good B schools. I wrote a two minute write up about myself which covered everything there was to know about me.  
Careers360: What factors or qualities, you think the PI panel looks for in a candidate?
Manisha: The panellists test you on how well you know yourself, your clarity of thought, consistence in your answers, how do you handle stress and of course your general awareness. 
MICA, Ahmedabad Updates and Articles