Institute is exclusively focused on research, education and training, says Dr AJ Thomas, Director AIIM
Management courses have now come on the top of the list of every candidate to seek for studies after their graduation completion in order to seek a better career. Today every single student who is a graduate wants to seek admission for MBA courses particularly the IIMs, XLRI or any other top Bschools in India. However this is not possible that every candidate who is appearing in CAT will be able to fetch admission in them. Apart from the IIMs and other top class b-schools many other institutes are there who offer various management courses and have a good record in terms of both academics and placement. One of the colleges we are talking about is the Adani Institute of Infrastructure Management. While having an interview with the director all the necessary information about the institute like motto(vision and mission), admission process, infrastructure, institute's collaboration and many other information are discussed. Read the full article to get through all the information.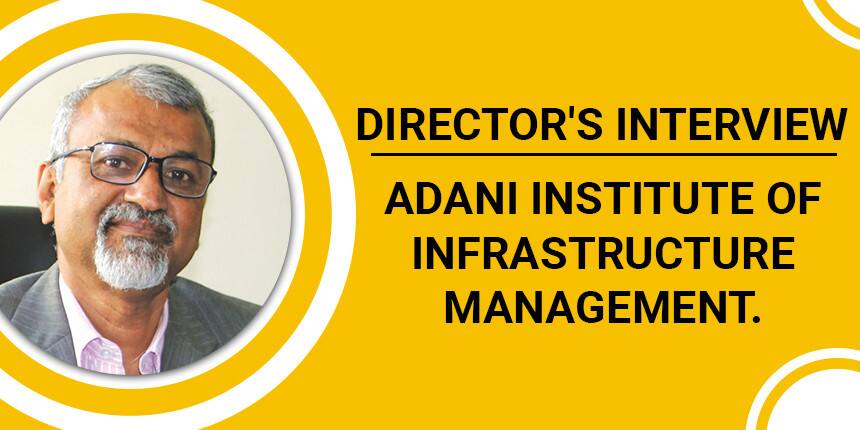 Careers 360: Tell us something about the institute; when it was set up, vision and mission
Dr AJ Thomas - Adani Group founded Adani Institute of Infrastructure Management (AIIM) in 2009 with a vision to establish an institution of excellence that provides world-class education and training to young professionals to shoulder managerial responsibilities in the infrastructure sector. AIIM is India's pioneering institute exclusively focused on research, education and training in the field of infrastructure management. It aims to create a pool of nation-builders and future business leaders. We aim to educate and groom students into trained professional managers who wish to take leadership positions in the infrastructure sector, with a unique blend of strong conceptual, analytical, and decision-making abilities.
Careers360: Tell us something about the admission process
Dr AJ Thomas - AIIM seeks bright, capable, motivated students who are ready to take advantage of the abundant opportunities we have to offer. As a highly selective institution, we strive to develop a complete picture of all applicants and what they may bring to the AIIM campus. While an applicant's academic performance is the factor considered most heavily in the admission process, we also take into consideration their test scores, work experience (if any) and extracurricular activities.
Eligibility Criteria:
Candidates must have a valid national-level entrance test-score as per AICTE guidelines (CAT / XAT / CMAT / GMAT preferred). These tests are accepted for both programs: PGDM (IM) and PGDM (Law).
Candidates with CLAT score may apply exclusively to PGDM (Law), subject to approval from AICTE - expected April, 2020. Candidates must hold a bachelor's degree with minimum 50% marks (45% for
reserved category candidates) or equivalent qualification CGPA from any recognized university in India and abroad.
Candidates in their final year of graduation are also eligible to apply. Candidates with work experience: Though prior work experience (paid and full-time employment after completion of graduation) is not mandatory for a candidate seeking admission to PGDM programs, candidates with relevant work experience may have an upper edge in the selection process.
Selection Process:
(1) The eligible candidates must apply in the prescribed form, available online at the institute official website or offline at institute's admission office.
(2) Based on the cut-off as decided by the admissions committee, candidates will be
shortlisted for Personal Interview (PI) round.
(3) Selection Matrix: : Selection of students shall be done using the following criteria
along with the weightages indicated below:
Criteria Weightage
| | |
| --- | --- |
| Parameters | Weightage |
| Entrance-Test Percentile | 20% |
| Personal Interview Performance | 40% |
| Academic Performance + | 20% |
| Relevant Work Experience | 10% |
| Extra-curricular achievements | 10% |
| Total | 100% |
+ Academic performance in Standard 10 th , 12 th and at Bachelor's Degree will be appropriately factored in the selection process
+ For candidates in final year of graduation, grades/marks for all previous semesters/years will be considered for merit calculation
(4) Merit list comprises two categories (Selected & Wait-listed) of the interviewed candidates will be put up on the website on the scheduled date.
(5) Selected Candidates shall be offered Letter of Admission Offer and they should
complete admission formalities within stipulated timeline.
Careers360: What kind of infrastructure can students expect at the institute? Please elaborate
Dr AJ Thomas - The institute is situated in Adani Shantigram, a sprawling 600 acres of fully integrated and largest township of Gujarat on Sarkhej-Gandhinagar Highway in Ahmedabad. Has a fully air-conditioned and Wi-Fi enabled campus with separate faculty and admin blocks Aesthetically built Ultramodern Lecture Halls with state-of-the-art audio-visual and multimedia gadgets including two-way video conferencing facilities to facilitate convergence of ideas. Library with a good collection of print and electronic books, journals, database, audio-visual materials, case studies, research reports, etc. A fully equipped Auditorium with a capacity of 300 people, to host functions like convocation, conferences, student events and talks. Cafeteria and Dining Hall serve hygienic food from breakfast, lunch, evening snacks and dinner to other refreshments & beverages at affordable rates and state-of-the-art vending machines.
Sports and Recreational Facilities for students including modern all equipped gymnasium and in-door and out-door games facilities where they can play cricket, football, table tennis, volley ball, etc. Amenities\
Careers360: Industry interaction is being stressed by the AICTE as well as companies that recruit. What are the steps being taken by the institute in this direction?
Dr AJ Thomas - The programmes are designed to ensure continuous student-industry interaction. While the students will go for study visit to infrastructure projects at the beginning of their programme, they will have industry interaction throughout their programme in the form of lectures by visiting faculty and guest faculty from industry, seminars, workshops, etc.
Careers360: Internships are now mandatory as per AICTE guidelines. Does the institute help students with this? If yes how?
Dr AJ Thomas - Yes. The students will have to go for summer internship during summer break between the first year and second year. AIIM will provide necessary support to the students in arranging summer internships, like Through Direct Industry connect programmes, through campus recruitment, promoting through placement companies, in group companies
Careers360: Can you please share details if there is any collaboration with universities abroad?
Dr AJ Thomas - International Academic Collaboration with Purdue University, USA.This collaboration primarily focuses on exchange of faculty and research scholar, exchange of students, joint research and exchange of materials in Education and research. The institute is also in process of exploring collaborative engagement and
partnership with Universities and Institutions of Global Prominence. Entrepreneurship Education Partnership with Wadhwani Foundation, USA (National Entrepreneurship Network) To strengthen entrepreneurship education on campus through deployment of systematic approach to optimizing and increasing the impact of teachers and training programs on entrepreneurship education. Provide students with the opportunity to become entrepreneurially skilled and inspired to the entrepreneurs. Enable aspiring graduating students who start meaningful ventures by connecting them to mentoring platform and related entrepreneur support systems.
Adani Institute of Infrastructure Management, Ahmedabad Updates and Articles
Questions related to Adani Institute of Infrastructure Management, Ahmedabad
Showing 15 out of 15 Questions