Acharya School of Management - Interview with Prof. Vikram AG, Dean
Acharya School of Management - Interview with Prof. Vikram AG, Dean: Founded in 2008-2009, Acharya School of Management (ASM) offers MBA, PGDM and Executive PGDM. Admissions are on the basis of national exams like CAT, XAT etc. as well as Karnataka PGCET. Careers360 interacted with Prof. Vikram A G, Dean of Acharya School of Management, Bangalore to know about the college, its mission, courses offered, admission process and more. Read excerpt from the interview with Prof. Vikram A G, Dean of Acharya School of Management, Bangalore below.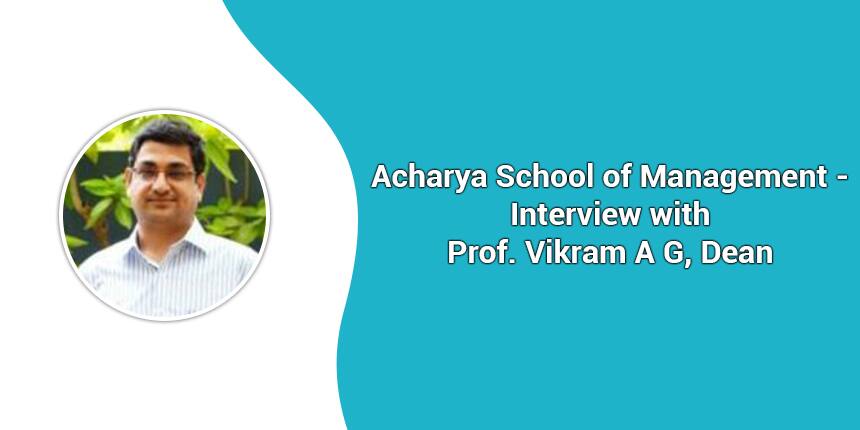 Careers360: Tell us about Acharya School of Management Bangalore.
Prof. Vikram: Acharya Institute is a 30 years old institute with more than 16000 students from 73 different countries. While we were doing very well with our engineering courses, the need for management courses was felt strongly by the leadership team. So that's how our journey started and today we have students coming in from various walks of life to study management at the Acharya School of Management Bangalore.
Careers360: What are programmes and specializations offered to aspirants?
Prof. Vikram: Acharya School of Management offers 3 different programmes- MBA which comes under Bikaner technical University (BTU), PGDM comes under All India Council for Technical Education, and Executive PGDM primarily for students with corporate experience. For MBA and Executive PGDM programmes,the intake is 120 while for PGDM programme intake is 60.
Watch the full interview of Prof. Vikram
Careers360 What is the admission criteria? Is there any cutoff for admission?
Prof. Vikram: For MBA, 60 seats are filled through government quota throughKarnataka Post Graduate Common Entrance Test (PGCET). The remaining 60 seats are primarily for management quota students throughCAT, XAT,MAT, ATMA, CMAT, GMAT. For PGDM programmes, admissions are through our own entrance exam ASM-CAT or on the basis of XAT or CAT scores. The cutoff is around 60 to 70 percentile. For executive PGDM admission, five years plus relevant corporate work experience is usually required. Candidates need to appear and qualify ASM-CAT.
Careers360 How diverse is the institute in terms of religion, gender and stream?
Prof. Vikram: In terms of classroom diversity, 30 percent of students come from other countries. Gender diversity is around 60 to 40 percent though we are trying to improve the ratio of female students. In terms of stream, a lot of students come from engineering backgrounds followed by B.Com and BBA.
Careers360 Throw some lights on placements at Acharya School of Management Bangalore.
Prof. Vikram: We are doing extremely well in placements. Companies like Amazon, Flipkart, Ola Uber come to recruit our students. The average package was around Rs 6.5 lakhs while highest was Rs12 lakhs.
We make sure that students get into good internships followed by placements. We have a separate vertical called the "Office of professional development and career assurance," for the placements of students.
Careers360: Brief us about the hostel facilities.
Prof. Vikram: The beautiful green campus in Bengaluru is 120 acres in area. Our constant effortsgo to provide the best facilities for residents living in Acharya Halls of Residence, as we call the hostel rooms. Our primary focus is to make students feel at home. Every student residing in the hostel has access to a wide range of activities, facilities and support. We have smart classrooms which enables teachers to visualize the content they teach. We also have finance, management labs. So, in terms of facilities, Acharya has state of the art facilities for students.
Careers360 Is there any locational advantage for students studying in Acharya School of Management.
Prof. Vikram: Definitely, Bengaluru is a strategic location in terms of networking opportunities, corporate presence, incubation facilities and being a startup hub. All these factors matter a lot because at the end of the day management is something which needs to be experienced; it's about going beyond the prescribed books/syllabus. So that way,Bengaluru plays a great role in shaping careers of students.
Careers 360 What kind of students are preferred by Acharya School of Management for admission?
Prof. Vikram: A student who is very passionate, has high energy and wants to achieve something in his/ her life, are the ones who we are looking for. Anotherpreference is for students with entrepreneurial thinking. Having said that, students who aim to be managers in their life, who look for international exposure are the perfect fit for us.
Careers360 Is there any advice for prospective B-school aspirants?
Prof. Vikram: My appeal to the young community is,"Do your research thoroughly, understand that any B-school you join offers you value beyond books and syllabus, networking opportunities you can build within the classroom and outside. Also, look at the syllabus and incubation opportunities."
Acharya School of Management, Bangalore Updates and Articles
Questions related to Acharya School of Management, Bangalore
Showing 25 out of 25 Questions