Symbiosis Institute of Business Management (SIBM) - Interview with Director, Dr. Ravi Kumar Jain
Symbiosis Institute of Business Management, Hyderabad, popularly known as SIBM-H, is one of the best MBA colleges in Hyderabad. SIBM Hyderabad offers experienced faculty, world-class facilities, state-of-the-art infrastructure, and a conducive environment on the campus that leads to the professional and personal growth of the students. Here's an interview with Dr. Ravi Kumar Jain, Director of this B-school, detailing internships, academics, facilities, placements, and more.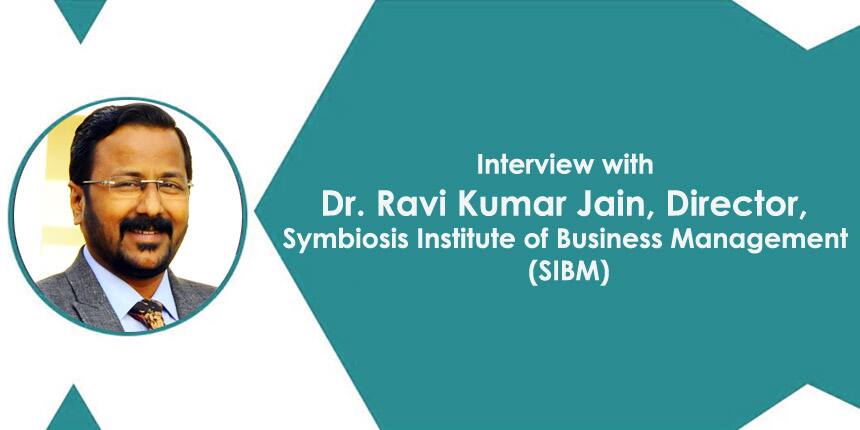 Careers360: Tell us something about the SIBM Institute, when it was set up, vision, and Mission.
Dr. Ravi Kumar Jain: SIBM-H with the motto "Shraddhavan Labhate Gyanam" meaning "The earnest aspirant gains supreme wisdom" is poised to make new strides in delivering quality management education with a unique mix of knowledge, skills, and ethics, drawing on a rich base of SIBM Alumni and stakeholders.
Symbiosis Institute of Business Management, Hyderabad (SIBM-H) has positioned itself as a preferred destination for students aspiring to become seasoned Business Management professionals. SIBM-H provides you with the right academic environment to learn management in a competitive conducive and contemplative setting.
Situated amidst the upcoming Educational Hub and in the vicinity of the Industrial Corridor, SIBM-H is housed in a sprawling 40-acre Campus at Mamidpally, Ranga Reddy District, Telangana is a 30-minute drive from Rajiv Gandhi International Airport, Hyderabad.
A fully Residential and Wi-Fi-enabled Campus; SIBM-H has state-of-the-art infrastructure and world-class facilities for the all-around development of our student community. The academic life on this campus is a convergence of curricular, co-curricular, and extracurricular activities.
The campus has a unique advantage of access to the rich educational, technological expertise along with resources available in Hyderabad with a bouquet of best practices and focuses on all-round student development. The value of SIBM-H lies in its legacy of quality and excellence with well-defined personal care and progressive strategy.
It is now leading in academic excellence, in internationalizing of management education, and has become the bedrock for showcasing talent in B-School competitions across the country and through its innovation in admission, assessment, and pedagogy.
Vision:
Promoting international understanding through quality education.
Mission:
To inculcate the spirit of 'Vasudhaiva Kutumbakam' (the world is one family)

To contribute towards knowledge generation and dissemination

To promote ethical and value-based learning

To foster the spirit of national development

To inculcate cross cultural sensitization

To develop global competencies amongst students

To nurture creativity and encourage entrepreneurship

To enhance employability and contribute to human resource development

To promote health and wellness amongst students, staff & community

To instill sensitivity amongst the youth towards community and environment

To produce thought-provoking leaders for the society
Careers360: Tell us something about the SIBM admission process?
Dr. Ravi Kumar Jain: All aspirants to join MBA have to mandatorily take the Symbiosis National Aptitude (SNAP) online test conducted by Symbiosis International (Deemed University) to qualify for admissions.
On qualifying for the SNAP test, the candidates are required to opt for the campus they are interested in pursuing their study. This is followed by Group Exercise, Personal Interview, Written Ability Test (GD, PI/ WAT) at the campus/online at the respective campuses.
The merit list will be based on the following parameters:
WEIGHTAGE FOR MERIT LIST

SNAP Score out of 150 scales down to 50

Group Exercise(GE)

Personal Interaction(PI)

Written Ability Test(WAT)

Institute Specific

Total

50

10

20

10

10

100
WEIGHTAGE FOR MERIT LIST

SNAP Score out of 150 scales down to 50

Group Exercise(GE)

Personal Interaction(PI)

Written Ability Test(WAT)

Institute Specific

Total

50

10

20

10

10

100
Careers360: What kind of infrastructure can students expect at the SIBM institute? Please elaborate?
Dr. Ravi Kumar Jain: SIBMH boasts of a state-of-the-art infrastructure replete with
Accommodation: Separate Boys and Girls hostels with facilities such as 24 hr hot water, wifi, laundry facilities, and separate study tables for each student, makes hostel stay a comfortable one.
Auditorium: with a seating arrangement of over 1100 with the latest equipment and a 70mm screen makes movie watching, screened by the student's club, a great experience. All major indoor events are organized in the auditorium. It also houses the mini-seminar hall and a conference room besides changing rooms and the green rooms.
Classrooms: fourteen classrooms with a capacity of 60 seats each, equipped with overhead projectors and sound systems is a perfect setup for a great learning experience.
In addition, a 120-seater lecture theatre is available for larger gatherings for guest lectures by visiting corporate leaders.
Cafeteria: a wonderful place for students to meet over a meal while watching programs on TV, can accommodate about 1200 students.
Shopping Complex: includes - Reprographic center, departmental stores, Bakery, Beauty Parlor and saloon
Health care facilities on campus
24/7 access to a health center. Resident Doctors and paramedics available round the clock.

Two Ambulances Available Round the clock.

Yearly health checkups for all students and staff members.

Health insurance is provided by SI (DU) to all students and staff members.
Recreation facilities: Health and wellness is paramount at SIBMH
World-class Gymnasium, Zumba & Aerobics facility spread over 2002.79 sq.m

Outdoor Sports facilities include - Football Court, Volleyball court, Basketball court

Indoor sports facilities include – Table tennis, Chess, Carom, Football, etc.

Yoga facility spread over 9580.93 sq. ft and managed by Health club powered by Symbiosis Wellness Centre
Computer lab: SIBMH has invested in a computer lab with 108 Desktops and 6 Bloomberg Terminals
Software: IBM SPSS v24, IBM AMOS 25, CMIE Prowess Database, Moodle LMS, R, R Studio, Microsoft Teams
Library: A well-stocked library is the pride of SIBMH. Over 10000 volumes and contributions to Harvard cases, national and international journals, e-books, and online databases provide necessary learning resources.
Finance Lab:
Finance is much more beyond the usual compliances and reading of financial statements. Deciphering the financial data coupled with relevant information to generate excellent rewards is a common task from a finance professional. To prepare the students to surpass the expectations of the industry, they are exposed to the real-time markets apart from the exemplary studies and the basic constructs.
The finance lab at Symbiosis Institute of Business Management, Hyderabad provides an excellent platform for experiential learning. To complement their exemplary learning, the students are exposed to the global markets in real-time. Working on live streaming markets aids learning in a real-time setup. The Bloomberg finance lab is equipped with Bloomberg terminals to provide live global data.
Bloomberg is a global financial and business news leader that produces more than 5000 stories a day from 146 news bureaus in 72 countries. It also provides real-time financial data, a news feed, messages and also facilitates the placement of financial transactions.
Learning Management System (LMS): In a rapidly changing scenario of Technology intervention in the Education sector, many aids have been introduced, which help the educational institutions in enhancing their Teaching and Learning experience. Learning Management System (LMS) is one such system, which has helped in Academics Management in Educational Institutions. LMS consists of a user-friendly interface for Faculty, Students, and Administrators.
SIBM Hyderabad has Moodle LMS, which helps the faculty to know their sessions schedule, managing attendance, uploading Educational resources, conducting evaluations online, etc. It also provides reports related to academic activities like sessions conducted, topics discussed, students' performance, etc. Students can know their sessions schedule, download educational resources, upload assignments/projects, know their grades/marks, attendance details, etc.
Administrators can get a bird' eye view as well as options to drill down and cull out information related to Academics.
Careers360: Can you please share details if there is any Collaboration with universities abroad?
Dr. Ravi Kumar Jain: SIBMH is in collaboration with the following universities abroad to pursue academic and research endeavors.
Nipissing University, Canada

Northwest University, South Africa

Providence University, Taiwan
This apart we draw upon the very rich network of 80+ international collaborations at our University level.
Careers360: Please share placement statistics with information on the average package, highest and lowest package, number of students placed, and details of companies that have recruited?
Dr. Ravi Kumar Jain:
Batch Size: 134

Eligible Students: 116

Placed 106

Average: 7.23 LPA

Median: 7.0 LPA

Highest: 12 LPA

Lowest: 4.5 LPA

91% Eligible students placed
Careers360: There is a lot of stress that is being made with regard to interaction with industry as well as companies that recruit. What are the steps taken by the SIBM institute in this direction?
Dr. Ravi Kumar Jain: As all our efforts are directed towards grooming and nurturing young aspiring minds towards being socially responsible future leaders, SIBM-H recognized the need for a strong academia-industry interaction right from its inception, to be an integral part of the academic program.
Towards this end, we have initiated the following engagement platforms for a student-corporate interface.
1. MASTERCLASS: One of its kind mentorship programs wherein mentees (students) are mentored by corporate stalwarts during their first year of study, through experience sharing and guidance in specific areas of concern. Each mentor guides 2-3 young leaders. Last year we had 42 mentors guiding about 90 students. Mentors are eagerly coming forward to join hands with us in this initiative.
2. Symbitalks: a two-day event and brainchild of SIBMH, where corporate leaders from various fields address the students on contemporary and relevant topics. This is a highly interactive session and students have enjoyed and look forward to the learning experience during this event. During the lockdown last year, owing to work-from-home conditions, SYMBINARS were conducted online and more than 40 leaders addressed the students using the digital platform.
3. Guest lectures: Guest speakers from the corporate world with varied experiences and different backgrounds are invited frequently to hold lectures and workshops for the students.
4. GEPIWAT: Corporate leaders are a part of the panels during the admission selection process to evaluate the aspiring leaders from a corporate standpoint.
5. Specialization-related engagement: events such as Finance Summit are organized by designated clubs and experts in the specific field are invited to be a part of the summit.
6. Field/ Factory visits: in order to encourage experiential learning visits to factories such as Moldtek, BHEL, Tirumala Dairy are organized.
7. Shod Yatras: To explore business & entrepreneurial opportunities in the hinterlands of India and bring forth a deep understanding of buying behavior and consumption patterns in BOP markets.
8. Champions of Change: This is the latest initiative whereby our graduates dabble into activities of social impact working with our NGO partners. Several NGOs operating in different focus areas, with Pan India scope, have partnered with us in this initiative. The initiative brings about social consciousness among our business graduates and trains them to be more socially responsible business leaders of tomorrow.
Careers360: Internships are now mandatory as per AICTE guidelines. Does the institute help students with this? if yes how?
Dr. Ravi Kumar Jain: Eight weeks Summer Internship Program (SIP) has been an integral part of the academic requirement and therefore mandatory for all students to complete the SIP. Credits are awarded at the end of the internship following an evaluation process.
SIBMH has a dedicated Career Assistance Team under Corporate Relations which actively engages with corporates to create opportunities for students to carry out their internships for all registered students.
We have always achieved 100% internships for all the batches.
SIBM Hyderabad Updates and Articles
Questions related to SIBM Hyderabad
Showing 330 out of 330 Questions