How Business Analytics Programme is a New Age Career Option at BITS Pilani by Deepak Sharma
Insights on the Business Analytics programme as a career option: Pursuing MBA gives an opportunity for better career growth. Earlier, students used to make choices between traditional specializations such as Finance, Human Resource Management, Sales and Marketing, Operations and others which are still there. However, the change in various fields and online systems brings more specializations in demand such as Business Analytics, Healthcare Management, Digital Marketing, Sports Management and many others. Careers360 brings you an exclusive interview with Deepak Sharma, Faculty, Department of Management at BITS Pilani. Mr. Sharma talked about the Business Analytics programme as a career option, the scope and other important pointers. In this article , students will get to know all about new-age MBA specializations in Business Analytics, BITS selection criteria, placement details and other details. To know more, read the full article below.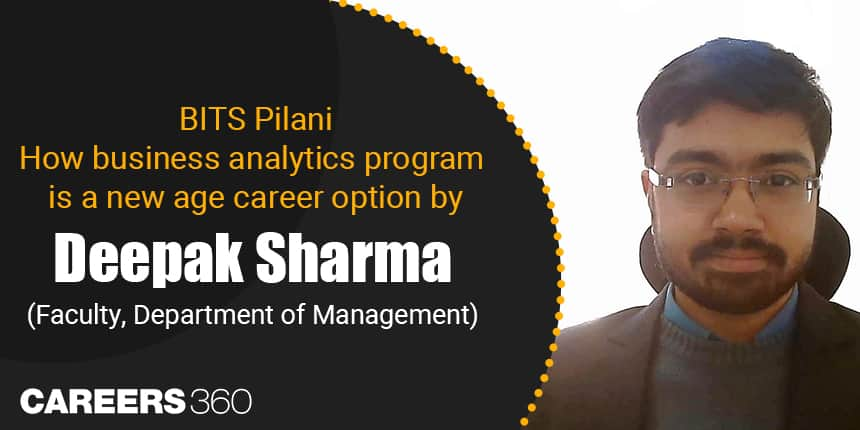 Careers360: One of the new-age MBA specializations in Business Analytics. Can you give insights on how the specialization came about and its importance?
Deepak Sharma: In today's world, we are inundated with the continuous inflow of data. The future of businesses is based on insights generated by this humongous data. Insights, as generated from analysis of big data, have become vital information for companies of the world which empowers them to make critical business decisions. These insights backed directions in which the business moves heavily relies on knowledge of business models, database management, and cloud and high-performance computing. The real problem with businesses is that they do not have sophisticated data analysts. We identified this education gap and created an MBA program in Business Analytics to lessen the acute shortage of suave data analysts.
Careers360: Who should do an MBA in Business Analytics?
Deepak Sharma: Graduate students with knowledge of statistics/ mathematics and an interest in finding solutions to business problems would be the ideal candidates to pursue the MBA in Business Analytics program. Due to the heavy use of technology in business analytics, an ideal candidate should either have exposure to relevant programming languages or be eager to learn such new concepts. The candidate should possess good analytical ability, an excellent learning attitude, and a mindset to apply theoretical concepts in solving real-world business problems.
Read More:
Careers360: What is the scope of the course? What kind of roles can one expect after completion of the course?
Deepak Sharma: The MBA in Business Analytics program emphasizes proper usage of the latest computer science technologies and best management fundamentals theories to solve business problems. It builds the foundation of strategic, analytical, and algorithmic problem-solving skills. The job roles could be in the data science domain, where individuals would work on data science-related projects to solve business problems.
Careers360: What is the BITS advantage when it comes to MBA in Business Analytics?
Deepak Sharma: BITS Pilani is an "Institute of Eminence" as conferred by the Ministry of Human Resource Development (MHRD), Government of India, in 2018. BITS is the first Indian university to have an overseas campus in Dubai, maintaining a legendary alumni network. Department of Management, BITS Pilani is among the top 10 private MBA institutions offering an MBA in Business Analytics in India as per the report of "The Outlook-ICARE MBA Rankings 2020" and is ranked in the top 30 B-Schools in India as per the report of "THE WEEK Hansa Research Best B-Schools Survey 2019." The highly sophisticated faculty and their cultivated pedagogy skills make the classroom a practical learning experience through a high level of interaction, hands-on approach, case studies, workshops, and team activities.
Also Read:
Careers360: What are the selection criteria at BITS?
Deepak Sharma: Candidates must have a bachelor's degree in any discipline or equivalent with at least 60% cumulative marks. They should have studied at least one subject in mathematics or statistics at the high school (10+2) or higher level. Students in the final year of their qualifying degree program are also eligible to apply, provided they can submit the original copies of the results by 1st October 2023 and fulfill other criteria.
Candidates are required to appear for the Business Analytics Aptitude Test (BAAT) conducted by BITS Pilani. Shortlisting for the personal interview will be done based on their performance in BAAT. Final selection will be based on overall performance in BAAT, personal interview, CAT(2022) / XAT(2023) / GMAT(2022) (if available), along with prior work experience (if any) and previous academic history. Exposure to some programming languages is desirable.
Careers360: Can you describe the pedagogy of the program?
Deepak Sharma: To help students grasp business analytics concepts, we focus on a practical education approach through hands-on and investigation-based learning. We have developed an advanced pedagogy method with premium quality content delivered through engaging presentations by industry professionals, workshops, and first-rate case studies. Interactivity in learning is promoted to ingrain leadership and team spirit through group activities and class discussions. First-hand industry experience is provided to students through summer internships and practice school for one semester to evolve industry prepared.
Check : BITS Pilani Reviews
Careers360: Please give details on the internships, workshops, and experiential learnings that come with the program.
Deepak Sharma: Students learn real-life knowledge of business problems and how to arrive at their solutions through a 2-month summer internship program at premier companies. The program continuously infuses practical understanding of business analytics through workshops to use the latest technologies such as tableau, Power BI, and business data analysis powered by programming. To provide the final touch to create meticulous industry-ready professionals, students gain the opportunity to learn from the industry through practice school during their last semester.
Careers360: Could you give me the latest placement details for the program?
Deepak Sharma: The program has proved its value, as cited by placement statistics of the past few years. The average package for the summer internship program (SIP) was 42,606 INR/month, and the highest package was 75,000 INR/month for batch 2021-2023. The average package for final placement was 15.9 LPA, and the median package was 17 LPA, with the highest package of 22 LPA for the 2021-2023 MBA batch.
Read more about : BITS Pilani placements
Disclaimer: This content was distributed by BITS Pilani and has been published as part of Careers360's marketing initiative.
Other Popular Institutes:
BITS Pilani Updates and Articles
Questions related to BITS Pilani
Showing 2473 out of 2473 Questions