Student Exchange Experience: Real industry problems are solved with industry experts as mentor at Bocconi, says Himanshu Bhatia of IIM Lucknow
An international exchange programme is a rewarding but challenging experience for students. Students get immersed in the culture of another country and gain skills in inter-cultural learning and understanding. That being said, the foreign exchange programme of IIM Lucknow's Himanshu Bhatia has proven this true.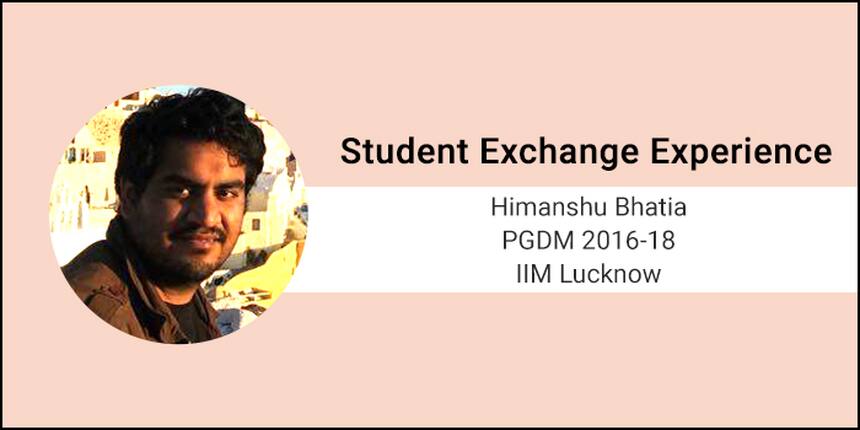 During the fifth term of his PGDM, Himanshu took advantage of the opportunity to attend the student exchange programme at Bocconi University, Milan. The programme was a blend of understanding case studies, submitting assignments, performing analysis and attending guest lectures by industry experts, besides the usual classes. Students at Bocconi are mentored by industry experts who even offer internships to the students, he shares.
Knowing how to get around in a new country, planning budget meals, discovering the best accommodation deals in Italy, besides the academics at Bocconi University of course  – Himanshu has almost become a travel aficionado of Italy by virtue of the three months of student exchange programme! This interview will help exchange aspirants familiarise themselves with all these pertinent facts and why one should never miss the opportunity of an exchange. Also, Himanshu sheds light on the pedagogy of Bocconi University and draws attention to how it is different from IIM-L.
Excerpts from the interview:
Careers360: Tell us something about yourself in terms of your academic and professional background.
Himanshu: I completed my graduation in Chemical Engineering from IIT Guwahati. Post that, I worked with ITC Limited as Assistant Manager-Operations in stationery products division. I joined IIM Lucknow in 2016 with a major in strategy and marketing. I interned at BCG India and will be joining them full-time from July onwards.
Careers360: Which programme are you pursuing at IIM Lucknow? Tell us about your specialisation as well.
Himanshu: I pursued PGDM course and specialised in Marketing and Strategy. I chose strategy as a specialisation because it helped me in honing my problem-solving skills. Marketing always interested me because I like the part of understanding the needs of consumers and translating it into a product which can meet that in a novel way.
Careers360: Tell us about the exchange programme you were part of -the University and the programme details.
Himanshu: I visited Bocconi University, Milan for my exchange programme. The duration of the programme was three months. It was scheduled in term five from September first week to December third week.
Around 65 students were selected for exchange program from our institute, including me.
Careers360: What was the selection process of the exchange programme?
Himanshu: The student exchange office floated a form with the names and number of vacancies in partner institutes. Interested students had to fill in their personal and academic details along with a preference order for partner institutes. Also a one-page Statement of Purpose (SOP) was supposed to be submitted. The preferences were allotted as per the CGPA with highest CGPA getting the first choice and so on.
Careers360: How did you prepare yourself for the exchange programme? Were you given any guidelines by your university as such to be followed during the programme?
Himanshu: Yes, we were given quite a few guidelines by Bocconi University before the exchange.
1. Visa Process: Bocconi University provided detailed guidelines on the documents that will be required for visa process and option of accommodation in university apartments.
2. Academics: We were supposed to register on the Bocconi App wherein all the information regarding courses, exams and relevant timelines were posted frequently. The course selection process happens in the month of August and we got a 10-day window to change courses once we joined the university.
3. Immigration Requirements: They also shared a video tutorial for filing residence permit which is a mandatory requirement in Italy.
Careers360: What is the pedagogy of the exchange programme? How is it different from that of IIM-L?
Himanshu: Bocconi offers over 100 courses with 2 options
Non Attending Course: Enroll for the course and directly appear for the final exam which carries 100% weightage

Attending Course: Enroll for the course and attend classes, two classes weekly for each course. Pedagogy includes case studies, projects, assignments, mid-terms and end-term exams. Attendance requirements differs from course to course.
Special final exam session in held for exchange students in December.
Careers360: Tell us about the course, the activities and the assignments of the exchange programme.
Himanshu: For attending courses, the case studies and assignments are evaluative and analysis needs to be submitted. Some courses have guest lectures by industry experts. The problem statement for projects is decided in association with industry experts which in turn mentor the students and at time offer internships too.
Careers360: Were you involved in any other co-curricular activities apart from the academics?
Himanshu: Bocconi has a very active 'Erasmus' student group which organises a lot of activities ranging from sight-seeing to pub crawls and football tournaments. They have an activity calendar and one can choose to attend few or all of them at nominal fees. I opted for a few of these activities on the calendar.
Careers360: What kind of industrial and other exposure did you experience during the programme?
Himanshu: Industrial exposure was through guest lectures and industry-collaborated projects. Some courses offer the opportunity for industry visits too.
Careers360: Apart from IIM Lucknow, were there any other university's students?
Himanshu: Bocconi has university students from across world for exchange. USA, Europe, China, India, Middle East, Africa and certain South American countries too. In India they have tie-ups with IIM ACLKI, MDI and MISB Mumbai. There were few students from these colleges as well.
Careers360: How according to you has the exchange programme enriched your overall MBA experience? How do you plan to utilise it in your programme and career?
Himanshu: Exchange programmes give a first-hand holistic view of how things are changing across world. I got an opportunity to learn in an entirely different environment which had lot of freedom to pursue your courses. I got to interact with people from different nationalities and the discussions in classroom were enriched due to the different perspectives we got. The projects offered were real industry problems wherein we were guided by mentors who were looking for implementable solutions.
Careers360: Were you in touch with your faculty members during the programme? How did they support you?
Himanshu: Faculty members were just an email away whenever we needed their help. Our visas got delayed and they were very supportive to ensure that we do not lag in the course.
Careers360: How cooperative were the foreign university faculty members and students?
Himanshu: The student exchange office was prompt to reply on any of our queries. They extended the joining date for us because of the delay in our visas. They guided us really well on all our needs in the new city starting from residence permit to travel plans.
Careers360: What were the major challenges you faced during the exchange programme and how did you tackle them?
Himanshu: The biggest challenge was visa. Italy embassy took over a month to process visa and we had to delay our flight tickets because of that.
Careers360: Did you arrange your own accommodation for the exchange programme? Or was it arranged for you by the university?
Himanshu: University accommodation is available but it was expensive so we opted for an Airbnb which was shared by four of us and came upto Rs. 20,000 per person per month.
Careers360: How did you plan your funds for this trip?
Himanshu:The financial requirements depend on the travelling you plan to do during the three months of exchange. I will break up the costs and how to save on those expenses:
Fixed Costs: Flight, Accommodation and Eurail pass – Use skyscanner to look for cheapest flights, airbnb for accommodation and ask for a discount from your hosts, keep checking the eurail website, they offer upto 20 percent discount at times.

Travel Costs: Plan your itinerary in advance and book Ryanair, you can get tickets as low as 20 Euros return for far off destinations too. Most of the trains will be free on eurail but some esp in France, Italy and Spain have reservations. Eurail has tie-ups with bus operators as well. Explore all your options before booking. Some intra city trains are also covered in the pass. All the details are available on Eurail app.

Accommodation Costs: Book hostels, they are super fun and super cheap and available in almost every town. You can use hostelworld.com for best deals. Opt for hostels with breakfast, saves on meal cost.

Meals: Restaurants are expensive in Europe. Buy stuff from supermarket if you can survive on bread and cheese for some time.
IIM Lucknow Updates and Articles
Questions related to IIM Lucknow
Showing 56 out of 56 Questions