How to crack PI-WAT: Time management is a byproduct of practice, doesn't need to be deliberately planned, says VK Narsimhan of IIM Lucknow
How to crack PI-WAT: VK Narsimhan, one of the toppers of CAT 2016, believes that time management doesn't need to be deliberately planned, it comes as a by-product of practice. He applied the very same thought, rather strategy, while attending the selection procedures for various top of the line B-schools across India such as XLRI-(BM/HR), IIM Indore, FMS, MDI. Narsimhan is currently pursuing an MBA from the esteemed management Institute - IIM Lucknow. After gaining enough work experience, Narsimhan started preparing for the PI-WAT rounds once the CAT scores came out. With regular practice of writing and reading like his interest in blogging, reading a lot of books on economics and politics, Narsimhan was ready to crack his WAT along with time-management and well-structuring abilities. For PI, he made sure to read up on current affairs, politics, economics and GK. He prepared a lot on finance since that was his area of work experience.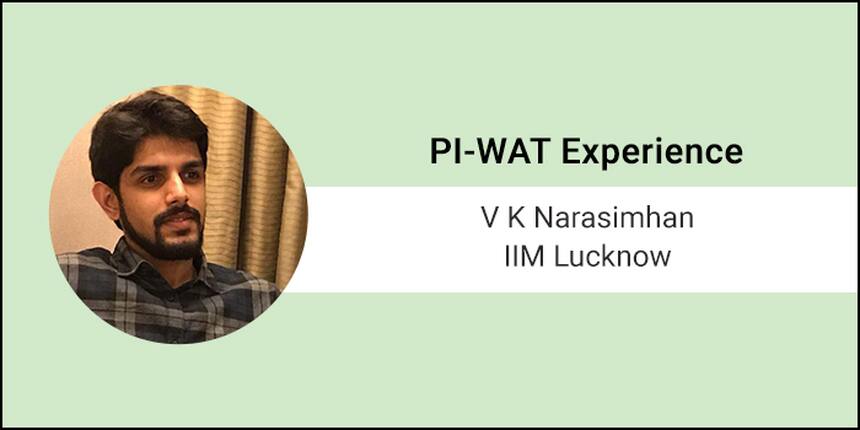 "Till the end of the interview, I kept my calm and composure to won the interviewers and they even gave him a chocolate," tells Narsimhan to Careers360 in this insightful interview. For all the aspiring candidates out there, read on to know more about his success mantra and helpful tips to sail your way through PI-WAT.
Careers360: What are the various stages that candidates must undergo a successful selection at IIM Lucknow?
VK: There is a shortlisting of candidates based on CAT score, academic scores in class X, XII and undergraduate studies and nature of work experience. The shortlisted candidates then go through a written ability test, where they are given a topic to write about. Post that, there is a personal interview.
The final selection is based on a combination of all of these - scores in CAT, academic scores, work experience and WAT/PI.
Careers360: Aspiring candidates would love to know about your overall experience of attending the selection procedure in IIM Lucknow. Please share it with us in detail.
VK: The first leg of the process was the CAT. Different institutes had different weightage given to CAT score, academic scores, work experience, etc.
For IIM Lucknow, the weightage given was the following:
CAT Score- 60%

Class X- 10%

Class XII- 10%

Undergraduate studies- 10%

Gender and academic diversity points- 5% each (given to girls & non engineers)
Post the shortlist, there was a WAT and PI. The WAT topic for me was "Loose lips sinkships."
The PI was based on my work experience and current affairs. It was a stressful interview- since my undergraduate score was low but CAT score was high, I was asked questions in math. Politics was an interest- so questions on demonetisation, GST and BJP's growth in India since Modi wave in 2014 were touched upon. Effects of Brexit were also covered.
Careers360: Which other B-Schools' selection procedure did you appear for? Was it any different from your own institute?
VK: I appeared for processes of XLRI, IIM Indore, FMS Delhi, MDI. Mostly, the process were
quite similar. It was just the weightages given to different components that were different. Some schools (XL) had a GD instead of WAT.
Careers360: What was your WAT topic and how did you structure it? Did you find it easy or you had a difficult time writing it?
VK: The topic given to me was "Loose lips sink ships."
I went about it by elaborating what the metaphor meant first- that you need to be able to keep secrets well to be trusted. And then I gave examples from corporate India such as the Tata-Mistry spat and the Ambani brothers' tussle for Dhirubhai's property, and highlighted how in each case not keeping the spat private led to losses for everyone involved in each case.
Careers360: How did you prepare for WAT? When did you start your preparations for PI-WAT rounds?
VK: I started preparing after CAT scores came out. I didn't do much preparation for WAT as I was quite confident since I write and read a lot- I blog, read a lot of books on economics, politics etc. on a regular basis.
For PI, I read up on current affairs- politics, economics and GK. I prepared a lot on finance since that was my area of work experience.
Careers360: Do you think that a separate preparation strategy is required for WAT?
VK: Not necessarily. If you do not read a lot and write in general, then it might be a good idea to look at the structure of a few sample WAT essays. Also, practice a few based on last year's topics for your B school. It would also be good to have a repertoire of quotes to use in your essay, as that shows good command of the language and understanding of the topic.
Careers360: In case one faces a tough situation, what is the best way to get out of it?
VK: I think a good strategy for WAT, if you are unaware of the topic, would be to try to relate it to an abstract topic. For example, if you do not know the meaning or context of "Houston, we have a problem", you can write about problems in life and how to face them. Throw in a couple of quotes and that would show good writing ability and command of the language.
Careers360: What are the Dos and Don'ts for WAT according to you?
VK: Structure the essay well. Have a brief introduction, body and conclusion. Do not make any spelling or grammatical errors. If you are in a dilemma about which of two possible things a topic means, don't write about both- take a guess, pick one, and back it with examples as to why you think that should be the topic. In my experience, WAT is more of a test of your ability to show good command of the language, clarity of thought and articulateness, so this should be fine. Make sure your writing is neat, legible and tidy.
Careers360: Do you think there are some time management skills required for a student to write a complete structured WAT?
VK: Not really. Just make sure you've got enough practice and that your essay is structured. Time management doesn't need to be deliberately planned, it comes as a by-product of practice.
Careers360: Very well said. And how was your personal interview experience? How many interviewers were there in the panel and what were your feelings while facing them?
VK: I had a stressful interview. The panel told me I would not get selected anyway because of my undergrad score, and that someone with my score would fail anyway even if he got admission into IIML. I wasn't really stressed as I was happy with my job and didn't have anything to lose. I was calm and answered all their questions, in finance, politics and math. I was smiling throughout. When I was leaving, I said thank you and smiled and shook hands with both of the interviewers. They liked how I was calm and smiling throughout I guess- they gave me a chocolate!
Careers360: Among all the interviews you have appeared in, which one was the best? It would be great to learn about your best PI.
VK: I liked the interview of FMS the most. It was heavily technical and focused on finance, which was my area of work experience. I felt this was relevant and also tested what I had done most recently. Though FMS had a very small weightage for interview, they took it quite seriously by the looks of it.
Careers360: What were the questions which you found most difficult to answer? What were your answers to those questions?
VK: I did not find any specific questions that were difficult to answer. However, I got the GDP of Britain wrong by about 20%. This was asked in IIM Lucknow's interview.
Careers360: How did you manage to answer the very tricky ones? Was the board disappointed or rude?
VK: The panellists were generally easy. I did not find any specific questions where I did not have an answer. However, my recommendation based on my experience would be to state that you do not know but are willing to take a guess. Because while guessing randomly, if you are very wrong, you might come across as woefully ignorant.
Careers360: What were the most interesting questions you were asked? Please share your answers to them.
VK: In my XLRI HR Interview, I was asked to relate thermodynamics (since I was a mechanical engineer) to HR. I compared entropy of particles within an object to people within an organization. I said the younger they were, the more energy they had, they would be more excited and active and try to achieve more- but too much entropy is also bad if the energy isn't channelized in the right direction, and to do this, we need more experienced, mature people.
Careers360: That's a great and thoughtful answer! Well, how different is an IIM interview from a non-IIM yet top of the line B-School interview?
VK: I did not find any specific difference in IIM vs non-IIM interviews. Each school had a different process.
Careers360: How did you prepare yourself for PI? What were the PI questions that you searched for your preparations?
VK: I prepared on politics, economics and finance. In general, it helps to read up about news related to one's place of birth/stay, global news, and topics related to one's academics (if you have less than 2 years of work experience). If you have about 3 years or more of work experience, interviews would focus more on that and less on academics so you need to be prepared with that. Rest, if you play sports or write or quiz, it pays to know about the latest news in that specific field if there is anything noteworthy.
Careers360: What factors or qualities, you think the PI panel looks for in a candidate?
VK: Clarity, Confidence and Consistency – these three things I believe that the panellists look for in a candidate.
Careers360: Was there any embarrassing moment for you/or a question you think that was difficult or impossible to answer? What was your reaction that time?
VK: There wasn't any. However, the best thing to do in such a situation is to take a pause, possibly have a sip of water, and just calm down and try to think about an answer. If you can't come up with one even in a minute, it's good to say you don't know rather than try to beat around the bush or guess.
Questions related to CAT
Showing 9084 out of 9084 Questions