SDMIMD Mysore - Interview with Dr. N. R. Parasuraman, Director on Admissions, Placement, Cutoff
Shri Dharmasthala Manjunatheshwara Institute for Management Development (SDMIMD) Mysore was established in 1993. The institute offers PGDM programmes that are AICTE Approved and are awarded equivalence to MBA by AIU. Careers360 interacted with Dr. N. R. Parasuraman, Director of SDMIMD Mysore to know about the college, its mission, courses offered, admission process and more. Read the interview with Dr. N. R. Parasuraman, Director to know more about SDMIMD Mysore.
Latest - Apply Online for PGDM Admission - Click Here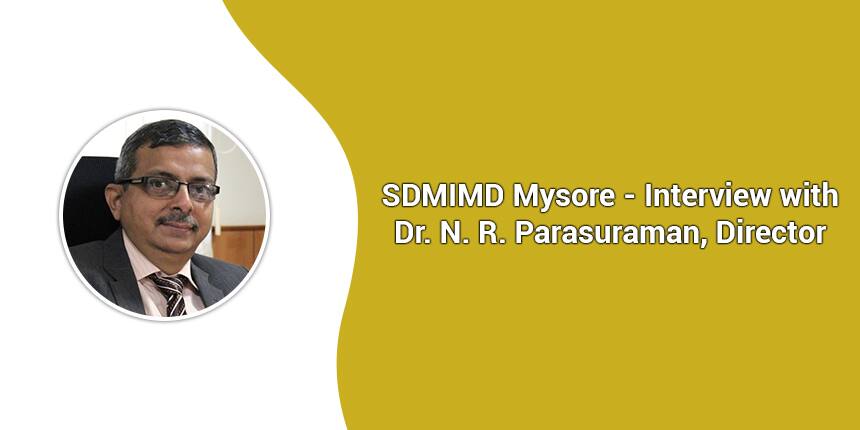 Careers360: Brief us about SDMIMD Mysore.
Dr. N. R. Parasuraman: In early 90s, Dr D. Virendra Hegde got an idea about foraying into management education. While starting the institute, he was very particular about two things. Firstly, it should not be just another B-school; it should be something that marks excellence right from the beginning. So, he roped in senior professors from IIMs for drafting the curriculum and orientation was done right from the beginning. Secondly, Indian authors should be given emphasis. If you look at our vision and mission statement, it is actually creation of global leaders with an Indian method and that is what we are trying to live up to for the last 25 years.
Careers360: Tells us about the programs and specializations offered at SDMIMD Mysore.
Dr. N. R. Parasuraman: We follow an elaborate process in June which is the start of an academic year. We start our operations in January, when the faculty team looks all angles and areas to gauge if we need to add, delete or improvise on our list of courses. This is done in what is called a faculty retreat meeting held exclusively by the faculty members. This process takes place from January to early April. We offer specializations like Marketing,Finance,Operations, and Human Resources (HR). We have modular specialization in Business Analytics and Microfinance.. These two have been introduced over the last three four years due to an increase in the demand for them.
Careers360: In terms of ranking and accreditation where does SDMIMD Mysore stand?
Dr. N. R. Parasuraman: We moved into the new campus in 2003 and thereafter we started attracting students from all over the country. In early 2013, we gave serious thought to international accreditation. We originally went in for EFMD and got accredited. We renewed the same last year. We are also accredited by the NBA; we have international accreditation by ACBSP also. We are serious about converting our AACSB membership to accreditation over the next three to four years.
Watch the full interview of Dr. N. R. Parasuraman
Careers360: Throw light on admission process, cutoff required for admissions.
Dr. N. R. Parasuraman: Earlier, we used to shortlist students with 80 percentile CAT cutoffs.However, we feel that a better system is to give some weightage to CAT and other exam scoresand our own assessments. So, we assess students in two aspects –40 percent to academic consistency (class 10, 12 and degree marks) and 40 percent to the performance in group discussion and interview that we conduct. Only about 20 percent weightage is given to the scores of competitive exams like CAT etc. We are not looking for cutoffs specifically. We are looking to have students from every area and stream to come into the frame if they have excelled in their fields.
Careers360: How diversified is the campus in terms of region, gender and stream?
Dr. N. R. Parasuraman: We have students coming from 20 plus different states of the country. It is India within the campus. The students celebrate ethnic festivals in the campus. As far as gender diversity is considered, it used to be as low as 25 percent some time back but now it's slowly risen up to 35 to 40 percent right now. Typically like any other B-school, we were basically attracting students from engineering backgrounds and work experience till 2010. Now times has changed. Corporates are also interested in freshers and people from different backgrounds.
Careers360: Tell us about the placements at SDMIMD Mysore.
Dr. N. R. Parasuraman: For the last three years we have had 100 percent placements before December. Last year average salary was about Rs 7.02 lakhs p.a. with the highest package of Rs 10.35 lakhs p.a anda minimum salary was Rs 5.48 lakhs p.a. We had about 44 companies at the campus to select these 180 students. This year we are expecting a slightly different combination because it's going to be slightly delayed. Having said that, we are expecting about 60 companies to come in for placements.
Careers360: What are facilities available at the campus?
Dr. N. R. Parasuraman: We give each student a single room, our campus is fully equipped with wi-fi, we have a great library, a vegetarian mess, classrooms are all air-conditioned, and have all the other basic facilities for recreation and study.
Careers 360: Share some details about internships provided through campus to students.
Dr. N. R. Parasuraman: Students have been appointed for internship jobs in March and April 2020, however, due to COVID-19 so we have some difficulties in placing some students. We converted the opportunity and made them do some academic based projects.
Careers360: An advice for a student.
Dr. N. R. Parasuraman: Do attend national and international conferences, leadership talks, guest lectures to get exposure to the outside world. We believe in building the managers, so it's not merely the curriculum, projects or case studies, it has to be that physically practice which they have to develop as managers and at our campus they get a chance by organizing and coordinating the events.
Careers360: Are there any scholarships for the students?
Dr. N. R. Parasuraman: As far as scholarship is concerned, even at the entry level there's a scholarship for the students who have got 70 percent consistently in 10, 12 and degree. For women, who have got more than 60 percent consistently through the courses is also entitled to the scholarship. In every semester, the top three performing students are awarded scholarships.
Aspirants who are willing to opt for SDMIMD Mysore, can also watch the full interview of Dr. N. R. Parasuraman- Here
SDMIMD Mysore Updates and Articles
Questions related to SDMIMD Mysore
Showing 43 out of 43 Questions
Shri Dharmasthala Manjunatheshwara Institute for Management Development, Mysore (SDMIMD Mysore)