SDA Bocconi Asia Center - Interview with Alessandro Giuliani, Managing Director
SDA Bocconi Asia Center, Mumbai is offers management programmes designed by SDA Bocconi School of Management, Italy which is EQUIS, AMBA and AACSB accredited. SDA Bocconi Asia Center admissions are based on the performance in the entrance test as well as the student profiles.In an interaction with Alessandro Giuliani, Managing Director, SDA Bocconi Asia Center, Careers360 brings details about the institution, admissions, selection criteria, placements and more. To get more insights about SDA Bocconi Asia Center, read the interview.
Latest - Apply for International Master in Business (IMB) - Click Here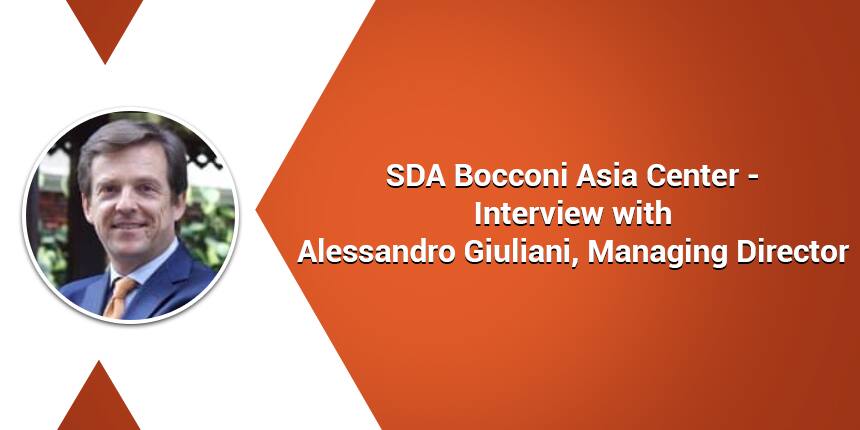 Q: Please brief us about SDA Bocconi mission and legacy.
A: Our mission at SDA Bocconi AsiaCenter is to create some conscious, responsible, good leaders and managers. That is the main legacy.
Q: What courses are offered by SDA Bocconi?
A: We do not deliver Indian degree certificate or diplomas. What we deliver is an SDA Bocconi European Masters Diploma which means we are not under AICTE. We have the top 3 International Accreditations namely- EQUIS, AMBA and AACSB.
Q: Please throw some light on rankings and triple crown accreditation.
A: We do not take part in Indian rankings. We do take part in international rankings. Our business school is at number 3 in Europe. We are ranked number 4 in the world for innovation and creativity by Bloomberg.

Watch interview with Alessandro Giuliani, Managing Director, SDA Bocconi Asia Center below.



Q: What programmes are offered by SDA Bocconi?
A: We offer different programmes. The first program is General MBA where we offer different pillars of knowledge. In the first eleven months, students go through all the possible areas of specializations likeFinance, HR, Marketing, Operations and so on. The second module includes internships followed bya specialisation. We have few electives in Mumbai and then in Milan, Italy.
Q: Please share a few details about International Immersions.
A: They come and merge with the students in the same class. We have the double degree from Paris and from Milan. We also have Global MBAs from Canada, Spain, China.
Q: What are the admission criteria and cut-offs?
A: We are a profile-based school. We look at four different things. First,we look at the academics – performance in 10, 12 and graduation. Then we take the entrance test scores into account; we accept CAT, MAT, GMAT, GRE scores and we also have our own Bocconi test. We also consider extracurricular activities. Then we have a Personal Interview. There is no set cutoff but we consider 85+ percentile CATcutofffor shortlisting.
Q: Please brief us about the SDA Bocconi Placements.
A: Across the 2 years, we work on enhancing the skills of the students and overcoming their weaknesses. Every year companies select students on the basis of those skills. In the last few years we have added a number of consulting companies. All the big brands are there in our campus for placements. But our focus is to try to match the student with the right company.
Q: What about the hostel facility and extracurricular activities?
A: We are part of a huge campus. We have all the sports facilities, all entertainment facilities. Just across the street, we also have the hostel where we host the students. There is also a separate one for women.
Q: Please share with us details about the clubs and campus life.
A: I would say that the life at our school is very interesting because we can even go out and have dinners together. There are a lot of extracurricular activities after the academics stop at around 4 or 5 in the evening. We have around 50 clubs aimed at boosting skills. The students are always together on and outside the campus also.
Q: Why should a student choose your institution?
A: Students interested in just a piece of paper and placement should avoid joining our institution because there is a lot to do apart from that. Students who really look forward to the life changing experiences should definitely join. Students are required to have at least one live project throughout.
Q: Please elaborate on international career opportunities.
A: Students absolutely have international opportunities. Maybe not as their first job but when students go to Milan they take part in the placement activities but only a part of them get placed abroad. But the careers of other students also flourish well. They might start their career in India with multinational companies but their global exposure makes them desirable candidate abroad as well.
Q: Please share any advice you have for our student readers.
A: I would like to tell them that these two years are the most important part for them. They should not just look at the final placements but the growth and development in the two years and take part in the diverse experiences.
SDA Bocconi Asia Center, Mumbai Updates and Articles
Questions related to SDA Bocconi Asia Center, Mumbai
Showing 2 out of 2 Questions
1981 Views
Is getting into SDA BOCCONI ASIA CENTER MUMBAI difficult with 7.8 CGPA in 10th, 70% in 12th and aggregate of 60% in graduation
There are various factors that are taken into consideration for SDA Bocconi's selection process. For starter's Graduation in any discipline will do good. But on an average the Candidate's work experience is between 3-8 years. But as a fresher, if you have an impeccable Academic record, your application will be considered. And you will have to take a Language Proficiency test like TOEFL/IELTS/PTE/CPE,etc. And the applications are shortlisted considering various factors like Academic profile, Language proficiency test score, work experience and your CAT or GMAT score. GMAT is the most preferred exam here. Now though you have a good Academic profile, you need to come up with a solid Recommendation letter and an outstanding performance in the Interview to be selected for their full time MBA programme here. For more information, please visit their official website at: https://www.sdabocconi.it/en/faq/full-time-mba
666 Views
I have been reading about the course not having a AICTE accredition, wont that affect the value of the course?
Hi Pushan,
I understand that you are interested about some course at SDA Bocconi Asia Center, Mumbai and have noticed that the course is not accredited by AICTE and so to answer your question I would like to advise you that you please do not take this particular course into consideration as most of the organizations do make a note of the fact that whether the candidate has studied from an AICTE approved college or not while placements or during employment as they take this matter into significant consideration.
BEST WISHES!