Campus life at SDA Bocconi, "Institute taught me how to manage time," says Ayushi Dixit
There are a plethora of B-schools in India that provide MBA or management degrees. However, it is slightly challenging to know which institution can provide a good exposure to the candidates in terms of academics as well as placements. Prior to the admission, an MBA aspirant has certain expectations from the institute where he or she is aspiring to take admission. expects a lot from the institution which they are going to be enrolled in. In order to make the right choice, the candidates remain no stone unturned to know the fee structure, the faculty, infrastructure, placements etc. Let us have a look at what Ayushi Dixit says about her management institute (SDA Bocconi) in terms of above-mentioned things. Read the full interview of Ayushi Dixit with Careers360.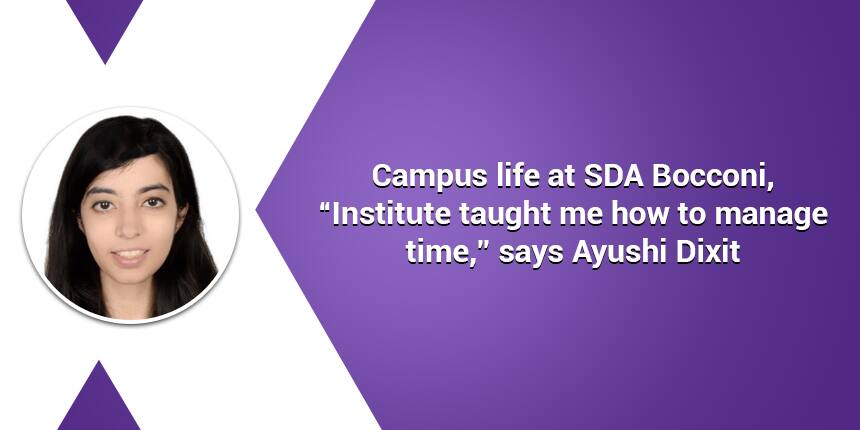 Careers360: Tell us something about yourself such as from which place are you from?
Ayushi Dixit: I graduated with my degree in Bachelor of Management Studies from Narsee Monjee College of Commerce and Economics, Mumbai. After my graduation, I worked in an Advertising agency for a year where I realised my passion for Marketing and decided to pursue my masters in the same.
Careers360: Presently which course are you pursuing and in which year are you?
Ayushi Dixit: I am a first year student of SDA Bocconi's International Master in Business (IMB) program at the Asia Center.
Careers360: Did you face any difficulty in the initial months when you joined the institute?
Ayushi Dixit: As we started the course during the pandemic, the classes were being held online which was a new experience for us all. But through SDA Bocconi's interactive e-learning platforms, we learned to leverage technology to interact with professors and peers with ease.
Careers360: What activities are offered in the institute? Are there any clubs etc for the various extracurricular activities? Which ones have you taken up and are a part of?
Ayushi Dixit: Clubs and committees are a significant component of the IMB course. The clubs help us in focusing on the managerial abilities required for the overall professional growth. We have academic clubs such as Luxury, Entrepreneurship, Finance, Operations, Management Consulting, Marketing and Human Resources Club.
While academic clubs are mentally stimulating, various other clubs are giving a platform to be active and creative including the - Sports Club, Media Committee, Cultural Club, Placement Committee, Toastmasters Club, Photography Club, 180degree Consulting and Tedxbocconiumumbai.
I am a part of the Marketing Club, Management Consulting Club, Toastmasters and Media Committee.
Careers360: Describe a typical day at your institute – what do you do from the time you wake up till you go to sleep?
Ayushi Dixit: Most of our lectures begin post 11 am due to the time difference between India and Italy. Before that, I have my breakfast and work on my assignments and go through the preparatory reading material. Our lectures are spanned across the day with adequate breaks in between. Post the lectures we have learning and development sessions conducted by academic clubs and guest lectures. Being the content head of the media committee, I am also responsible for handling the social media accounts and the blog posts. At night I usually work on the articles that go on the blog and prepare myself for the sessions that are scheduled for the next day.
Careers360: Tell us about the teacher-student relationship in your understanding.
Ayushi Dixit: The faculty in our college has an experience of teaching in various prestigious and renowned universities across the world. The triple crown accreditation (AACSB, AMBA, and EQUIS) of SDA Bocconi is further testament to their quality of teaching. They're approachable and deeply dedicated to our academic endeavours. The teaching model they apply in our classrooms is based on principles of open dialogues and debates, we derive our knowledge both theory and practical via engaging and interactive methods and projects that polish our skills of critical and on the feet thinking. Many of the professors are not just leaders in the academic sphere but also prominent figures in their industries. This makes the student-teacher relationship very fluid as both the student and teacher are indulged in teaching as well as constantly learning.
Careers360: How has the virtual mode of study been? What are the tools adopted?
Ayushi Dixit: The transition from campus to online studies was quite challenging in the beginning but the college management eased it out for us by leveraging advanced technological features to help us interact with our peers and professors better. Bocconi's e-learning platform to support the educational activities which are accessible through school credentials, Innovative teaching methods are incorporated to make virtual lessons and courses interactive helped us find our feet in the rigours of the academic semester. Also, Bocconi has the largest European archive of books and articles related to business and economics that is available to us on the Digital Media Library.
Careers360: How do you balance your studies, projects, exams and other activities?
Ayushi Dixit: Studying at SDA Bocconi has taught me how to manage time efficiently. With various things on my plate, I usually like to plan my day and I prioritise what to do, evaluating both-importance of tasks at hand as well as what can be materialised the fastest. Making to-do lists truly helps! I try to block time for studying, carrying out projects alongside meetings with frequent intervals, as our brain functions the best when we exercise different parts of it simultaneously, the key is to manage but also stay engaged and enjoy.
Careers360: Tell us about the clubs and societies at the campus and how significant are they from your point of view or students point of view?
Ayushi Dixit: The academic clubs help us to stay up to date with the latest trends and knowledge in the respective field by conducting learning and development sessions and guest lectures weekly.
Apart from academic clubs, there are other clubs and committees such as Toastmasters, Photography Club and Tedxbocconiumumbai among many others which help to add a layer to our personality. The clubs and committees act as a networking interface and provide a knowledge platform for students, companies, as well as faculty.
Careers360: Is there any in-house magazine or journal for the latest events or happenings at the institute?
Ayushi Dixit: All the latest events and happenings are updated on the college website blog and the social media handles of the college such as Instagram, LinkedIn and Facebook.
Careers360: What type of companies come for campus recruitment? How is the recruitment process here?
Ayushi Dixit: The Career Development Services team helps the students throughout their journey to refine their skills, soft skills and prepares them for group discussion and personal interview. They help the students map their career aspirations & the help facilitate the upskilling through industry certifications such a KPMG Six Sigma, EY Valuations etc.
The class of 2020 received offers from industries such as FMCG, BFSI, IT, Telecom, Management Consulting, Manufacturing, Luxury and Retail in functions across sales and marketing, operations and supply chain, finance, human resources, analytics, strategy and consulting.
The company comes on campus for a pre-placement talk and discusses the job roles offered, compensation structure, location and all the other necessary details. The pre-placement talk provides an opportunity for the recruiting company and the students to interact with each other.
The CV of interested students is then forwarded to the company for evaluation and next steps in the selection process. The selected students have to go through a round of group discussion and personal interview.
SDA Bocconi Asia Center, Mumbai Updates and Articles
Questions related to SDA Bocconi Asia Center, Mumbai
Showing 2 out of 2 Questions
1301 Views
Is getting into SDA BOCCONI ASIA CENTER MUMBAI difficult with 7.8 CGPA in 10th, 70% in 12th and aggregate of 60% in graduation
There are various factors that are taken into consideration for SDA Bocconi's selection process. For starter's Graduation in any discipline will do good. But on an average the Candidate's work experience is between 3-8 years. But as a fresher, if you have an impeccable Academic record, your application will be considered. And you will have to take a Language Proficiency test like TOEFL/IELTS/PTE/CPE,etc. And the applications are shortlisted considering various factors like Academic profile, Language proficiency test score, work experience and your CAT or GMAT score. GMAT is the most preferred exam here. Now though you have a good Academic profile, you need to come up with a solid Recommendation letter and an outstanding performance in the Interview to be selected for their full time MBA programme here. For more information, please visit their official website at: https://www.sdabocconi.it/en/faq/full-time-mba
531 Views
I have been reading about the course not having a AICTE accredition, wont that affect the value of the course?
Hi Pushan,
I understand that you are interested about some course at SDA Bocconi Asia Center, Mumbai and have noticed that the course is not accredited by AICTE and so to answer your question I would like to advise you that you please do not take this particular course into consideration as most of the organizations do make a note of the fact that whether the candidate has studied from an AICTE approved college or not while placements or during employment as they take this matter into significant consideration.
BEST WISHES!