MBA in Forest Management: Conservationists of Tomorrow
MBA in Forest Management -  The Indian forest sector attracts manifold challenges, of which the major challenge is the rising population. Considering the challenges faced by the Indian forestry sector, an MBA in Forest management is one way the problems can be taken care of by professionals. The specialised MBA in Forest Management programme focuses on providing forests with proper nourishment and care so that they remain healthy and vigorous and contribute to the well-being of the society. Read on to discover the scope, career opportunities and growth after pursuing MBA in Forest Management sector.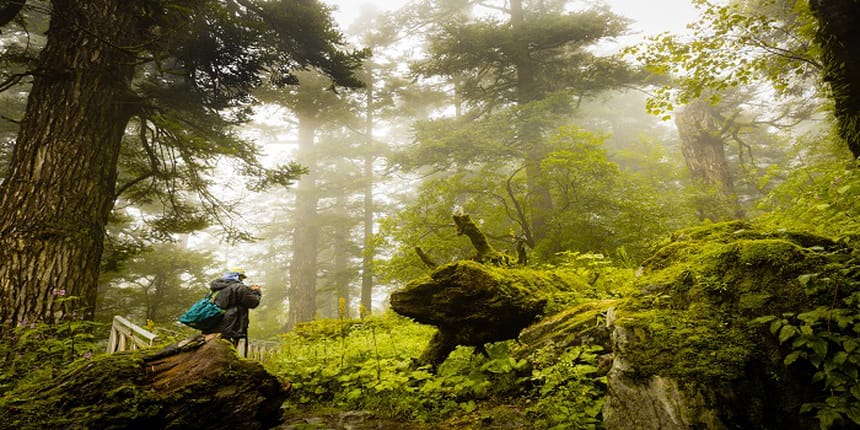 What is Forest Management?
Forest management is the science and craft of creating, managing, using, conserving and repairing forests and associated resources for human and environmental benefits. Besides, forestry management is a division of forestry which deals with overall economic, social, administrative and legal aspects of scientific and technical knowledge related to growth and preservation of forests. In simple words, Forest Management is the development and implementation of a plan integrating all of the techniques, practices and principles required to care of the forests.
MBA in Forest management is a two-year post-graduate programme which entails three specialised modules: Environmental Management, Conservation and Livelihood and Developmental Management. Research being one of the key activities in the programme focuses on research on natural resource management. For instance, the research projects at Indian Institute of Forest Management (IIFM) are funded by major national and international organisations including Department of Science & Technology, Ministry of Environment, Ministry of Textiles, Government of India, Ford Foundation, World Bank and Ministry of Rural Development, to name a few.
MBA in Forest Management: Course curriculum
The curriculum includes silviculture, forest mensuration, conservation, managing natural resources, implementation of environment-friendly policies, pollution control methods and developing management methodologies. The skills involve planting and replanting of flora, timber extraction, preventing fire and cutting roads and pathways through forests. There are also some specific areas which are taught under this programme such as Quantitative Techniques, Forest Mensuration, Management Information System and Supply Chain Management, among others.
MBA in Forest Management: Road Ahead
Forest Management is one of the best ways to overcome the fast depletion of forests and preserve the natural bounty for generations to come. With the ever-increasing focus on environmental conservation and issues such as climate change, countries of the world through various intergovernmental treaties are enacting more stringent environmental regulations to ensure that nations meet sustainable development goals. The very future of the planet and the human species depends on how we balance this delicate dynamic between unregulated consumption and conservation.
The role of forest managers involves strategizing and deciding the beneficial ways in which they can strike a balance between development related environmental degradation and manageable ways for recovering the environment. The other major challenges faced by the sector include the absence of strong forest laws, poor implementation of the laws, degradation of forest area due to natural calamity and industrial projects, lack of information on Indian forest resources and scarce research facilities, to name a few.
The forest managers assist organisations to achieve their targets simultaneously while saving the biodiversity, greenery and ecosystem of the planet. Their job is to promote the use of non-timber forest products, implement industrial plantation for timber products and wood-based industries, and aspire to find new markets for them.  Forest managers undertake the development of the forest sector as an industry for economic activities while also discovering new ways for managing the natural resources. Forest managers also look after the sociological dimensions of the people living in forest areas and issues related to climate change.
INTERVIEW
Dr. Tejinder Singh,
Director,
Indian Institute of Forest Management, Bhopal
Be environmentally compliant, Not environmentally irresponsible
Careers360: How does specialization in 'Forest Management' give an edge over a general management programme in terms of job prospects and career growth?
Dr. Singh: At IIFM, we bring the synergy of business and environment into management education by creating a deep awareness in our students about the bigger picture and how traditional business processes can be reoriented into environmentally sustainable practices creating a win-win situation for all. We don't just produce managers – we produce 'Green Managers'.
Careers360: How many seats are available for this programme and the fee structure?
Dr. Singh: Our intake for the PGDFM programme is 120 and the distribution of available seats is as per Government of India reservation norms. The total cost of our two-year programme currently is Rs. 4.8 lakhs (payable in instalments) for General and NC-OBC Candidates and Rs. 2.88 lakhs for SC/ST candidates. The fee includes hostel residential costs for two years (excluding mess charges) and all other facilities like free Internet, library, educational field trips, support for cultural clubs.
Careers360: What is the USP of the specialization that you offer? What are the core teaching areas for the specialization?
Dr. Singh: I have already elaborated our USP in answer to your first question. I would like to add that at IIFM, the unique synergy between management and environmental conservation opens up many doors for our students. As our courses amalgamate management education with sustainability, many new and unconventional career options become available. For example, some students after undergoing the programme might discover a natural calling to join a corporate organization in a sustainability role rather than a conventional business development role. Some others might find managerial profiles in the CSR or Corporate Social Responsibility area more meaningful. Yet some other might stick to conventional management roles. Some may take the entrepreneurial route and find meaning in creating social-startups. This is the beauty of broad basing management education in a larger societal context. It opens new doors that are usually unavailable to mainstream MBAs. Our students have three core specializations to choose from (a) Conservation and Livelihood (b) Environmental Management and (c) Development Management.
Careers360: Could you explain the academic structure at IIFM?
Dr. Singh: The academic structures and processes at IIFM are very agile and faculty members constantly review courses and incorporate cutting edge content. This is a yearly process. We have an open work culture and faculty members revise courses and present their course in front of their peers seeking suggestions for improvement. This cooperative multidisciplinary culture at IIFM ensures that curriculum is both dynamic and open to constant peer review.  We also, from time to time, engage in long term curricular visioning and recalibrate both the programme structure and pedagogy to better meet the needs of the society, students and recruiters.