"Don't be a serious student all the time" says Kumud Ranjan Alumni of JIMS Rohini
Sneak peek with Alumni of JIMS Rohini - Jagan Institute of Management Studies commonly known as JIMS Rohini, provides undergraduate and postgraduate level courses. Kumud Ranjan, Alumni of JIMS Rohini shared their experience while having word with careers360. Kumud shares how his two-year full-time programme from JIMS Rohini allowed him to acquire a diverse set of knowledge and believed 3 P's Passion, Participation and Performance were the key while he was at the campus. Kumud Rajan is presently working in Hindware in the capacity of Business Head Digital Commerce and Omni Channel. Read the complete article by careers360 to take Sneak peek with Alumni of JIMS Rohini with regard to their journey from the real world work profile.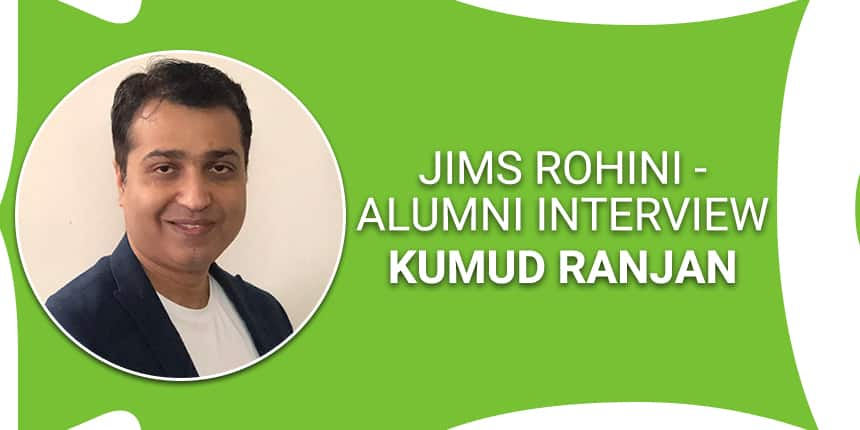 Q. Tell us about your domain and your work profile. At a professional level, did you pursue the same field you were interested or you switched?
Kumud Ranjan - Currently employed in the capacity of Business Head digital commerce and Omnichannel with Hindware. I have14+ years of experience in turnaround and high-paced environment, managing start-up e-commerce businesses, Category management, Omnichannel Commerce, Digital Marketing, Analytics, Business Operations, Project management, service delivery, team building & training efforts to Capture and increase Market share. Start-up Specialist having strong business acumen in B2C space.
It is not important to know what you thought. & what you are doing? Rather, you are enjoying what you are doing? & growing in what you are doing?
Q. Can you briefly tell us about your career path so far?
Kumud Ranjan - Bachelors in Information technology from Manipal University and management education from JIMS Rohini and later executive MBA from IIM Calcutta. I have worked across Banking, Media, Internet and E-commerce sector, have been instrumental in setting up digital infra at some of the biggest conglomerates translating into a successful business model. I am a part of the founding team of Snapdeal a leading Indian eCommerce marketplace and was instrumental in a company valuation of 5 Billion from scratch. Along with that, I am mentoring digital Start-ups and students who want to build a career in digital.
I have received many awards in E-com & Digital- Top India's 100 Digital Marketers 2018, Hot 50 Digital Brands for 2019, Young achiever award, The alchemist award, 100 SMARTEST DIGITAL MARKETING LEADERS by World marketing congress to name a few.
Q. Is industry work different from what you learn at B-School?
Kumud Ranjan - I believe B-schools sets foundation for a successful managerial career in the Industry. Theories learnt in the class later helps in the practical application to the real industry challenges. At JIMS Rohini Professor's strict timelines prepare you to understand the importance and manage your Bosses at corporate. All of these are the essential ingredients of any industry and are role agnostic.
I have also seen many B-schools helping students in successful migration from Campus to Corporate by helping them with Grooming modules, Guest lectures, Real case solutions, Simulation learning etc. This makes them better prepared and ready reckoner for any industry.
Q. How do you think your MBA programme has added value to your life, both professional and personal?
Kumud Ranjan - Earning an MBA business degree had a number of both expected and unexpected benefits in my life. In fact, those benefits often extend beyond career and professional goals and are applicable to Personal life as well. Curriculum activities of JIMS Rohini involved in forces to interact with people and, in turn, grow as a person. It prepares for just about anything and helps to push your limit.
All of this takes a level of self-discipline that you may not take to naturally but can cultivate with time and effort while working through the MBA program.
Q. What was your initial thought process when you joined your MBA programme?
Kumud Ranjan - Getting an MBA to me was to realize that there were many changes, but the biggest was the realization about how everything that you know is interrelated. As an engineer pre-business school, I had an appreciation of multiple solutions vs one answer to any given problem. Going through the MBA program absolutely gave me stronger tools to present solutions and argue against anyone answer views.
Q. You must have spent memorable time at your B-School. Do you miss being a part of it? Share a few good memories.
Kumud Ranjan - Yes JIMS Rohini gave lot many memories. Missing the Chai & Samosa breaks in between the classes. Fun with friends while at the campus of JIMS Rohini. Being part of several clubs & Organising College fest and other activities with precision planning. Industry visits and other excursion tours. Those were the moments, which has become part of life memoir and last opportunity to make friends.
Q. Briefly take us through your life at the campus, the activities you used to do and your routine life.
Kumud Ranjan - For me, it was a change of city and away from family. Initially looked difficult, exhilarating, frustrating, heart-breaking all in the 1st week at JIMS Rohini. It was a rollercoaster ride till I met, Fantastic professors, peers, seniors and the general environment which makes you learn a lot, and very quickly. This is not only academics but also becoming a better professional. There's something about JIMS Rohini that teaches you much more than just the books. All of us want to do something big, and the opportunities that are given here are humbling.
Yes, JIMS Rohini campus is beautiful, if you know to do it great! Learn to enjoy the opportunities taken, have fun but do not forget that the purpose for which you are there and to keep in mind the reason. Overall life at JIMS Rohini is extremely good. You don't need to be a serious student all the time!!
Q. Apart from academics, what were the other activities you were involved in and how did it enrich your life?
Kumud Ranjan - I used to take initiatives always for any participation starting from the election of a Class representative to the member of the placement committee in JIMS Rohini. Every event taught me management lesson, which I can correlate now. Now I feel the P's are equally important in corporate life and I am blessed to learn this early in my career.
Q. You are a proud alumnus of this top B-School. What is the best part of JIMS Rohini from a student's perspective?
Kumud Ranjan - JIMS Rohini gave me the freedom to not just to do what I wanted, but the opportunity to rediscover myself. What defines you is not what you do when faced with many constraints and deadlines, but what you would do should you find yourself unconstrained and free to act on your desires. Here, I experienced freedom. Needless to say, the competition for academics, placements, clubs, everything really, was fierce. But while there was competition, there was also an equal opportunity; while getting myself placed was a priority, so was being there for those who weren't yet placed; while learning inside the classroom was important, so were the lessons learnt outside.
In the end, I realized and it took me 2 years to completely comprehend; JIMS Rohini is not an institution, it's an experience.
Q. What is your suggestion/guidance for the MBA aspirants?
Kumud Ranjan - My 5 step advice to would-be manager's:-
Be clear why an MBA or PGDM?

Do cost vs benefit before you decide on Institution.

Prepare well for entrance and be ready to unlearn and relearn

Come with an open mind! & not just for placement & avg. salaries

Focus and be participative throughout during the program
JIMS, Rohini Updates and Articles
Questions related to JIMS, Rohini
Showing 263 out of 263 Questions