International Management Institute, Bhubaneshwar- Interview with Ramesh Behl, Director
International Management Institute (IMI) Bhubaneswar, established in 2011, is ranked63 in the NIRF IndiaRankings 2020 for Management. Its flagship PGDM programme is NBA accredited and has AIU equivalence. In an interaction with Careers360, Ramesh Behl, Director of International Management Institute, Bhubaneshwar talks about the institute's legacy, mission, selection process, student profiles, placements and more. To know all about the International Management Institute, Bhubaneshwar, read the interview below.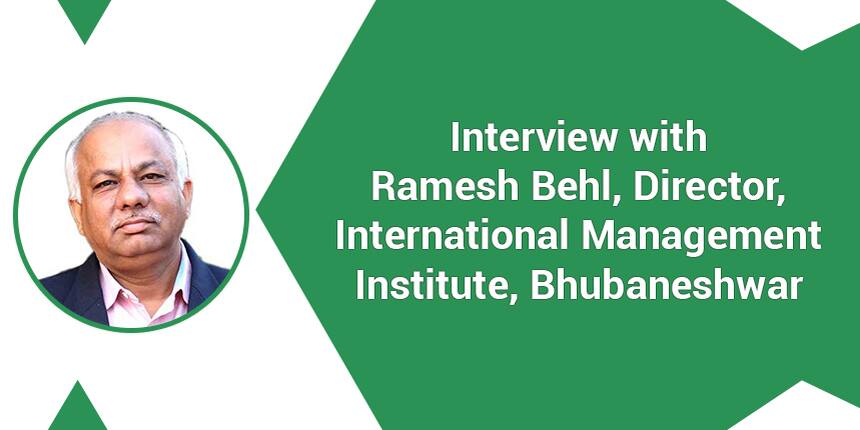 Careers360: Please tell us about the mission and legacy the institution holds.
Ramesh Behl: The IMI brand refers to and focuses on the quality of the students as well as the education that is provided. One motive of the institute is that we try to make the IMI brand an entrepreneurial venture. Students can come out with any innovative, creative idea or thought and implement it.We will encourage and polish that idea. That's what makes IMI one of the leading institutionsin our country.
Careers360: Please throw some light on the institution's ranking and accreditation.
Ramesh Behl: We are a part of EQUIS (European Quality Improvement System) and we are also talking to AMBA (Association of MBAs). We are AIU approved for equivalence and we have the National Board of Accreditation. According to NIRF ranking for 2020, the institute stands at 63rd position.
Careers360: What is the admission procedure and cutoff requirements?
Ramesh Behl: The admission to the institution is not duly based on cutoffs. We focus on the profile of the candidates. If we talk about the cutoff then the average CAT cutoff used to shortlistis 60-65. But we make sure that the candidates are well spoken, we focus on their communication skills, personality, entrepreneurial skills along with their academic skills. We calculate an index and based on that we give admission to the candidates.
Watch the full interview below
Careers360: According to you, how diverse is the IMI campus at Bhubaneshwar?
Ramesh Behl: Since day one, we have focused on diversity because it is important since it enhances the learning process and also makes it multidimensional. The gender diversity can be taken as a 40:60 ratio (40 for females and 60 for males). When it comes to geographical diversity, 30% of the students hail from the eastern India and 70% from across the rest of India. In IMI Bhubaneswar, student representation is from most states and we give a chance to all the students.
Careers360: How has the history of placements in the institution been till now?
Ramesh Behl: Fortunately, we manage to achieve 100% placements every year. The graph of the recruitment has always been upwards every year. We set a benchmark and try to achieve it. Some of the top recruiters are Hyundai, ACC, Amazon, Byjus, etc. If we talk about the profiles which had been offered to the students, these are - Analytics, sales and marketing, HR, operating, consulting, etc. Our average placement last year was 8.43% and maximum was 17.29%.
Careers360: Are there any hostel facilities for the students?
Ramesh Behl: Yes, the IMI Bhubaneswar has a very big campus spread across 16 acres. The campus is green with a hostel facility for 240+ students.
Careers360: Please give insights on IMI research as well as the conferences being arranged by the institution.
Ramesh Behl: We have four important pillars at IMI Bhubaneswar - teaching, training, research and consulting. We want our faculty to contribute to at least 2 of them so there is a balance across all the four pillars. From third year onwards, we get serious about the research part. We support faculty and the students and encourage them in their research. We organize three conferences every year wherein researchers talk about their research interests. In every such conference we come up with an anthology because every conference has to be output driven.
Careers360: Which degree is better? PGDM or MBA?
Ramesh Behl: It really depends on how the industry recognizes the students. Industry doesn't differentiate between aPGDM or an MBA degree. Industry focuses more on the quality of the students. It does not matter if you are a PGDM or MBA degree holder.
Careers360: Do you join IMI Delhi in common placements?
Ramesh Behl: All the three campuses are independent as far as placements and administration is concerned. We try to get students from all geographic areas. We also focus on getting corporates from all over India to be a part in the ourplacement process.
Careers360: What advice will you give to prospective B-School aspirants?
Ramesh Behl - Dreams never crash. Something for each one of you is waiting out in the world. So, do not feel bad, look at the failures as another opportunity to do something better.
Careers360: Tell us more about the Incubation center at IMI Bhubaneswar.
Ramesh Behl: We started an incubation foundation in 2018 to support the startup system. The foundation is allying with all the Central Government policies. We encourage all the startups and entrepreneurs. Also a lot of entrepreneurs have been produced by IMI.
Careers360: What kind of students should be looking at your institution?
Ramesh Behl: Someone who is truthful to themselves is our right choice. We do not test student's brilliance rather we polish it. Each one of our students are brilliant, they need to live, enjoy life, give their 100% and remain happy.
Questions related to International Management Institute, Bhubaneswar
Showing 15 out of 15 Questions