XIME Bangalore: Interview with Prof J Philip, Founder and Chairman on Admissions, Placement, Cutoff
XIME Bangalore, established 28 years ago is one of the popular B-schools in the city of Bangalore and offers PGDM programmes in various electives like Finance, Marketing, HR, business analyst etc.To get insights like programmes offered, placements, admission criteria, cutoffs and other details, Careers360 interacted with Prof J Philip, Founder and Chairman, XIME Bangalore. B-School aspirants can read the full interview here to know more details about XIME Bangalore.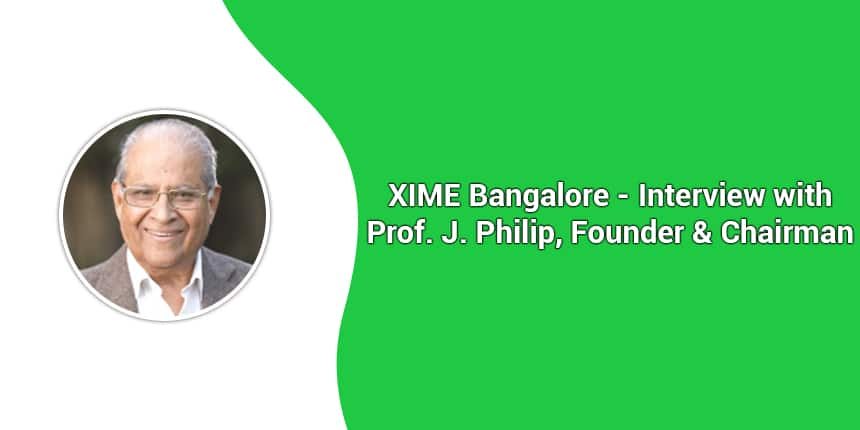 Careers360: Please tell us about XIME Bangalore.
Prof J Philip: XIME started in 1991 when I stepped out of Bangalore. It is not a very large institute like any IIM . However,very personalised training was its motto and it's like a family with diversity. The campus is located in the middle of the electronic city.
Careers360: Please throw some light on programs and specialisations.
Prof J Philip: We have the traditional PGDM courses like HR, Marketing, Operations, Finance. We also have IT and Analytics. We are adding International Business to the list. We also have a separate PGDM for HR just like XLRI.
Careers360: What about rankings and accreditation?
Prof J Philip: Initially when NIRF was announced, we were in the top 30 and in the second year of the NIRF rankings, we were within the top 50. Now, a lot of universities have come up and we came off. We are not a typical BSchool. Take business school to business school and compare apple to apple, we will be there.
Watch the full interview of Prof J Philip, Founder and Chairman, XIME Bangalore

Careers360: Please throw some light on admissions and cutoff.
Prof J Philip: Our cutoff is 75 and everyone above that can apply and expect a call for the further admission process. The second thing we consider is English. We are Indians and our languages comprise of Hindi and other regional languages but English is the business language so we look for it. Third thing, we look for is what makes him/her different from others in terms of achievements.
Careers360: Please brief us about the diversity in terms of gender, region and stream.
Prof J Philip: We usually have students from 22 to 24 states. This year, we have students from 23 states. Around 50 percent of our students are engineers and the rest from other streams. We have candidates with and without work experience. If we talk about gender, we started with a presence of 48 percent females and now we have 52 percent. So, in all terms there is a significant diversity.
Careers360: Please share some details about hostels and facilities.
Prof J Philip: It is a fully residential programme and we have around 360 students. Girls hostel and boys' hostel are separate. All the facilities including basketball courts, tennis courts and other sports are available in the campus.
Careers360: Are there any locational advantages?
Prof J Philip: Absolutely, I have no doubt. Location is an important aspect. You walk out and there is IT culture. Location, particularly in industrial cities, is an advantage.
Careers360: What about XIME placements?
Prof J Philip: Our placements are held in January and February and not before as we do not want to compromise with studies. We tell our students that you carry on with studies and jobs will come to you. Industry interface is very important and that is a part of life here. For example, we have ambassadors in the faculty and other senior people from the industry.
Careers360: Please share a few words of advice for the aspirants.
Prof J Philip: We must move on from the examination orientation situation as the real test is the industry which is why I prefer that at least one part of the faculty must be industry experts. Internships programmes are very valuable and must be taken seriously.
XIME Bangalore Updates and Articles
Questions related to XIME Bangalore
Showing 168 out of 168 Questions