We aim to forge partnerships with industry, academia and other stakeholders, says Prof. Ashish K Bhattacharyya
Prof. Ashish K Bhattacharyya assumed the office of IMT Ghaziabad on May 2018. As a new Director, he aims to ably carry on the vision and mission of the institute as set by the founders and followed by his predecessors. In this interview with Careers360, Prof. Ashish Bhattacharyya shares some of the pertinent information about the institute in terms of the admission process, infrastructure,  placement etc.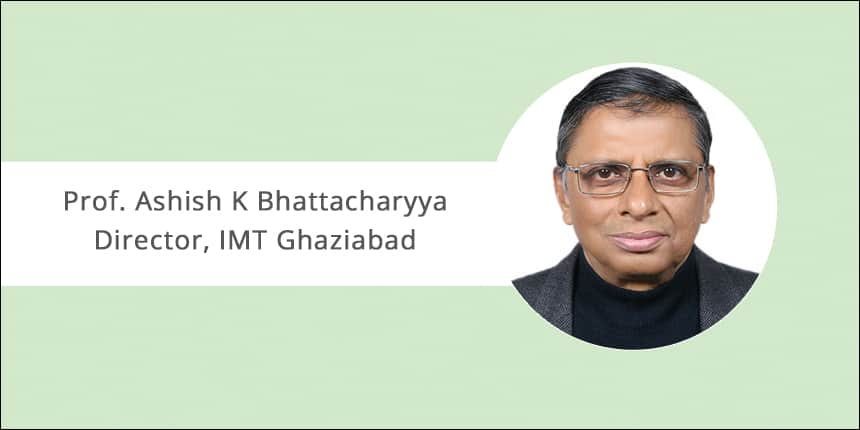 Prof, Bhattacharyya has 28 years of academic experience and 20 years of industrial experience. Prior to joining IMT Ghaziabad, he was a professor at IIM Calcutta, SPJIMR Mumbai and School of Corporate Governance in the Indian Institute of Corporate Affairs. An alumnus of the University of Allahabad, Prof. Bhattacharyya is a Fellow of the Institute of Chartered Accountants of India, a Fellow of the Institute of Cost Accountants of India and an Associate of the Chartered Institute of Management Accountant (CIMA, UK).      
Excerpts from the interview with IMT Ghaziabad Director Prof. Ashish K Bhattacharyya. 
Careers360: Tell us something about the vision and mission of IMT Ghaziabad.
Prof. Bhattacharyya: The Institute was set up in 1980 by entrepreneur and industrialist Mahendra Nathji. His vision was to build a business school which will focus on practice along with theory. He desired that the business school should groom a practising manager by practising manager.
The present vision of IMTG is, to be a leading management institution that contributes to the development of business and society through excellence in grooming leadership, entrepreneurial talent and research.
As far as the institute's mission is concerned, it includes creating intellectual capital in terms of scholarly and practice-oriented research, fostering a worldview that promotes diversity, inclusion, and ethical participation in the interconnected world of business. The mission also aims to forge meaningful partnerships with industry, academia, government and social sectors such that sustainable businesses are built fulfilling the collective needs of various stakeholders and the society and promote a culture of academic excellence benchmarked against the best institutions in its peer group.
Careers360:  Tell us something about the admission process.
Prof. Bhattacharyya: We consider only those applicants who have appeared or would appear in CAT or XAT or GMAT. We call for interview candidates who have achieved a particular percentile/score in any of three admission test. In preparing the ranking list we assign 35 per cent weight to CAT/XAT/GMAT performance, 35 per cent weight to academic track record, 10 percent weight to job experience and 20 per cent weight to the personal interview round.
Careers360: What kind of infrastructure can students expect at your institute? 
Prof. Bhattacharyya: The students have access to all the infrastructural facilities. Our library is counted among very good libraries in the country, which has a large collection of e-journals, corporate database and other resources. We make students available most commonly used research softwares. With an enhanced focus on analytics, we have developed labs, such as Bloomberg lab and marketing analytics lab. We have two well-equipped auditoria, one with a capacity of 600 audiences and the other with a capacity of 150 audiences. Our programmes are residential programmes and we provide air-conditioned hostel facilities for all our students.
Careers360: Industry interaction is being stressed by the AICTE as well as companies that recruit. What are the steps being taken by the institute in this direction?
Prof. Bhattacharyya: Industry integration is one of the focus areas of IMT Ghaziabad. We integrate with industry by inviting industry practitioners as guest faculty to take 20 to 30 percent of sessions in elective courses and also to offer esoteric elective courses in different functional areas. In addition, we appoint industry practitioners with rich experience as Adjunct Faculty, who commit 10 hours a week for the Institute. Our faculty members do joint research with industry practitioners and offer Management Development Programmes. We have Academic Committee, consisting of industry practitioners, for every Academic Area. We hold conferences/conclaves with speakers and participants from industry. We leverage our strong alumni base to forge a relationship with industry.
Careers360: Is there is any collaboration with universities abroad? If yes, please share details.
Prof. Bhattacharyya: IMT Ghaziabad has around 54 international academic collaborations worldwide in the area of student exchange (both incoming and outgoing), faculty exchange, (both incoming and outgoing), study abroad programs, short-term immersion programs (both incoming and outgoing), DBA and prospective PhD programs. We have finalised the agreements recently with many top elite schools w.r.t joint certification in the area of banking and financial services and dual degree programs. Perhaps within 2-3 months, our partners' strength shall increase to 64. Perhaps in India, IMT Ghaziabad is the only institute where we have an active partnership with each partner. Around 60 different faculties over a period of five years could avail the faculty exchange thus improving their cross-cultural research mechanisms. Most of our partners are triple crowned and FT/QS/TIMEs ranked.
Careers360: Please share placement statistics of the PGP batch of 2018. 
Prof. Bhattacharyya:  The PGP batch of 2018 consisted of 437 students out of which 408 participated in the final placement process and rest of the 29 students opted out for higher studies, family business, entrepreneurship venture etc. 
The average Package offered was Rs. 11.6 lakh per annum (LPA). The highest salary for international and domestic offers were Rs. 36.10 LPA and Rs. 25 LPA respectively.
Some of the top recruiters were Google, Goldman Sachs, BlackRock, Perfetti, Britannia, Deloitte, HCL, Bank of America, Accenture, GGK, RBS, Cognizant, Credit Suisse, Wipro, EY among others. 
IMT Ghaziabad Updates and Articles
Questions related to IMT Ghaziabad
Showing 115 out of 115 Questions