ISBR Business School- Interview with Dr. Y. Lakshman, Director
ISBR Business School, established in 1990, has been ranked Platinum Institute as per the AICTE - CII Survey for the past three years. The school offers postgraduate programmes in Finance, Marketing, HR, entrepreneurship, sports management etc. To get insights like programmes offered, placements, admission criteria, cutoffs and other details, Careers360 interacted with Dr. Y. Lakshman, Director ISBR Business School. Aspirants can read the full interview article to know more about ISBR Business School.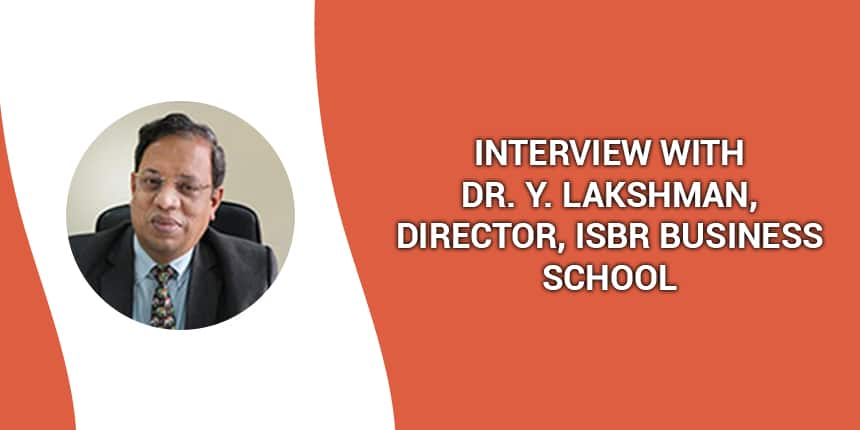 Question: Please throw some light on ISBR Business School's mission and legacy.
Answer: ISBR started 30 years ago as a management institute; thereafter we got the AICTE approval. The primary purpose for creating ISBR is creating knowledge and disseminating the information and knowledge to the students so that they become the global managers. We started with that mission and have been successful. When we say knowledge creation, we give a lot of importance to research.
Question: What are the programmes and specialization offered?
Answer: Students can choose from the wide range of courses at ISBR Business School. We have a wide range of specializations in almost all the areas. Marketing, Finance, HR are some examples. We also have analytics which is an emerging area. Besides this, we have a unique thing about two PGDM- one is the Global Immersion programme where we signed an MOU with different universities in Singapore and Malaysia. The second PGDM programme is the one semester abroad programme.
Question: What about admissions and cutoff for ISBR Business School?
Answer: We accept the scores of CAT, XAT, MAT but if any student has not taken any test among these then he/she can appear for our own entrance test but we emphasize on the scores of these exams. This is the primary criteria for admissions followed by the GDPI process. Students getting 80 percentile or above can safely secure admissions at ISBR. We do not look for the toppers;rather we look for the communication, business awareness skills, and attitude of the student.
Watch the interview with Dr. Y. Lakshman, Director ISBR Business School
Question: Please brief us about the diversity in terms of gender, region and stream.
Answer: We have around a 60:40 ratio of males to females. We have students from almost all the 29 states.
Question: What about the hostel facilities?
Answer: We don't have a direct hostel but we have a tie up with Stanza one of the most sought-after hostel service providers where the world class facilities are provided to the students.
Question: What are the locational advantages?
Answer: There are a lot of advantages to being in a metro city like Bangalore especially in school like ISBR which is situated in the Upper Electronic City. More than 100 companies are located here. We have a programme called RISE which is Research Initiative for Social Empowerment.
Questions: Please throw some light on the internships
Answer: We have unique activities like mini,micro and major projects and all of these are with reputed organizations. Our placement activity is throughout the year.
Question: Please share details about ISBR Business school placements.
Answer: We focus more on continuous learning, application of learning, knowledge creation and dissemination of knowledge. When we look at the placement statistics, the pandemic affected our placements but we have the highest salary around 12 lakhs. The median salary is something around 5.3 lakhs. We have recruiters from all major verticals.
ISBR Business School, Bangalore Updates and Articles
Questions related to ISBR Business School, Bangalore
Showing 21 out of 21 Questions