ITM Alumni Interview- Soumya Sharma Gupta Says, "Education is a continuous process"
ITM Alumni Interview - Soumya Sharma Gupta who came from 2-tier city, Bhopal to Mumbai, shares about her career path and campus life in an exclusive interview with Careers360. Presently, Soumya Sharma Gupta is working in the housing finance sector wherein she handles PAN India recovery operations for GIC housing Finance Ltd. Further, in her interview she states that the five months internship at Bank of Baroda and Fusion Advisors financial consultancy kept her updated with the latest trends in the dynamic environment. Also, with the help of internship in two different companies she was able to understand where she fits best. At last, in this interview, ITM Alumni- Soumya Sharma Gupta talks about her campus life, how she enjoyed and made herself disciplined and organized by being part of various events. Read this complete interview to know more.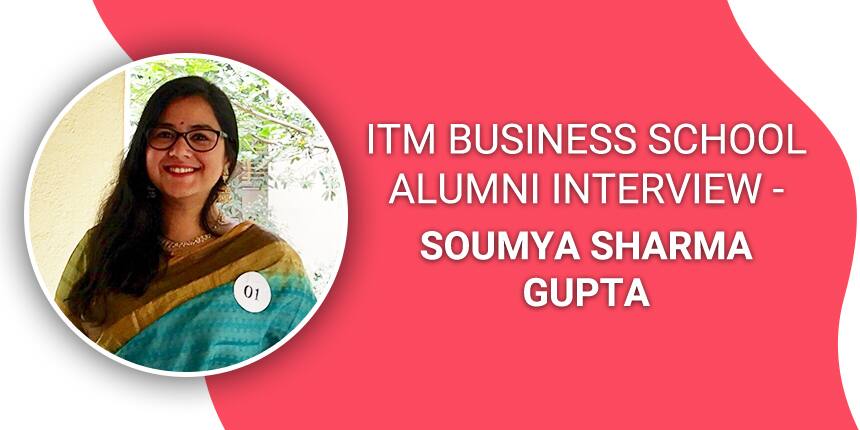 Careers360: Tell us about your domain and your work profile. At a professional level, did you pursue the same field you were interested in or you switched?
Soumya Sharma Gupta: I currently work in the housing finance sector and am responsible for handling PAN India recovery operations for GIC Housing Finance Ltd. Yes, being a commerce student, I always wanted to work for a financial institution.
Careers360: Can you briefly tell us about your career path so far?
Soumya Sharma Gupta: Post my PDGM in Finance from ITM Business School, I started my career with GIC Housing Finance four years ago and was initially posted in their Indore branch. Working at a branch helped me gain a solid foundation of ground realities in the housing loan sector - customer profiling, file processing, sanctions, coordination with sales team and other understanding of day-to-day other branch operations. This knowledge became vitally important when I started handling pan India recovery operations from the GICHF Mumbai corporate headquarters. Handling recovery operations also gave me an insight into the legal aspects and proceedings that any financial institution conducts when customers default payments. Reducing NPA and preventing future such assets is the top priority of my job.
Careers360: Is industry work different from what you learn at B-School?
Soumya Sharma Gupta: ITM Kharghar provided me with the theoretical knowledge essential to work in an NBFC. The closest-to-reality experience I got was during my five months internship at Bank of Baroda and Fusion Advisors financial consultancy. At the same time, we need to understand that education is a continuous process. Today, the industry is more dynamic than ever with evolving channels, competition and consumers forcing companies to think differently. I continue to learn new things on-the-go and keep myself updated with latest trends.
Careers360: How do you think your MBA programme has added value to your life, both professional and personal?
Soumya Sharma Gupta: I think getting an MBA was the best decision of my life! It provided me the right skill set to become ready for today's challenging work environment and pursue a quality lifestyle. I can proudly say today that I am an independent woman and can take care of my financial needs on my own. This is only possible because of my never-say-die attitude in any tough situations that come through.
Careers360: What was your initial thought process when you joined your MBA programme?
Soumya Sharma Gupta: While I knew that I had chosen the right education course, I still wasn't sure where the path lead me after completion. Will I be a better fit for a bank or any other financial institution? But as the time passed by, things became much clearer, thanks to guidance and support provided by the faculty members at ITM, and especially the five months internship. This is a confusing phase for any student, and can lead to a lot of anxiety. I was lucky to do internship in two very different companies. First was Bank of Baroda, where I understood different operations in a bank, including customer interaction. This gave me more confidence when I started working in GICHF Indore branch. Second company for internship was Fusion Advisors which was an advisory/consultancy firm. Overall, I just tried to be aware of all the pros and cons of the various options that were in front of me and tried understanding where I fit best.
Careers360: You must have spent memorable time at your B-School. Do you miss being a part of it? Share a few good memories.
Soumya Sharma Gupta: Yes, of course! I had a great time for those two years and definitely miss it. I have so many special memories that it's hard to pick a few. Organizing and participating in Maverick was a lot of fun, late night study camps/chats with roommates and having Maggie and Chai at Mama's shop near ITM hostel are some things I can never forget. I still remember the day I got selected in GIC through campus placements. That was the best moment of my MBA education!
Careers360: Briefly take us through your life at the campus, the activities you used to do and your routine life.
Soumya Sharma Gupta: Coming from a tier-2 city, Bhopal, and studying in the fast-paced Mumbai city itself enhanced my time management skills and taught me the value of time. Living in hostel away from parents also taught the value of money and how to manage the things with limited resources.
The mornings at ITM started with lectures at 8 am. For every subject, we were divided into different groups for group-based projects. This was the first introduction on how to work as a team. The lectures by Talewind helped in developing our personalities professionally. Guest lectures by industry experts were usually very interesting as they gave us a peek into the industry and the overall functioning.
Careers360: Apart from academics, what were the other activities you were involved in and how did it enrich your life?
Soumya Sharma Gupta: I was actively involved in extracurricular activities, the most notable being Maverick 2014 and 2015. In 2014, I was the class representative of my batch Amartya Sen and we won the event! Under our theme of diversity and inclusion, we invited a group of special children to the campus and spent the entire day with them. This brought a lot of focus and attention to our campaign vs. other batches and judges were impressed! In 2015, I was part of Maverick's organizing committee. I was also the core committee member of one of ITM's other big events - Ganesh Mahotsava, where we organized different activities and games for each day. Overall, I made a lot of new friends, and sharpened my leadership, team management, campaigning and creative thinking skills.
Careers360: You are a proud alumnus of this top B-School. What is the best part of ITM Kharghar from a student's perspective?
Soumya Sharma Gupta: The best part of ITM Kharghar is that it offers excellent placements. Apart from that, the campus is really nice with all modern facilities and a healthy environment to study. Plus, the two year PG focuses on overall development of students, adding value to skill sets, especially by offering the five months internship in the relevant field.
Careers360: What is your suggestion/guidance for the MBA aspirants?
Soumya Sharma Gupta: Attitude is everything. Continue to study hard and be thorough with the basics. At the same time, pursue nothing less than excellence in your communication skills and ensure that you are always ready to learn new things and take on challenges.
ITM Navi Mumbai Updates and Articles
Questions related to ITM Navi Mumbai
Showing 176 out of 176 Questions