ITM Alumni Interview - Ranjit Samal says, "ITM kept us connected with current market studies"
ITM Alumni Interview - Ranjit Samal, alumni of ITM Business School shares his academic and work experience. Further, he states about his experience at ITM by providing insights into the institute's education and the memories he has created. Also, he firmly believes that studying at ITM has helped him stay connected with the international economy and current market studies. Read this interview by Careers360 to know more about Ranjit's campus life and experience.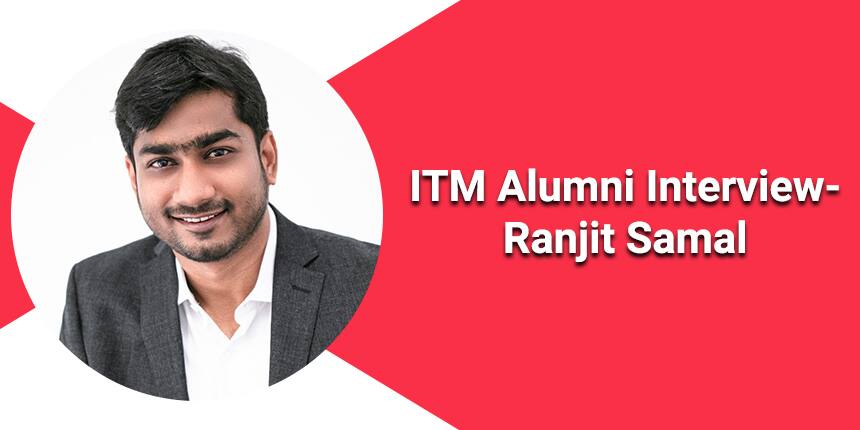 Careers360 - Tell us something about yourself, your education, current career etc.
Ranjit Samal - I am a management professional specialized in Supply chain domain and currently working with Blue Dart DHL as Manager - E-Commerce Operations strategy & Solution design. Apart from corporate, I have authored two books titled, the debut being "It's Not How It's Why" and recently launched "The Next Real Want" targeting the youngsters of our nation. The debut earned to a huge success, and became a bestseller which helped to bag the prestigious "Young Achievers Award – 2018" in leadership category.
Careers360 - You are an alumnus of which batch of ITM Business School? When did you complete your course here?
Ranjit Samal - I'm an Alumni of ITM 2012 – 2014 batch from International Business.
Careers360 - What were your first impressions when you joined the institute?
Ranjit Samal - While joining the institution, I was in the impression that I would have normal graduation like any other, but over the days, interaction with professors and gradually with the proceedings of education curriculum, the experience started to have a new direction with full of learning.
Careers360 - Give us a few insights about your education at the institute; what you found memorable during your study here.
Ranjit Samal - I have enjoyed all the classes and the mentorship received from the professors. Apart from the classes, extracurricular activities, start-ups events , International exposure in Europe and especially the journey of writing my first book at the campus itself, will always be memorable for me.
Careers360 - How did you keep updated with the industrial requirements and what was the role of the institute in it?
Ranjit Samal - More than studies and syllabus, MBA is certainly about being connected with the current industry trends and macro-economic studies, both at domestic and international factors. At ITM, Periodic Industrial visits, guest lectures from corporates , Industrial seminars and various campus to corporate activities are ways that had kept us connected with the current market studies & International economy.
ITM Navi Mumbai Updates and Articles
Questions related to ITM Navi Mumbai
Showing 174 out of 174 Questions