Chitkara University was established in 2010 by the Punjab State Legislature under "The Chitkara University Act". It is a government-recognized university with the right to confer degrees as per the UGC Act, 1956.The university campus is equidistant from Chandigarh, Mohali, Ambala, Panchkula, and Patiala. The university maintains a good faculty-student ratio. Chitkara University offers multi-disciplinary UG, PG and Doctoral degree programmes in fields like engineering, management, applied health sciences, design and more.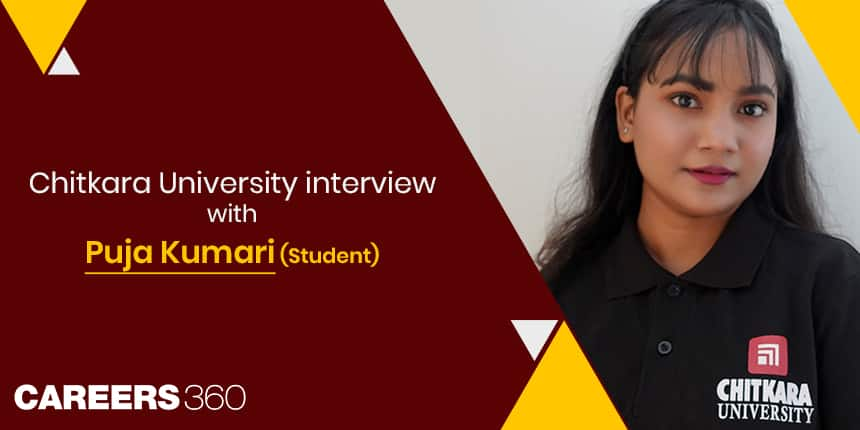 Chitkara University: Interview with Puja Kumari (Student)
Careers360 brings you an interview with Puja Kumari, an Master of Business Administration (MBA), 1st year student at Chitkara University, Chandigarh. She is pursuing her postgraduate (PG) degree in management at the university. In her interview, Puja shares her experience and life at university. How did she choose the MBA course at Chitkara? And other things about the university. To know more about Chitkara University from a student's perspective read the full interview of Puja Kumari with Careers360 in the article below.
Careers360. Tell us something about yourself such as from which place are you from?
Puja Kumari. My name is Puja Kumari, and I am from Jharkhand.
Careers360. Presently which course are you pursuing and in which year are you?
Puja Kumari. Presently I am pursuing MBA in supply chain management at Chitkara University.
Careers360. Did you face any difficulty in the initial months when you joined the institute?
Puja Kumari. No, I faced no difficulty, everyone is super helpful and welcoming at the university.
Careers360. What activities are offered in the institute? Are there any clubs etc. for the various extracurricular activities? Which ones have you taken up and are a part of?
Puja Kumari. There are many clubs and other activities that the university offers, like theater, dance, coding, singing and others. I regularly take part in these activities as they give you a chance to meet students from other departments and institutes.
Also Read:
Careers360. Describe a typical day at your institute – what do you do from the time you wake up till you go to sleep?
Puja Kumari. I set almost ten alarms from 6 to 7 AM to check the fact that I am forced to wake up. I go to the college at 9 AM. Then I attend classes and in between I also take a food break with my friends. The day typically ends with me revising the day's work and finishing any assignments and sleeping at 11 PM.
Careers360. Tell us about the faculty-student ratio here and about the teacher-student relationship in your understanding.
Puja Kumari. It's all good, the ratio is good, that is every student gets personal attention. The student teacher relationship is special because it is based on mutual respect.
Careers360. What facilities do you have on campus? What do you like here the most which you feel is unique and differentiating?
Puja Kumari. We have indoor and outdoor sports, labs, library, food courts, ATM Machines etc. I like Square One which is a food court which has various eating joints that after studying for the entire day we visit with friends and relax over coffee and food.
See Also:
Careers360. How comfortable are your hostels and how about the cleanliness factor over there?
Puja Kumari. I am not in a hostel, but I have friends who avail the facility. The hostel is very clean, spacious and my friends are very happy with the mess food.
Careers360. What about the medical facilities? Can you avail requisite medical attention if needed in an emergency?
Puja Kumari. Absolutely we can avail the medical services as and when required and they are very adequate.
Careers360. How do you balance your studies, projects, exams and other activities?
Puja Kumari. By doing time management and following a rigorous routine I maintain a balance in my life between studies and other activities.
Careers360. Tell us about the clubs and societies at the campus and how significant are they from your point of view or students point of view?
Puja Kumari. As I mentioned earlier, there are many clubs and activities that a student can choose from as per their liking. I feel these activities shape you into a better person.
Careers360. Is there any in-house magazine or journal for the latest events or happenings at the institute?
Puja Kumari. Yes, there is an in-house magazine or journal for the latest events or happenings at the university.
Quick Links:
Careers360. What are the popular hangouts at the institute? What, according to you, are the most-visited places nearby?
Puja Kumari. Square one is the popular hangout at the university. Nearby we have good food courts, fancy Dhaba's and a cinema hall.
Careers360. How do you spend your leisure time at the campus?
Puja Kumari. I spend my leisure time at the campus by taking long walks in the gorgeous campus with my friends and I also spend a lot of quality time in the library.
Careers360. Do you have any Facebook page of your campus where the students express their views, jokes or ideas, or maybe even a blog where they write about their experience of life at campus?
Puja Kumari. Yes, the university has a facebook page.
Other links: Chitkara University Q&A
Careers360. What type of companies come for campus recruitment and what percentage of students get placed every year? How is the recruitment process here?
Puja Kumari. The recruitment process is really good, many blue chip companies come to the university every year. According to me 95 % of students get placed and the rest opt for higher studies or start their own business.
Disclaimer: This content was distributed by Chitkara University and has been published as part of Careers360's marketing initiative.
Other Popular Institutes: