WeSchool- Interview with Dr. Uday Salunkhe, Group Director on Admission, Courses and Cutoff
Prin. L.N. Welingkar Institute of Management Development and Research or WeSchool, as it is popularly known, is an autonomous institute affiliated to Mumbai University. Ranked 68th in NIRF India Rankings 2020 for management, the flagship PGDM programmes very popular amongst students. Careers360 spoke to Dr. Uday Salunkhe, Group Director, WeSchool to know more about the institue's legacy, mission, programmes, admission process, cutoffs, placements and more. Read the article to know more about WeSchool.
Latest - PGDM Admission Open, Apply Here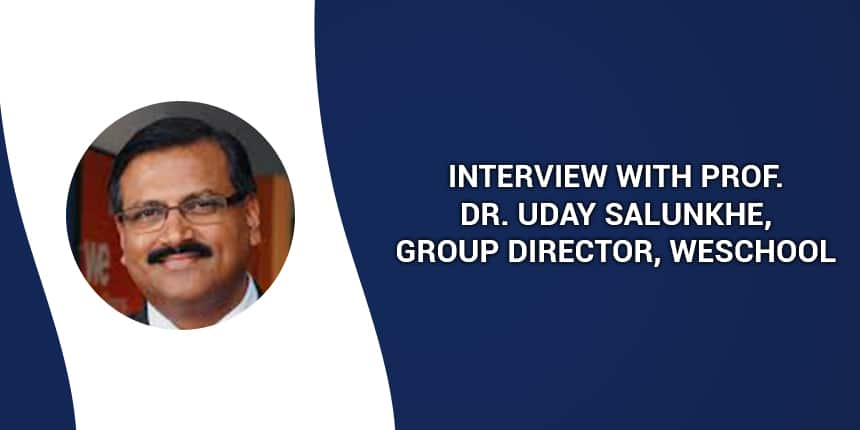 Careers360: Tell us about WeSchool Mumbai, its mission, and legacy.
Dr. Uday Salunkhe: WeSchool is a self-financing autonomous institute that was established in 1977. The beautiful part of its inception is that four primary teachers came together to establish the trust and the school. Bal Gangadhar Tilak was the big inspiration in establishing this trust. The school admits almost 20,000 students every year. The school is closely attached to Mumbai University and is approved by AICTE.
Careers360: Kindly through some light on programmes and specializations offered.
Dr. Uday Salunkhe: WeSchool Bangalore Campus has PGDM programmes in E-Business, Marketing, Finance, HR, Business Analytics, Business Design and Analytics, Research and Business Analytics. WeSchool Mumbai has PGDM E-Business, Business Design, Research and Business Analytics, Healthcare, Rural Management and Retail Management.
Check the interview with Dr. Uday Salunkhe below
Careers360: Could you share your Ranking and Accreditation system?
Dr. Uday Salunkhe: I must admit that I appreciate AICTE and MHRD for the transparency maintained among institutions and students. Being approved by AICTE gives our school an edge because each and every aspect of our school is public and transparent to students which makes it easier for them to take the final decision. WeSchool has a NIRF Ranking of 68 in the field of Management.
Careers360: What is the admission process? What are the cutoffs used for the same?
Dr. Uday Salunkhe: Generally, shortlisting of students starts with a CAT cutoff of 80 to 85 percentile. But exceptions are always there since we try to include a batch that exhibits a holistic approach towards management.
Careers360: How diverse is the culture at We School?
Dr. Uday Salunkhe: From a learning point of view, WeSchool is an innovation driven school. Our school promotes the idea of working with opposite minds and heterogeneity. We have a male to female ratio of 49.85 percent to 50.15 percent. In terms of geographical diversity, 27 percent of our students are from outside the state and rest are from the state. In terms of streams, we try to include students from every stream at almost equal percent to engineering candidates; primarily because engineering students carry the advantage.
Careers360: Please give details on WeSchool placements.
Dr. Uday Salunkhe: At We School, we have been trying to get equal opportunities for each and every one of our management graduates. Our last placement session showsa median salary of 8.5 lakhs. Top companies that visit us are Accenture, Airtel, Axis Bank, Deloitte, Dovetail, FactSet, Infosys, ITC, Maersk, Nestle, etc. to name a few.
Careers360: How are the hostel facilities at WeSchool?
Dr. Uday Salunkhe: We have a girl's school close to the college in Mumbai and the boys hostel is located within 2 Kms. of the campus. In Bangalore campus, the hostels are new and are also at a very close proximity to the campus. We have made it almost mandatory for students to stay in hostels since it provides them with the complete learning and an environment essential for their academic growth.
Careers360 - What are the locational advantages of your School?
Dr. Uday Salunkhe: Certainly, location of an institute plays a huge role in placements and the overall development of a student's life. Both Mumbai and Bangalore are financial and technical hubs of India. It provides students with the right industry exposure and gives them an edge over other students. In addition to this, I would like to add that students should really try to know their faculties in terms of their academic scope, journals, blogs, etc.
Advise - How should students select a Business School?
Dr. Uday Salunkhe: While selecting a college, students should not only look at short term placements but also think long term. Because, faculties and classmates play a huge role in shaping one's mindset and skills. They should try to choose a college with accurate foundation and moral values; it will help them in the long run. The values that we inculcate in our education are lifelong with us in both our personal and professional lives.
Careers360 - Why should students choose PGDM over MBA?
Dr. Uday Salunkhe: PGDM is recognized by AICTE and the institute has autonomy with respect to the curriculum design, content delivery, and all other aspects. That is the reason why we get 20 times more applications then our intake since PGDM is in demand. In terms of MBA, some universities find it very challenging to go with it since they cannot change curriculum very often. MBA is a rigid course whereas PGDM is more flexible and changes as per the market demands.
Careers360 - How does WeSchoolprepare its students?
Dr. Uday Salunkhe: WeSchool believes that a management student should not only be a corporate manager but also a citizen manager. Our school tries to teach students sustainability management along with their subject since its impact is global. The pandemic and global financial crisis has taught us that we need managers with a global approach since the problem is not native. WeSchool provides its students an overall global perspective for managerial positions. Our school takes the road less travelled and tries to provide a fertile environment essential to experiential learning. We train our students to nurture and lead citizens, organization, and society.
Welingkar Mumbai Updates and Articles
Questions related to Welingkar Mumbai
Showing 42 out of 42 Questions
Prin LN Welingkar Institute of Management Development and Research, Mumbai (Welingkar Mumbai)