JIMS Rohini Director Dr. Pooja Jain says, "We aim at making students world class managers"
Jagan Institute of Management Studies(JIMS), Rohini, Delhi, is one of the preferred destinations for recruiters looking for competent and reliable technical manpower. JIMS Rohini PGDM, PGDM-IB, PGDM-RM Programme are approved by the All India Council for Technical and are accredited from National Board of Accreditation (NBA) for excellence in quality education and have also been granted equivalence to MBA degree by Association of Indian Universities (AIU). Dr. Pooja, Director of JIMS Rohini who has been associated with the institute since 2002, believes in providing facilities for the students to achieve academic excellence for employability as world class managers and entrepreneurs. In an interaction with Careers360, Dr. Jain throws light on the JIMS Rohini admission process, campus infrastructure, recruiting companies, internships offered, statistics of placements and much more.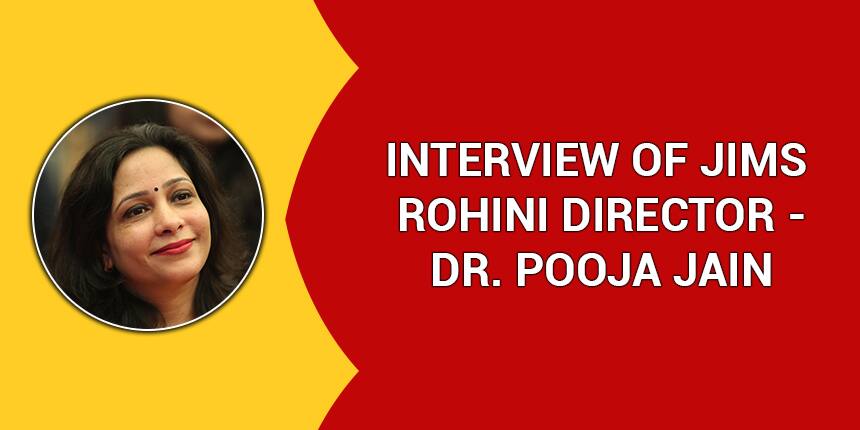 Quick Links -
CAT 2020 Topper Aaryan Kapur 100 percentiler interview
CAT 2020 Topper Kshitij Singhal 99.99 percentiler interview
Careers360: Tell us something about the institute; when it was set up, vision and mission
Dr. Pooja: JIMS Rohini, established in 1993 has acquired a commendable position as one of the premier institutes of the country. The educational framework at JIMS is rooted in certain key values and ethics which are:
Respect for the community

Passion for excellence

High ethical standards

Research as a way of life
As one of the Leading Business schools of India, JIMS offers management programs designed to develop students to take on managerial, entrepreneurial and leadership roles in this rapidly changing world. The Postgraduate programs namely, PGDM, PGDM-International Business, PGDM-Retail Management are approved by the AICTE, accredited by NBA and also been granted equivalent to MBA degree by AIU. The NAAC has accredited JIMS with A grade. It also continues to be ranked among top 75 B Schools of India 5th time in a row in NIRF 2020 of the Ministry of HRD, Govt. of India. The institute has been awarded the prestigious international accreditation certification named South Asian Quality Standards (SAQS) from the AMDISA a SAARC recognized body.
We are committed to provide quality technical education, bearing in mind expressed and implied needs of the students, industry and society. We aim at providing, on a permanent basis, facilities for the students to achieve academic excellence for employability as world class managers and entrepreneurs. Apart from a teaching institution, we aim at enhancing our research and development efforts
Careers360: Tell us something about the admission process?
Dr. Pooja: The PGDM programme is a stepping stone to a fulfilling future as a professional leader in a competitive and global business world.
Admission to the autonomous programs namely PGDM, PGDM (International Business) and PGDM (Retail Management) is done on the basis of following four parameters.
Entrance Tes t- 40%

Performance in Qualifying Exams - 20%

Personal Interview - 25%

Group Discussion - 15%
The admission procedure for GGSIPU affiliated programs namely MCA, BBA, BCA, BA(Hons) Eco is on the basis of centralized counseling conducted by IP University.
Careers360: What kind of infrastructure can students expect at the institute? Please elaborate?
Dr. Pooja: JIMS, Rohini ensures an all-round development of the healthy collection of various facets of learning inter-mixed with cutting edge technology, facilitating both, the teachers as well as students in their quest towards excellence.
Library
The Library is the backbone of academic and research activities at JIMS. It is designed to meet the information needs of the JIMS fraternity, i.e., students, faculty and staff members. To support high-quality teaching, learning, and research, the library has full-text access to thousands of international journals and online databases of repute. The library is well equipped with the latest IT tools and equipment to collect, store, retrieve, and disseminate information.
Auditorium and conference hall
The state-of-the-art auditorium provides a center stage with state-of-the-art audio/video facilities for conducting guest lectures, speaker sessions, events and batch-meets with a sitting capacity for the whole batch. It serves as a common place where a plethora of activities, initiatives are conducted and organized within the campus.
Computer Centre
The Computer Centre is continuously upgraded keeping in view the fast paced changes in IT. The facilities include world-class servers, Wi-Fi enabled campus and a wide range of hardware and software which facilitate an effective model of learning.
Learning Management Software
JIMS has designed the Learning management software for students wherein they can get all their education , classes content and can easily access the data or information without the risk of losing it.
E Resources
JIMS has also adopted concrete steps to impart education by making the best use of e-resources. Classrooms have been equipped with the latest technologies, high speed data access and other facilities. Access to online library facilities like E-books, Journals etc are also provided to students.
Classrooms
All classrooms at JIMS are spacious and air-conditioned. They provide the most conducive atmosphere for dynamic and focused discussions. Classrooms at JIMS have been designed to bring together analysis with action and are augmented with integrated audio-visual teaching aids for lectures, presentations etc. which set the tone for students to engage in stimulating discussions.
Hostel Accommodation
The institute provides a well-furnished hostel facility separate for boys & girls. The aim of the hostel is to make it a home away from home. It has spacious rooms with windows opening into a balcony, other facilities include a common room and dining room. Apart from the infrastructural soundness, it provides sufficient scope for interaction and relationship-building. These interactions play an important role in a student's life especially during placements and examinations.
Canteen
The canteen is a place of informal and innovative learning where one can debate, discuss and deliberate over a cup of coffee. JIMS has multiple food outlets inside the premises to provide various food options to its students.
Careers360: There is a lot of stress that is being made with regard to interaction with the industry as well as companies that recruit. What are the steps being taken by the institute in this direction?
Dr. Pooja: JIMS, Rohini maintains close contacts with corporates through its wide network of activities and inviting leaders from prominent Indian and transnational corporations. It ensures interaction of its students with corporate leaders to give them an insight into various industries and contemporary issues of global and national importance.
Also extensive consultation with leading corporate leaders is taken for updating JIMS Curriculum to incorporate the relevant inputs to meet the industry requirement, sharpen the students analytical and theoretical skills and expose them to the core academic concepts along with nuances of core industrial concepts.
Our students are encouraged to undertake industry projects, presentations, case studies, research work and work as trainees to get practical experience in an industrial working environment.
We have undertaken various special initiatives such as Pre-placement Training, Industry-Institute Interface, Conferences and Seminars to expose the students to realities of the corporate world. Also as businesses are changing and industry expectations are changing, we have revamped our research endeavors. We are now focused to solve business problems and design solutions for the industry in the form of short term consultancy assignments and designing training and workshops as per their requirements
Careers360: Internships are now mandatory as per AICTE guidelines. Does the institute help students with this? If yes how?
Dr. Pooja: We at JIMS, engage and empower students by allowing them to discuss, debate and solve real business challenges through Outbound Experiential Learning including Field/Live Projects, Industry Research Project, Social Sensitization Projects, etc. Also students undertake Summer Internship both nationally and internationally of 6-8 weeks that provides corporate experience and Final Dissertation project.
Through these activities students demonstrate their ability to apply learned skills and also students push boundaries and explore much needed solutions across disciplines and cultures.
Careers360: Can you please share details if there is any collaboration with universities abroad?
Dr. Pooja: The institute has several academic alliances with reputed universities and institutions all around the world.
These include: Auckland Institute of Studies (New Zealand), Malaysian University of Science and Technology (Kuala Lumpur, Malaysia), Lincoln University College (Kuala Lumpur, Malaysia), Nilai University (Malaysia), University of Sunderland (U.K) and Help University (Kuala Lumpur, Malaysia).
Under these alliances, the institutions collaborate with each other focusing on Faculty Exchange, Student's Study Tours and joint hosting of International Conferences.
Careers360: Please share placement statistics with information on the average package, highest and lowest package, number of students placed and details of companies that have recruited.
Dr. Pooja: Placements at JIMS is one of the most important activities from the students' perspective. The Institute engages with the industry professionals by inviting them to the campus for guest lectures, seminars, MDPs, live projects, mentoring sessions etc apart from regular placement activities. This provides opportunities to students to get first-hand information from the professionals about their expectations and requirements. This also helps the students in showcasing their talents and sharpening their pitches to the Industry during the placement processes thereby increasing their recruitment possibilities. Maintaining the record of 100% during this pandemic is the greatest achievement with the highest package of 13 Lakhs. A few top recruiters are EY, Reckitt Benckiser, ITC, Airtel, Axis Bank, MRF, AMAZON, ICICI Bank, BYJU's, Deloitte, Mazars, Protiviti, Piramal, Nestle,Hawkins, Federal Bank, Hitachi, KPMG, News Nation, KPMG, Bisleri, Future Group.
JIMS, Rohini Updates and Articles
Questions related to JIMS, Rohini
Showing 292 out of 292 Questions