IMT Ghaziabad admission, cutoff and placements - Interview with Prof. P.K. Biswas, Dean
Institute of Management Technology (IMT Ghaziabad), Ghaziabad is an autonomous institute established in 1980. Ranked 37th in the country by NIRF, IMT Ghaziabad is also one of the 14 institutes in the country which are AACSB accredited. Careers360 interacted with Prof. P.K. Biswas, Dean, IMT Ghaziabad on the institution's legacy and student relevant issues like courses, admission process, facilities offered, placements, etc. B-school aspirants seeking to pursue MBA can read the article to get more insights about IMT Ghaziabad.
Latest: Candidates can apply to IMT Ghaziabad - Click Here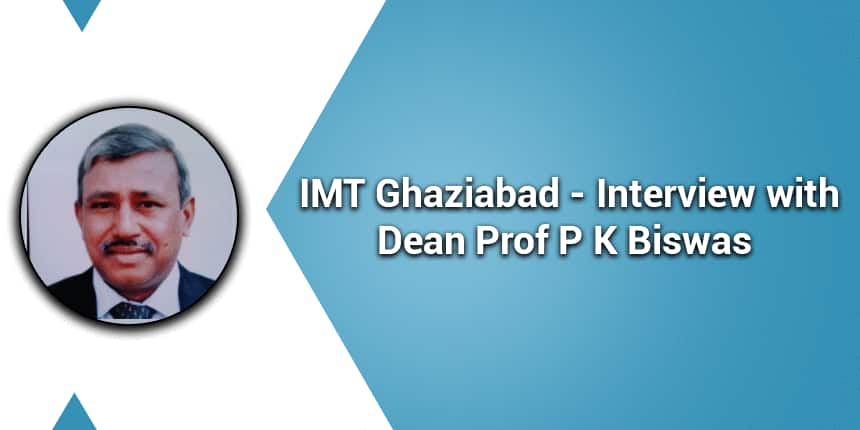 Q: Please throw some light on IMT and it's 40 years legacy
A: IMT Ghaziabad has a strong legacy. It started almost 40 years back in 1980 established by entrepreneurs. That time only a few IIMs were established. The basic idea was to provide a platform where students could execute skills and entrepreneurship, innovations and social responsibility. Education is important in both public and private sectors and that's how IMT was set up. Today, it owns a legacy of 40 years.
Q: What are some courses offered at IMT and specialisations?
A: We have PGDM (full time) PGDM Marketing, PGDM Finance, PGDM Dual country programme, PGDM Executive, PGDM Banking and Financial services. We also offer fellowship programmes in Management. We, at IMT do not believe in the same repetitive kind of curriculum and therefore, we have a very systematic, periodic evaluation of the curriculum with changes incorporated accordingly as needed.
Q: Please brief us about rankings and accreditations of IMT Ghaziabad.
A: IMT Ghaziabad has International Accreditation by AACSB and SAQS. The institute has been AIU Approved for equivalence.
Q: What are the CAT cut-offs for admission at IMT Ghaziabad?
A: A minimum of 93 percentile in CAT is required. That is the CAT cutoff point for shortlisting but normally we get something around 96-97. Apart from this, we look at the experience of the students, their career and how well they have performed in academics. It is a very rigorous process. We have a written test also. Basically, we are looking for all-rounders as business education requires focus on the application side.
Watch Full Interview on Youtube below -
Q: What about diversity in terms of Gender, stream and region?
A: Now we have just 60-70 percent engineering students. Rest of them are from different backgrounds including commerce and arts. We are also trying to infuse liberal arts and others. We have a large batch of something around 600 so in Gender diversity we have around 27 to 30 percent females. But we are trying to get more women in our batch but the main focus remains on merit. Luckily, we have many women in our faculty. We have students from around 22 to 23 states.
Q: Please share some details about the placements including the top companies recruiting.
A: IMT has been known for marketing. IMT Placements has been going very well. Last year, we had an average salary of about 14 lakhs while the median was 12 lakhs. Highest was 58 lakhs in international placement and it was 34 lakhs for domestic. On account of the COVID crisis, around 8 percent of students were left but we are trying to get them placed. Our top recruiters include Deloitte, Amazon, Cognizant, Mahindra & Mahindra, Nestle, TATA, Wipro, HCL, Infosys, Cisco, Accenture, Google.
Q: What are some extracurricular activities available for students? Please brief about hostel facility.
A: We are a fully residential campus. All students stay on the campus. Even the local students of Ghaziabad or Delhi NCR are required to stay at the campus. This is because a lot of group exercises are conducted on the premises and sometimes the events may go till 2 am or 3 am in the morning. Lots of clubs are there. The advantage would be to stay on the campus.
Q: Please share details about Internships, Corporate Projects and CSR activities.
A: Summer internships are mandatory for all the students and every year we get good summer internship projects with stipends as high as Rs. 1 lakh. Sustainability and social responsibility are unique causes and principles of responsible management education. Our students are also involved in live projects including green projects.
Q: Why should a student choose IMT Ghaziabad?
A: The biggest reason is the brand value. IMT has been consistently in the top 5 private institutes. So, the brand value is very important. The legacy and industrial alumni who have done extremely well and made us proud are some good factors.
Q: What kind of students should choose IMT Ghaziabad?
A: Students who are looking for a good career in marketing. We have many electives in marketing. At IMT, Marketing is the most sought one followed by Finance then HR and Operations. Students see value for money while joining IMT
Q: Any advice for B-School aspirants?
A: If somebody scores a good percentile they would get a good college. However, if they do not get a preferred choice, they should not lose hope. They should take inspiration from Satya Nadella and others who did not necessarily belong to any IIT but they touched success. So what is important is self-belief. If one believes in him/herself and is confident then he/she would definitely succeed.
IMT Ghaziabad Updates and Articles
Questions related to IMT Ghaziabad
Showing 144 out of 144 Questions