IMS Ghaziabad - Interview with Dr. Urvashi Makkar, Director on Admission, Cutoff, Placement
One of the oldest B-Schools in North India, IMS Ghaziabad is accredited by AICTE, NBA. The institute's flagship PGDM has been awarded equivalence to MBA by AIU. Recognized by ASIC, U.K, and with a NAAC 'A' Grade, IMS Ghaziabad is also a member of AACSB Business Education Alliance. Careers360 caught up with Dr. Urvashi Makkar, Director of IMS Ghaziabad to know about the institute, its mission, courses offered, admission process, placements, and more. Read an excerpt from the interview with Director Dr. Urvashi Makkar of IMS Ghaziabad.
Latest: PGDM Admissions are Open, Apply Now - Click Here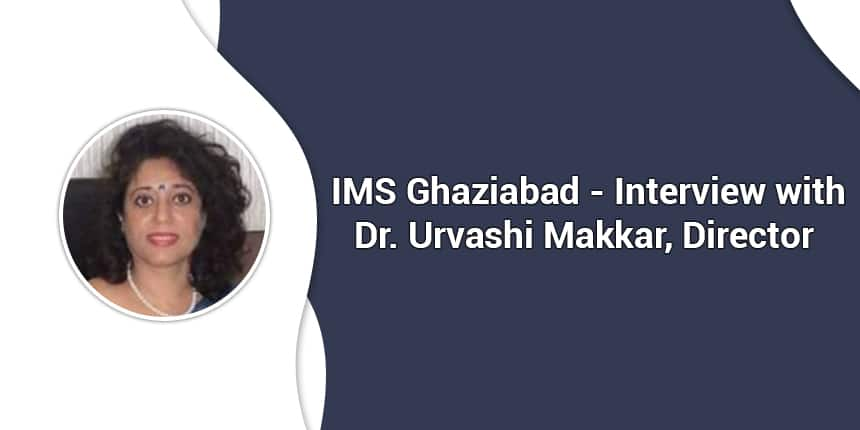 Careers360: Brief us about IMS Ghaziabad.
Dr. Urvashi Makkar: Established in 1990, IMS Ghaziabad is one of the oldest management institutions in our country. With a legacy of more than three decades, the institute has a single-headed objective to create leaders for tomorrow. This philosophy of ours has been integrated into every dimension of the institution right from the beginning. Currently, IMS is led by Mr. Naresh Agarwal who is the Chairman.
Careers360: What are the programmes and specializations offered by IMS Ghaziabad?
Dr. Urvashi Makkar: PGDM is one of the flagshipprogrammesand our prime focus. We have an intake capacity of 360 as per the AICTE norms for this programme. Besides this, we have PGDM (Big Data Analytics) with the objective of creating experts in big data analytics with high technical skills. The intake for this particular course is 60. The USP of this particular programme is the tie-up with IBM where they offer certification programmes in every trimester to all students enrolled for this.
Watch the full interview of Dr. Urvashi Makkar

Careers360: Tell us about the ranking and accreditation.
Dr. Urvashi Makkar: IMS Ghaziabad is consistently ranked among the top B-Schools of India by apex bodies of national &international repute. Further, IMS is accredited by NBA and NAAC. We are also accredited internationally by Accreditation Service for International Colleges and are a member of the Association to Advance Collegiate School of Business (Education Alliance USA).
Careers360: What is the admission process? Do you consider any cutoff for admission?
Dr. Urvashi Makkar: Graduates in any stream with a minimum of 50 percent marks are eligible for admission to IMS Ghaziabad. In addition, students having valid scores in entrance exams like XAT, MAT,CMAT, or CAT are also eligible for admission. We have a highly integrated selection process comprising of group discussions, personal interviews, written aptitude tests. These are our admission parameters.
Careers360: How diverse is the campus in terms of gender, stream, and region?
Dr. Urvashi Makkar: In terms of gender diversity our institution is highly privileged to have almost 40 percent girl students with boys comprising the remaining 60 percent thus making it a healthy combination. We have a wide range of programmes from B.Tech,B.Pharm, BBA to B.Com. In fact, we have even had CA students opting for our PGDM programmes. In terms of regional diversity, we get students from across the country.
Careers360: What kind of hostel facilities do you provide to students at your campus?
Dr. Urvashi Makkar: We have a dedicated hostel facility with a capacity of 500 students. Along with this, we have 8 dedicated computer labs, courts for outdoor games like badminton, table tennis, basketball, etc. We have used a lot of innovation in the campus to facilitate online education with ease to the students.
Careers360: Do you provide internships to students during their study?
Dr. Urvashi Makkar: We have a bouquet of more than 200 companies where students are offered summer internships. The summer internship is provided based on the competence and performance of the students.
Careers360: Do you have scholarships for the students?
Dr. Urvashi Makkar: Yes, we provide a wide range of scholarships to the students. They are varied and include scholarships which are merit based, for wards of Defence personnel to name a few. The details are there on the website.
Careers360: Tell us about placements at IMS Ghaziabad.
Dr. Urvashi Makkar: Placements has been one of the biggest strengths of the IMS Ghaziabad campus for the last 30 years. Our focus is on placement readiness right from the day students enter the campus. Our placement cell engages with 100 companies on a day to day basis. We have more than 300 companies on our board for whom placements drives are conducted. This year till date, about 25 percent of students of the current batch have already been placed. We are hopeful that by the end of February, we will accomplish 100 percent. This year students have been offered packages of Rs 12.5 lakhs p.a and the highest package this year has been Rs. 16.6 lakhs p.a. We have a strong policy that companies offering less than Rs 4 lakhs cannot participate in our placement drive. So, our average salary is Rs. 6.1 lakhs. Companies visiting our campus are Amazon, Deloitte, ICICI, Axis, HDFC Banks to name a few.
Careers360: What kind of students should be looking at IMS Ghaziabad?
Dr. Urvashi Makkar: Students who believe that the overall development in terms of corporate readiness is on their agenda, should opt for IMS Ghaziabad. Our major focus is not only on the knowledge enhancement of the students but also on skill development. It is for this reason,we have integrated the entire PGDM programme with 16 value-added certification programmes.
IMS Ghaziabad Updates and Articles
Questions related to IMS Ghaziabad
Showing 197 out of 197 Questions