VJIM Hyderabad: Interview with Dr. Ch. S. Durga Prasad, Director
Founded in 1991, Vignana Jyothi Institute of Management was set upunder the aegis ofVignana Jyothi, a non-profit organization. The institute offers PGDM programmes recognized by AICTE. Careers360 interacted with Dr. Ch. S. Durga Prasad, Director,to know all about VJIM Hyderabad, its mission, admission procedure, courses offered, placements and more. Read the full interview with Dr. Ch. S. Durga Prasad, Director, VJIM Hyderabad below.
Latest: PGDM Admission Open in Click Here to apply now.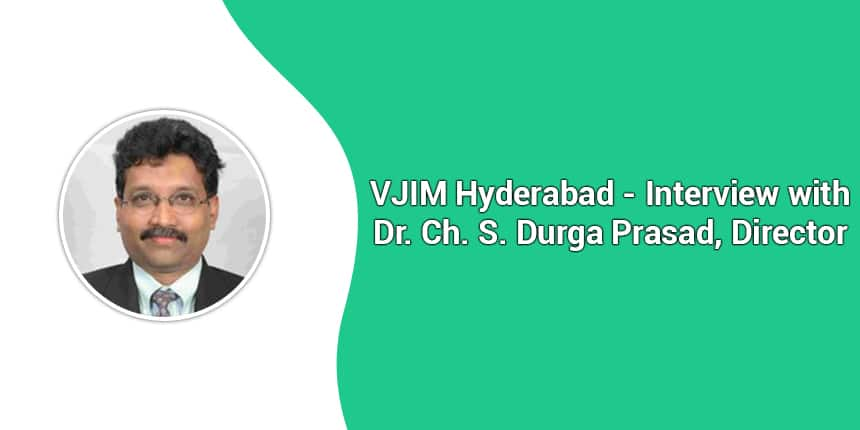 Careers 360 - Tell us about the vision and the objective of VJIM.
Dr. Ch. S. Durga Prasad - The institute was set up by few of the educationalists and industrialists in 1991. We have 5 institutions in total in addition to a public school. The management gives complete support and encouragementto all its students to excel well in their academics. VJIM Hyderabad's vision is to be a leading B-school in the region transforming students into future leaders. Ours is a completely autonomous management institute providing PGDM programmes.
Careers360 - What are the different programmes and specializations offered by VJIM?
Dr. Ch. S. Durga Prasad - The institute offers a selective set of courses to its students like finance, marketing and HR. We also provide specializations in the business analytics area. Along with that, we offer certifications from reputed institutions like six sigma from KPMG, entrepreneur evaluation from ENY, distant marketing from Times Pro etc. These enhance the skills of our students. In addition, we also offer multiple levels of industrial interaction.
Watch the full interview of Dr. Ch. S. Durga Prasad, Director, VJIM Hyderabad
Careers360 - What are the admission criteria and the required cutoff needed for the admission?
Dr. Ch. S. Durga Prasad - We, at VJIM, consider the composite score of the candidates like their previous academic scores and background. As far as cut off is concerned, the average cut off needed is 50 percentile. Eligible candidates are called for an interview where, they are tested on their language proficiency. All in all, candidates need to have a good consistent academic background.
Careers360 - Tell us about the rich diversity the institution has to offer.
Dr. Ch. S. Durga Prasad - We have 50 percent girls in most of the batches and sometimes this number even exceeds even that of the boys in a batch. In terms of academic background, we have equal distribution with students coming from all the streams like commerce, engineering, management, arts etc.
Careers360 - Are there any hostel facilities for the students?
Dr. Ch. S. Durga Prasad - Yes, the institute has excellent infrastructure with a green campus. As many as 250 students can be comfortably accommodated. Single rooms which are well guarded and well ventilatedare available for the students to reside in. The campus has 24-hour security and power backup.
Careers360 - Does VJIM also offer scholarships?
Dr. Ch. S. Durga Prasad - Yes, we do have scholarships at multiple levels. The scholarships are offered based on the composite scores (student's performance in 10th, 12th, undergraduate level and interview). Those who manage to score above 90 percent will get a scholarship worth Rs. 1.5 lakhs. We also have different slabs for scholarships starting from Rs. 20,000. At the end of every trimester, the top 4 students get 50 percent of their total fees as scholarships. In addition, we also have scholarships for OBC students as well as for those from economically weaker sections. The scholarships are merit based. We also also sponsor students with loan scholarships which in essence are loans that come with flexible payment terms.
Careers360 - What is the placement procedure? Kindly throw some light on the placement figures.
Dr. Ch. S. Durga Prasad - Last year, 80 percent of our students got placed. Some of the students are pursuing internships and are likely to get permanent offers from the companies. We ensure 100 percent placements to all of our eligible students. Various companies are in the pipeline like ITC, Asian Paints, Deloitte, Berger Paints, etc.
Careers360 - What are the locational advantages?
Dr. Ch. S. Durga Prasad - Hyderabad is the hub of IT, Pharma, Finance corporates. It is the right destination for many MBA aspirants because of its cosmopolitan nature. It is well connected, offers many good opportunities to interact with the professionals and industry people. In short, its a perfect city weather-wise as well as location-wise.
VJIM Hyderabad Updates and Articles
Questions related to VJIM Hyderabad
Showing 28 out of 28 Questions