Know all about KIIT School of Rural Management from Prabeen Singh (Alumnus)
Established in 2006, KIIT School of Rural Management (KSRM) is situated in the city of Bhubaneswar. KSRM is affiliated to KIIT University. The institute is recognised by the University Grants Commission (UGC). KIIT School of Rural Management offers two postgraduate level courses in agribusiness and management like MBA Agribusiness Management and MBA Rural Management. For admission to KIIT School of Rural Management students who meet the MBA programme eligibility criteria have to go through the KSRM selection process. The institute also has collaborations with organisations like TISS, FAO, World Bank,Cereal Systems Initiative for South Asia, and TERI.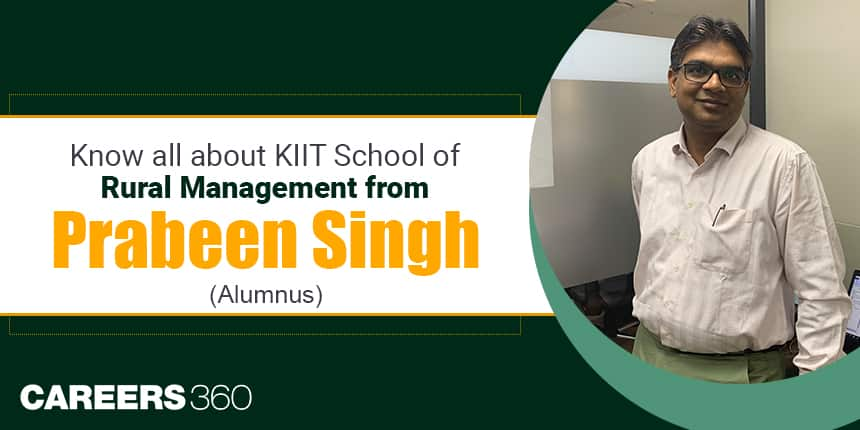 Careers360 brings you an interview with Prabeen Singh, Senior Commercial Manager at CottonConnect. He is an alumnus of KIIT School of Rural Management. He completed his MBA in Rural Management from KIIT School of Rural Management. He is a 2008-10 batch passout. In this interview, Prabeen shares his experience at KSRM Bhubaneswar. What was the student life like inside the institute? How did he choose the MBA Rural Management programme at KSRM? And other important things from a students perspective about KIIT School of Rural Management. To know more about KSRM Bhubaneswar read the full interview of Prabeen Singh with Careers360.
Careers360. Tell us about your domain and your work profile. At the professional level, did you pursue the same field you were interested in or you switched?
Prabeen. I work in the domain of sustainability and corporate social responsibility. My main role at CottonConnect is to lead the new partnerships and pilot new initiatives for a sustainable cotton supply chain. The development of a long-term programme strategy is also a part of the role. I have been working in the same field since the beginning of my professional career and will continue in the same sector.
Careers360. Can you briefly tell us about your career path so far?
Prabeen. I am an agriculture graduate from Banaras Hindu University and MBA (Rural Management) from KSRM. After completing the MBA programme I got placed in AKRSP(I) from the college campus selection. I was placed in one of the remotest districts of MP as an agriculture specialist, where I was leading agriculture programme implementation in the district with the help of a team on the ground. I have also worked for organizations like Ambuja Cement Foundation and Global Communities.
Careers360. Is the Industry work different from what you learnt at college?
Prabeen. There is always a difference between practical and theory. Reacting in the real world you must need a lot of patience and knowledge. MBA is about practical learning and there are a limited number of colleges which provide a platform of mixed learning that is the theoretical and real world with the help of three internship programmes. KSRM curriculum is designed as per international parameters to make it more practical with the internship and industry attachment.
Also Read: KSRM Courses & Fees
Careers360. How do you think your time in college has added value to your life, both professional and personal?
Prabeen. Practical learning with the help of an internship has helped me a lot to be prepared for real-world situations. Only theoretical knowledge cannot help you to adapt to the situation. So having a very intensive internship during the two years of course curriculum has added a lot of value to my personal and professional life.
Careers360. What was your initial thought process when you joined KSRM?
Prabeen. I developed my interest in a rural management course when I was in the graduate programme. Only a few colleges in India offer the actual MBA degree with theoretical and practical knowledge. KSRM offers opportunities to implement theoretical knowledge during the internship. So this was the place where I have realised to pursue the MBA in Rural Management.
Careers360. You must have had a memorable time at your KSRM. Do you miss being a part of it? Share a few good memories.
Prabeen. I was at KSRM from 2008-10. There are many good memories at the college but my best day was the first day at college when we landed up in the college. The second memory which I carry is when we participated in the exhibition of the VSS programme at college and with a lot of young minds we learned many things about innovation across India. This was the first opportunity and time when we experienced cross-learning with colleagues. Briefly take us through your life at the campus, the activities you used to do and your routine life.
On a normal day we wake up in the morning, dress up, have breakfast and go to classes. Most of the classes used to be till the evening. In the evening we participate in games and sports on campus. Almost daily at night, we work on assignments and projects as an individual or in a group. Many times we spent the whole night reading and completing assignments.
Sunday was the most exciting day when we went to watch movies and do activities as per our interests. My Sundays used to be hectic because I used to participate in many social activities like visiting slum areas near our college and understanding the livelihood opportunity of the community. On many festivals we distributed food and clothes to needy children and the poor. Still, I have the same habit of keeping myself engaged and making the best use of weekends. Now I invest most of the Sunday in learning new skills and exploring new places.
Read More About: KSRM Bhubaneswar Admission
Careers360. Apart from academics, what were the other activities you were involved in and how did it enrich your life?
Prabeen. Apart from academics I used to keep myself engaged in many social activities like understanding the communities by visiting slums and nearby villages. I have also prepared some of the business models for rural communities on community-based poultry and dairy. Which I got an opportunity to implement when I was working with Global Communities as a programme specialist in Pune. I have implemented a dairy and poultry project which has impacted more than 100 farmers and made them small entrepreneurs.
Quick Links: KSRM Bhubaneswar Placement
Careers360. How did you keep updated with the industrial requirements and what was the role of the institute in it?
Prabeen. Learning and developing skills is not a one-time activity, if you want to keep your self-growing throughout your career then you need to keep yourself open to developing skills and knowledge for your lifetime. This is what KSRM has taught me, which I am maintaining to date.
Careers360. You are a proud alumnus of this top College. What is the best part of KSRM from a student's perspective?
Prabeen. From a student perspective I have experienced the type of faculty and course instructor that KSRM have, this makes KSRM stand out of the crowd. The best thing is that KSRM has faculty who are either implementers or practitioners from the industry.
Also Check: KSRM Facilities
Careers360. What is your suggestion/guidance for MBA aspirants?
Prabeen. KSRM offers a unique course curriculum which fits international parameters. MBA is more about practical and real-time learning, not classroom theoretical learning. KSRM's MBA-RM course is designed with 3 internship programmes which make the students more practical and fit to the real world.
Also Read: KSRM Reviews
Disclaimer: This content was distributed by KIIT School of Rural Management and has been published as part of Careers360's marketing initiative.
Other Popular Institutes:
KSRM Bhubaneswar Updates and Articles
Questions related to KSRM Bhubaneswar
Showing 14 out of 14 Questions