International Management Institute, Kolkata- Interview with Dr. Mohua Banerjee, Director on Admission, Courses
International Management Institute (IMI) Kolkata has been ranked 52nd among Business Schools in India by National Institutional Ranking Framework (NIRF). Its flagship programme is the two-year, full-time Post-Graduate Diploma in Management (PGDM) approved by AICTE and accredited by NBA. Careers360 caught up with Dr. Mohua Banerjee, Director of IMI Kolkata to know about the institute's mission, legacy, admission procedure, courses offered, and more. Read on the excerpts from the interview below.
Latest - PGDM Aadmission Open - Apply Now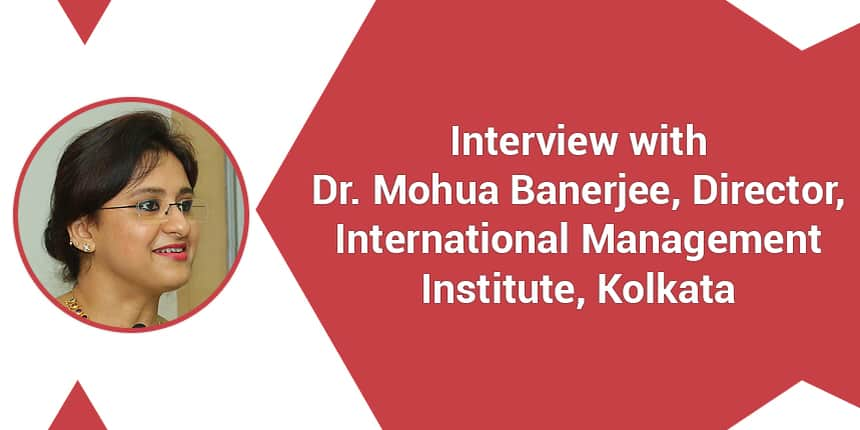 Careers360: Tell us about IMI Kolkata, its mission, legacy.
Dr. Mohua Banerjee: When we started in the east, there were not many private B-schools. IMI Kolkata is one of the three chapters of IMI; the first being IMI Delhi, India's first corporate sponsored business school. IMI Delhi has been there for the last 39 years, while the Kolkata campus in Alipore came up in 2011. So, going forward, this year we will be admitting our 10th batch of students. The objective of IMI Kolkata is to promote opportunities for students so that they can learn, grow and importantly develop their skillsets across the various disciplines of management. We have an objective of developing managers with a mindset of social responsibility.
Careers360: Kindly throw some light on IMI Kolkata's ranking and accreditation.
Dr. Mohua Banerjee: Talking about accreditation, our programmes are AICTE approved and have accreditation from NBA. The programme is equivalent to MBA as per Association of Indian Universities (AIU). We are among the top 100 Indian Institutes. As per the National Institutional Ranking Framework (NIRF); IMI Kolkata has been ranked 52nd among Business Schools in India in 2020. Recently we have been ranked 4th as the private b-school in the east zone by Outlook-ICARE Rankings 2021, 8th as privatestand-aloneinstitute and 18th as private MBA institution in India.
Watch the full interview of Mohua Banerjee, Director of IMI Kolkata
Careers360: How is the admission process taken care of? Are there any cutoff criteria that candidates need to match in order to avail admissions?
Dr. Mohua Banerjee: Talking about the admission process, typically we have a thorough check of the candidate's background. Which would mean a lot of emphasis is on class 10, 12 and graduation results, institutions from which they have come from along with the valid scores in CAT, XAT and GMAT exams. Past academic records, performance in the individual assessment process along with other qualitative parameters, like work experience and extra-curricular activities constitute core components of the selection process. Only shortlisted candidates are called for the final stage of the selection process which includes Individual Assessment Process (Essay Writing and Personal Interview etc.). On personal interview parameters, we have essay writing to basically look at writingand communication skills and we also check cognitive and problem-solving skills, general awareness, domain knowledge and future potential for employability.
Careers360: How diverse is the culture at IMI Kolkata?
Dr. Mohua Banerjee: The students who come into our campus are mostly from 18-19 states from pan India. Talking about gender equality, we have 40 percent of women on our campus. As to geographical diversity, we have a major section of students coming from east and north India. We also have a balance between freshers and experienced candidates with 70 percent freshers and 30 percent students with work experience. We have 35 percent engineering students while the rest are from non-engineering backgrounds.
Careers360: What are the facilities available on the campus for the students?
Dr. Mohua Banerjee: We have an objective of providing a safe and secure learning environment without compromising on education quality. In the campus we ensure periodic disinfection and sanitization be it the classrooms, hostels, library or gym. We have proper security arrangements. For the safety purposes, during the current times, we have ensured we have proper quarantine rooms with regular visits by doctors and nurses and arrangements of tests as per the need.
Careers360: Tell us about IMI faculty.
Dr. Mohua Banerjee: All faculty members at IMI Kolkata are Phd holders which make them highly expertised mentors for the students.
Careers360: Please give details on placements.
Dr. Mohua Banerjee: At this point of time, we have recruiters who have been with us for a long time and they are still keeping their trust on IMI Kolkata. We do have companies like ICICI Bank, HDFC Bank, Tata Mutual Fund, Tech Mahindra to name a few who are looking at hiring in good numbers. COVID has delayed the process of hiring by a couple of months. FMGC companies are hiring very consciously this time. Apart from these, the rest are hiring in bulk.
Careers360: What advice would you give to prospective BSchool aspirants?
Dr. Mohua Banerjee: My advice would be,"Be open minded;watch out for opportunities, do your homework and be prepared. Evaluate yourself and be focused on what you are doing."
IMI Kolkata Updates and Articles
Questions related to IMI Kolkata
Showing 3 out of 3 Questions
203 Views
Is there any possibililty IMI kolkata reopen there online application now?
hi,
International management institute in kolkata offers courses on following disciplines,
Post Graduate Diploma in Management (PGDM)
Fellowship Programme in Management (FPM), Doctoral Level Programme
PGDM programme is equivalent to MBA with equivalence granted by Association of Indian Universities (AIU), Government of India.
KINDLY mention which course admission details you want to know, then we may help you with necessary information.
61 Views
How is International Management Institute,Kolkata for PGDM?
IMI Kolkata is pretty average college. For IMI only the Delhi campus is good and the Bhubaneshwar campuse is a little decent. The PGDM program consists of courses like Marketing, Finance and Human resources management. The fees for the PGDM program in IMI Kolkata is 12.4 lakhs but the placements are not up to the mark. Companies like ICICI Prudential, HDFC Life insurance, Jaro Education, Ujjivan and some other startups visit the campus but the job roles offered are mostly for sales. For Human Resources Management most of the companies like TCS, Arohan Financial Services and others conduct pool campusing. The average compensation package offered there is 5-6 lakhs. So if you have limited options with you in terms of colleges or you want to pursue marketing management then this college won't be a bad option. But they do have good alumni base which can help you in future growth.

Good Luck


201 Views
cat cut off for this college.?
Dear Priyanka, you will  have to score atleast an overall 60-70% in CAT for being shortlisted for further rounds of selection procedure. Your education background, marks scored in 10th and 12th, Graduation and work experience are considered and calculated for being shortlisted for WAT and PI. IMI Kolkota conducts WAT to evaluate written capabilities of prospective Candidates. WAT evaluates Articulation and Technical aspects of the applicant. After WAT, selected Candidates will attend 15 minutes of Personal Interview. For complete information about the selection process, please visit their official website at: https://imi-k.edu.in/imik/index.php/admission/programme?page=pgdm-admission-process