IIM Ahmedabad signs MoU with BRS Ventures to launch International Extension Center in Dubai
The Indian Institute of Management, Ahmedabad and BRS Ventures of UAE signed  a  Memorandum  of  Understanding  (MOU)  to  establish  IIMA's  first  Extension  Center in Dubai on February 12, 2018.  The UAE Extension  Center  will begin  with Executive  Education  Programmes  that are relevant  to the region  and  will  include  both  open  learning  and  customised  training  programmes.  The MOU was signed at the World Government Summit 2018, an annual event held in Dubai.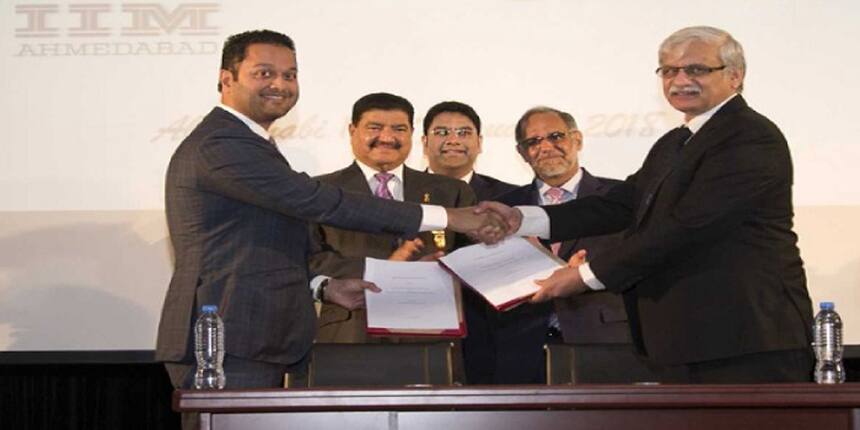 According to the agreement signed, IIM Ahmedabad will provide the academic and training expertise while BRS Ventures will facilitate the required support including infrastructure, industry links and logistics.
IIM Ahmedabad and BRS  Ventures may consider offering other programs in UAE of longer duration. Speaking on the occasion Prof. Errol D'Souza, Director of IIM Ahmedabad said, "For an institute with global footprint of alumni, it is important to have physical presence beyond the national borders." He also added, "UAE has been the gateway and hub for MENA (Middle East and north African) region's business connect with the world. We are very happy to partner with BRS Ventures, given their distinguished service to UAE as well as deep understanding of the region and its priorities. This will help IIMA in implementing the planned activities and programs successfully."
Dr. BR Shetty, Chairman, BRS Ventures said, "Education has always been close to my heart. It is my honor to bring IIMA, the jewel of India, to UAE. The IIMA Extension Center will immediately benefit UAE and MENA (Middle East and north African) regions' economies, public policies, executive skills and industry overall". He also added that later on when longer duration programs are  launched,  the  graduating  students  will  be  entitled  for  preferred  employment at the company's own diversified businesses.
IIM Ahmedabad Updates and Articles
Questions related to IIM Ahmedabad
Showing 378 out of 378 Questions