Interview of Dr Dinesh D. Harsolekar, Director IES's Management College and Research Centre, Mumbai
Before making one's way to their dream management institutes, a candidate tries to get information about different aspects such as infrastructure, placements, fees, etc. In an exclusive interaction with Careers360 Dr Dinesh D. Harsolekar, Director of IES's Management College and Research Centre, Bandra (W), Mumbai provides vital insights into the IES's Management College and Research Centre (IES's MCRC). Continue reading to know more about the programmes offered by the institutes, eligibility criteria, admission process, placement report and other such relevant information.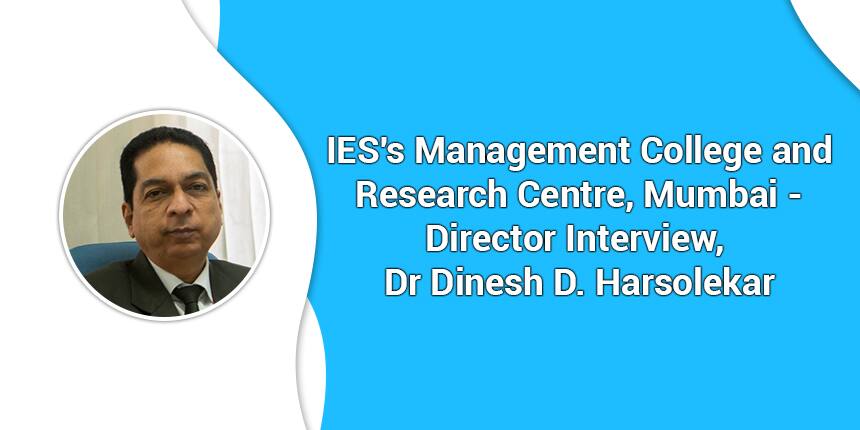 Careers360: Tell us something about the institute; when it was set up, vision and mission.
Dr Dinesh D. Harsolekar: IES's Management College and Research Centre (IES's MCRC) is a premier business school, committed to academic excellence.
The roots of Indian Education Society (IES) trace back to over a century. The first school of IES was set up in 1912 and the Society was formally registered in 1917. Thereafter, many new schools and campuses were set up under the aegis of IES. In 1995, IES embarked in the field of higher education and set up the College of Architecture.
With this robust legacy of education, in 1998, IES's Management College and Research Centre (IES's MCRC) came into existence with the approval of All India Council for Technical Education (AICTE) and affiliation from Mumbai University. In a short span of time, IES's MCRC has achieved astounding landmarks in management education.
The institute offers the following programs:
The PGDM programme of IES's MCRC is accredited by the National Board of Accreditation (NBA) and accorded equivalence by Association of Indian Universities (AIU) which makes it equivalent to MBA Degree.
Vision: To be in Top 50 Business schools in India by 2025.
Mission: To develop and nurture socially responsible business leaders and entrepreneurs through quality management education.
Careers360: Tell us something about the admission process.
Dr Dinesh D. Harsolekar: The admission process at IES's MCRC is meticulous, transparent and straightforward, ensuring the high standards of objectivity and assessment so that the most deserving aspirants get selected.
Aspirants have to fill the application form online. Eligible students will be given a time slot to undergo a psychometric test, group discussion and personal interview. The merit list takes into account their academic scores as well and the list is displayed after a few days.
We value merit and offer merit scholarships to our students admitted in both the programs, i.e. PGDM and PGDM (Pharmaceutical Management).
Eligibility criteria:
For PGDM with Specialization - Finance, Marketing, HR, Operations, Entrepreneurship Management and Business Analytics, a Bachelor's degree in any discipline from a recognized University with a minimum of 50% marks in an aggregate or equivalent grade.
For PGDM (Pharmaceutical Management) a Bachelor's degree in Pharmacy, Medicine, Biology, Chemistry and other Life Sciences with a minimum of 50% marks in an aggregate or equivalent grade.
Besides, applicants who have appeared in at least one of the following written aptitude tests are eligible to apply: GMAT, CAT, XAT, MAT, ATMA, CMAT, MAH CET
Careers360: What kind of infrastructure can students expect at the institute? Please elaborate?
Dr Dinesh D. Harsolekar: IES's MCRC is strategically located in a prime area of Bandra Reclamation in the heart of Mumbai City and easily accessible. It is also very close to the iconic Bandra-Worli sea link. The state-of-art physical and academic infrastructure offers the best ambience for the holistic development of students.
The Information Resource Centre caters to all the research and academic needs of the faculty members and students providing them with an excellent collection of books, journals, periodicals, newspapers, encyclopedias, reports and a lot of other material related to business, economics and management both in hard copy and digital versions.
The entire campus is connected with Fibre Optic and has WiFi connectivity. Not only the faculty and staff members but also all the students are provided unlimited internet access. Students are also provided laptops by the institute.
All our classrooms are equipped with the latest technological facilities like LCD display, computer, internet and sound system. All the rooms are air-conditioned and spacious. The entire classroom atmosphere makes students feel comfortable so that they are able to focus on the learning process.
For big events, we have a well – equipped seminar hall.
To break the monotony of academics, we have provided indoor recreational facilities such as table tennis; carom and chess which the students can put to best use after lectures or during breaks. Recreational facilities are also provided for outdoor games such as cricket, football, volleyball, basketball and others.
Careers360: There is a lot of stress that is being made with regard to interaction with the industry as well as companies that recruit. What are the steps being taken by the institute in this direction?
Dr Dinesh D. Harsolekar: Management students will have a feel of the industry only when they are exposed to real-life situations. This is possible only when they are given an opportunity to interact with industry professionals.
The institute has industry alliances with CII, IMC, ISTD, NIPM, AMDISA, IDMA and many more.
Student-Engagements at IES's MCRC include interactions with ASEAN Delegations, Singapore
International Foundation, Common Wealth Alliance of Young Entrepreneurs, CII Higher Education Summit, IMC International Finance Conference, IMC Fusion Conference, CII Yuva, Yuva Coffee with CEO, CII-Make In India, CII-Yi Youth Conclave, CII Yi TAKE PRIDE to name a few.
To ensure a proper interface with industry, IES's MCRC is engaged in many activities which allow students and faculty members to have a close interaction with industry such as industrial visits, guest lectures by industry experts and senior alumni, consulting assignments, conducting management development programs and seeking industry inputs for curriculum design.
We regularly invite our recruiters for various activities, like mock interviews of final year students, expert judges to evaluate management projects, admission interviews of the new batch of students, summer guide meet, curriculum design discussion and others.
Careers360: Internships are now mandatory as per AICTE guidelines. Does the institute help students with this? If yes how?
Dr Dinesh D. Harsolekar: Management education cannot be complete unless students have hands-on experience of working in the corporate environment.
Ever since the day of inception of IES's MCRC, the institute has been providing Summer Internships to all our students. This mandatory summer internship lasts for (2 -3 months) wherein they work full time with the organization where they are placed as summer interns. Students are evaluated by the Institute for the same.
Also, our students take up various internships and live projects simultaneously along with their course. These internships and projects are done along with their course and are hence on a flexible and part-time basis. The Institute's Corporate Interaction Committee helps in arranging the summer placements, internships, live projects in addition to the executive placement activities.
Careers360: Can you please share details if there is any collaboration with universities abroad?
Dr Dinesh D. Harsolekar: IES's MCRC provides global opportunities through collaborations, industry alliances and student engagements.
The institute has signed MOUs with universities in Ireland, Switzerland and Taiwan and it is in the final stage of discussions with universities in Australia and the USA.
IES's MCRC also offers International programs to selected students:
Study Abroad Immersion programs in Australia, Ireland, Switzerland, Taiwan, USA

Student Exchange Program (Semester abroad) for a duration of 5 months in Taiwan and Ireland.

Paid International Internship in Taiwan for 3 months.
Careers360: Please share placement statistics with information on the average package, highest and lowest package, number of students placed and details of companies that have recruited.
Dr Dinesh D. Harsolekar: After good quality education, the placement record of an Institute is the next deciding factor of a reputed management institute. IES's MCRC has a strong Corporate Interaction Committee comprising a team of dedicated faculty members, staff members as well as student representatives. What makes our Institute unique is that we have a full-time professor who heads the Corporate Interaction Committee who systematically guides the students and ensures that the competencies of students complement the requirements of the corporate. The committee is responsible for correspondence with prospective employers, arranging pre-placement talks, and looking after the process of personal interviews. The committee assists in meticulously handpicking the perfect job for each student through a careful matching of the profile and the required skill set.
Placement Statistics:
Average Package: 5.7 LPA

Top 10 %: 9 LPA

Top 20 %: 8 LPA

Top 50 %: 6.5 LPA

Lowest Benchmarked salary: 4.5LPA
Percentage of Students Placed: 85%
Details of Companies that have recruited:
Companies from different sectors: BFSI, FMCG, Manufacturing, Media, IT, Pharmaceutical, Retail, Real Estate, Market Research, Consultancy and many more.
Some of the prominent recruiters on the Campus were: Deloitte, Edelweiss, TCS, Asian Paints, Mondelez, Aditya Birla, Godrej and Boyce, P&G, Zee, Flipkart, White Rivers Media, FCB Draft Ulka, Publicis, ITC, Citicorp, HDFC Ltd, ICICI Bank, Eureka Forbes, IDFC First, Kotak Mahindra Bank, HDFC Bank, DHL, GSK, GEP, Kantar, AGR Group, Ugam Solutions, Aranca, Bennett and Coleman, Lodha Group and many more.
IES MCRC Mumbai Updates and Articles
Questions related to IES MCRC Mumbai
Showing 197 out of 197 Questions