Press Release- Dr.K. N. Modi University
Dr K.N Modi University, Newai (Tonk) has been established by an Act (no of 2010) of State legislature of Rajasthan as a private University and approved by UGC under section 2(f) of UGC Act, 1956.

The University is a multi-discipline campus spread over 42 acres with an impressive infrastructure and stimulating environment. Dr KN Modi foundation is proud to offer a network of 26 campuses, spread across 200 acres of land. These are home to 36,000 students in various courses, including 52 professional disciplines.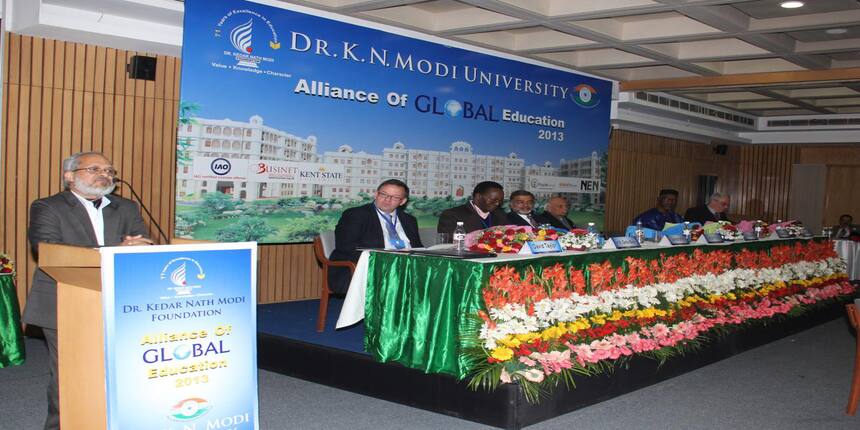 Dr.K.N.Modi University has organized an international event - Alliance of Global Education 2013. This was a Comprehensive educational event. On 25 January 2013, around 30 countries including- China, Afghanistan, Oman, Gambia, Egypt, Zimbabwe, Saudi Arabia, Uganda, Mali, Iraq, Iran, Mongolia, Indonesia, Belarus, Nigeria and many more from Asian, European and African countries  participated in this event through their respective embassies.
The event was also graced by - Prof. Dr.P.C.Vyas. National Coordinator, Rajiv Gandhi Study Circle.  Chairman, Bharat Seva Sansthan, as Chief Guest of the event and Dr. V S Ravindran, Director General, ICTRC as Eminent Guest of the event.
The Government officials, Ambassadors and other diplomats of different countries was on the same platform to discus and share the imperative scrutiny to make India a global platform for higher education. The main motive is to enhance and expand the educational collaboration with foreign universities.
By Chairman of Dr.KN.Modi University – Dr.D.K.Modi "he promised to open the doors of Dr.K.N.Modi University to allow cross culture learning and committed creating the institute a Global platform for future citizens of One World". 
Questions related to Dr KN Modi University, Tonk
Showing 59 out of 59 Questions