KSOM Alumni- Aakanksha Ria says "To excel in life, you need to have clarity of concepts"
"Management is, above all, a practice where art, science, and craft meet" very well said by Henry Mintzberg. Having skills of good management along with the degree adds so much value to not only a successful career of individuals but also plays a vital role for the development of the corporate sector. The Management sector is so diverse that it consists of various domains and marketing courses is one of those fields that contributes a lot to the management sector if it works effectively and efficiently. Aakanksha Ria who has done her management in core marketing from KIIT School of Management (KSOM) and is currently working with Sony India shares her views on how her management institute helped her to pursue a volatile career in management sector.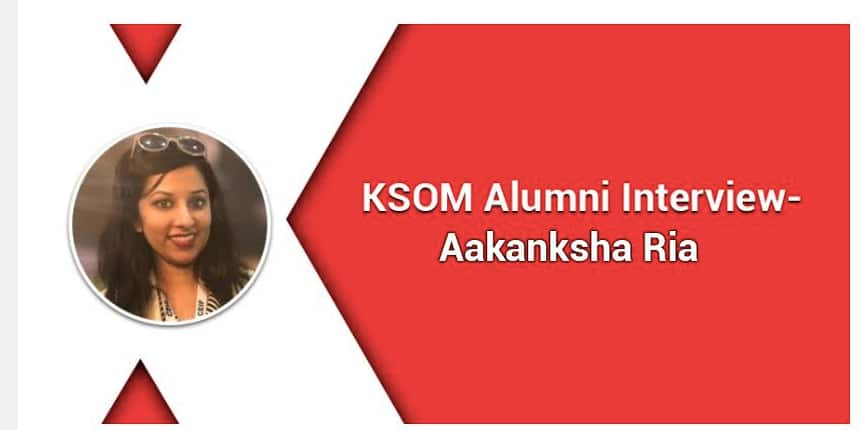 Careers360- Tell us about your domain and your work profile. At professional level, did you pursue the same field you were interested in, or you switched?
Aakanksha Ria- I am from core marketing domain and currently working with Sony India, in a product marketing role. I mainly take care of brand advertising & promotions for Sony India Digital Imaging (Cameras) category. Yes, I have been fortunate to be able to work in the same field I pursued. Right after the 1 st semester in MBA, I was sure I would be taking marketing as my majors & had decided to work for brands in a marketing role, and here I am.
Careers360- Can you briefly tell us about your career path so far?
Aakanksha Ria- KSOM placement took me to Havells India Ltd, based out of the corporate office at Noida. So, Havells happened to be my 1 st organization where-in right from Day 1 I got into marketing roles. Back then in 2016, Havells had ventured into a new category in their consumer durable division – Havells Personal Grooming. I was part of the HPG, Product marketing team where I looked after NPD, PLC & marketing strategies. At Havells, I got an opportunity to learn how to manage a business from a 360-degree perspective. I was blessed with an absolute
Careers360 - amazing manager who helped me not just grow professionally but also become a great person.
Aakanksha Ria- After spending 3.5 years at Havells, I got an opportunity to work with Sony India, a Japanese multinational organization. Sony is my current organization where-in I am a part of Digital Imaging category, taking care of the category brand & digital marketing strategies. Going forward, I would like to work for FMCG industries & add those experiences in my career path. My life goal is to never stop learning, work for multiple brands & ultimately give my best in what I do.
Careers360- Is industry work different from what you learn at B-School?
Aakanksha Ria- Not really. To excel in anything in life, you really need to have clarity in your concept/theories. B-school learnings not only gave me confidence on those theories but with an amazing set of faculty at KSOM, we were also exposed to real world business situations using case studies and industry visits. I am glad I completely enjoy my corporate life because of those learnings.
Careers360- How do you think your MBA programme has added value to your life, both professional and personal?
Aakanksha Ria- I always wanted to work for different multinational brands. I aimed doing an MBA to have a dynamic & wider understanding of business. MBA programs helped me learn the basics of sales, marketing, business planning, finance, operations and above all, those skills which would help me nurture my leadership quality. Because of these, I have been able to have an amazing experience in corporate till date, I have enjoyed being appraised. I believe anything happening professionally surely has a personal effect. On a personal level, it helped me become a confident & self-reliable person. I believe in myself and that is what matters the most.
Careers360- What was your initial thought process when you joined your MBA programme?
Aakanksha Ria- When I had joined the MBA programme after my B.tech, I had prepared my mind to spend maximum of my time with books. But to my surprise, MBA was really not about rigorous academics. Even the clubs & committees were important to be attended. On top of that, MBA is more about learning realistic industry circumstances & case studies about top notch brands & their stories.
Careers360- You must have spent memorable time at your B-School. Do you miss being a part of it? Share a few good memories.
Aakanksha Ria- Oh yes! I totally miss those wonderful days of college. My best takeaway from KSOM was the 6 months Student exchange program – which I was a part of. The exchange program was with Czech University of Life science, Prague, Europe, for MBA 2 nd semester and summer internship. I was a part of it along with 3 other batchmates. Learning multiple cultures and global exposure was a great addition in my life and I will always be thankful to KSOM for this. Other than this, I do miss the hostel parties; walk on the foot bridge, fun with friends and many other such fond memories.
Careers360- Briefly take us through your life at the campus, the activities you used to do and your routine life.
Aakanksha Ria- Life at campus was vibrant and dynamic. In the first year, we were taught courses from areas like marketing, finance, HR, operations so I used to be pretty much occupied with academics. However, as time graduated, I got engaged with multiple extra-curricular activities. Even the routine life at campus was full of energy and learnings.
Careers360- Apart from academics, what were the other activities you were involved in and how did it enrich your life?
Aakanksha Ria- Apart from regular academics, team presentations, assignments, we had a lot of extra co-curricular activities always going around. Multiple student clubs and committees kept us engaged. There was a mentor-mentee program which really helped me grow as a person.
Careers360- You are a proud alumnus of this top B-School. What is the best part of KSOM Bhubaneswar from a student's perspective?
Aakanksha Ria- I think the extra-ordinary faculty and the international accreditations are the pillars of KSOM. We realize the advantage of the same when we appear in our final placements, and especially into our corporate jobs. Today we are seeing so much industry convergence hitting the market, to prepare the students to not be completely surprised with these challenges; the faculties keep the curriculum updated with industry case studies. I remember one of our marketing professors, Prof. Sugato Tripathy, other than teaching and assessing us rigorously on the theories on a marketing course, used the latest Economic Times articles in the related field for short discussion every day.
Careers360- What is your suggestion/guidance for the MBA aspirants?
Aakanksha Ria- I would suggest MBA aspirants not to take their MBA course just as a financial & hierarchical growth way-out for corporate jobs. Learning and exposure should be the prime goal of a student. All the best!
KSOM Updates and Articles
Questions related to KSOM
Showing 37 out of 37 Questions