IIM Bangalore sets up Case Recording Lab to advance digital management education
Indian Institute of Management Bangalore Chairperson, Dr. Kiran Mazumdar-Shaw along with the institute Director Prof. G. Raghuram inaugurated a Case Recording Lab on July 19, 2017, in the campus as a part of IIM Bangalore's innovative efforts towards digital learning. Set up with funding support from Mitsubishi Corporation India Limited and Metal One Corporation India Limited, the laboratory is equipped to record and encapsulate live case discussions. The aim of the Case Recording Lab is to create a digital repository of teaching and learning aids that would capture the essence of the case method of teaching in the IIM Bangalore classroom.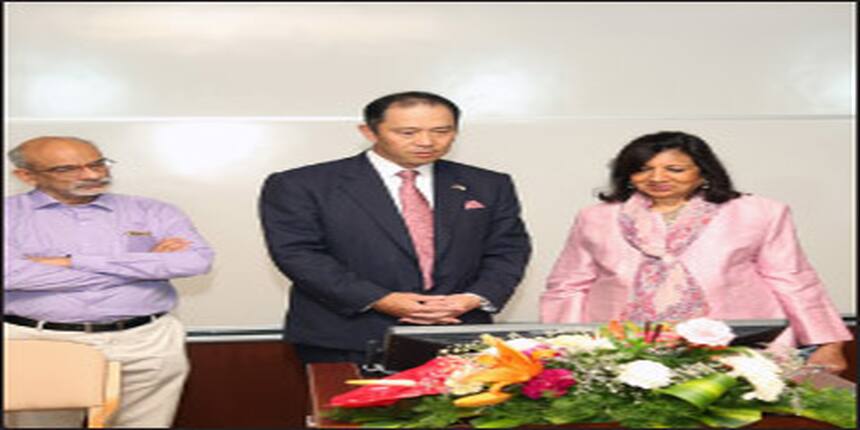 Through the IIMBx MOOCs Programme, IIM Bangalore has offered Massive Open Online Courses (MOOCs) to more than five lakh global learners in various core and specialised management subjects. Videos are the backbone for delivering pedagogically designed digital content to learners and with this lab, the B-School has strengthened its technical capability to produce quality MOOCs.
Inaugurating the Case Recording Lab, Dr. Kiran Mazumdar-Shaw said, "The country needs to leverage MOOCs on a massive scale to enable millions of Indian youth access high-quality education. IIMB has taken great strides in the area of making management education accessible through digital platforms. This lab is another instance of the institute's continued focus on technology innovation to make education effective and far-reaching."
Dr. Mazumdar-Shaw also shared that during her recent visit to MIT, she learnt that IIM Bangalore is one of the most important partners of the edX platform and the initiatives are seen as 'problem solvers' on the platform. She lauded the 'incredible reach' of MOOCs, calling it the true democratisation of education.
In his opening remarks, MCI Chairman and Managing Director Eisuke Shiozaki, said, "It is a great pleasure to be associated with IIM Bangalore and with the project which will allow education to reach to millions of students across the globe." Describing the IIMBx Case Recording Lab as "another addition to the global IOT movement", he said he hoped that the lab would go a long way in supporting future managers and decision-makers of India.
Professor G. Raghuram, Director, IIMB, emphasised IIMB's strong focus on reinforcing Indo-Japan ties in the domain of management education and said, "IIMB is thankful to Mitsubishi and Metal One for their support in our technological endeavor. We hope that the Case Recording Lab is one of many initiatives that the institute accomplishes in collaboration with our Japanese partners."
Prof. Raghuram announced that IIM Bangalore would soon be setting up a Japan Centre. "The Japan Centre @ IIMB aims to become a knowledge centre of Japanese business history, business strategies and technology innovations," he added.
As a location, Prof. Raghuram said Bangalore boasts the highest number of Japanese companies and professionals in India. "Further, Bangalore has been ranked among the world's best innovation ecosystems and IIM Bangalore is ideally positioned to start a Japan Centre."
IIM Bangalore's Deans of Faculty, Administration and Academic Programmes – Prof. Gopal Naik, Prof. G Shainesh and Prof. Sourav Mukherji, along with senior faculty members Prof. R Ravi Kumar and Prof. MS Narasimhan, were present at the inauguration.
Earlier, in his welcome address, Prof. P D Jose, Chairperson, IIM Bangalore Digital Learning Initiatives, offered an overview of IIMBx, the MOOCs programme of IIM Bangalore, and highlighted its success in delivering these programmes in 190 countries to those who may not, otherwise, have had access to quality management education. "IIMBx is proof of IIMB's commitment to delivering quality management education to all."
Stay tuned to www.management.careers360.com for more news and updates.
Get real-time alerts on exam & colleges at your fingertips with Careers360 App! Click Here to Install or Give a missed call on 08080944727 to get app link.
IIM Bangalore Updates and Articles
Questions related to IIM Bangalore
Showing 187 out of 187 Questions