Praxis Business School-Director's Interview- Charanpreet Singh says, "Digital is a Revolution"
Praxis Business School, Kolkata is on a mission to create leaders for the digital age. Founder Professor Charanpreet Singh has been driving the 'digital' agenda at Praxis as he believes that institutions need to transform their content and delivery to remain dynamic. In an exclusive interview with Careers360, Praxis Business School's director, Charanpreet Singh states that future leaders must possess two types of skills viz., hard skills and soft skills. He believes that a person who is deprived of such skills, working in a digital environment will be a nightmare. One has to be digitally literate irrespective of the work one oversees. Further, he adds that the PGDM program at Praxis Business School offers specializations for students who wish to make their career in 'digital' era. Read the full interview of Professor Singh to know more about his thoughts on the future of digitalization, and the role educational institutions need to play.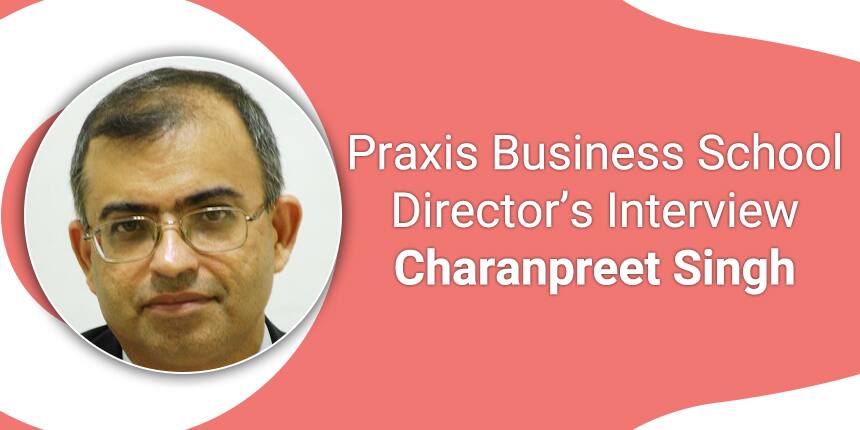 Careers360: Thank you for agreeing to speak to us Professor Singh. Change, as they say, is a way of life. Isn't digital simply another phase of this continual change that we are subject to?
Charanpreet Singh: "Digital" is a revolution - it is the extent and speed of change that make digital unique. Driven by technologies like artificial intelligence, cloud computing, big data, IOT (Internet of Things) and robotics, it has transformed the way we live - the way we communicate, consume, use time, and work. The IT revolution enhanced productivity and automated existing processes; digital leads to new, disruptive business models that throw out existing ways of doing business. Uber is a not a mere improvement in the traditional taxi services; it is a new tech and intelligence-based business model that has completely transformed this industry (and self-driven cars are yet to go mainstream!). Similarly, Paytm is not an incremental improvement on a banking process – it is a paradigm shift in the business of payments. This is scary and immensely exciting at the same time.

Careers360: What impact do you think will this have on the business environment and jobs? – this is an important question as we have many business management aspirants on this platform who need to understand this.
Charanpreet Singh: Businesses will have to quickly respond to and exploit the new digital environment. Concepts like value, data, customers, competition, innovation will get redefined and organizations will look and work very differently from the current ones to stay relevant.

AI and automation are threatening to take away millions of jobs – not just routine, manual, blue-collar work but also cognitive white-collar work. At the same time, many new jobs will be created but those will require skills different from the ones the managerial workforce is equipped with today.

Careers360: What kind of capabilities do you think managers must have to survive and thrive in the digital world?
Charanpreet Singh: I would like to divide this discussion into two parts – hard skills and soft skills.

Hard skills: The digital revolution is being triggered by essentially 2 things – data and technology. So these are the two top hard skills that the manager of the digital world will need to be equipped with.
Data skills: Data is being generated at unheard of levels and is becoming the basis for decision making and competitive advantage. A good deal of comfort with basic mathematics, statistics and fluency with data are mandatory for a manager in the digital world. An HR manager is, for example, expected to understand and work intelligently with a predictive model that helps bring down attrition.

Tech skills: In a digitalised organization technology not only touches every process but also empowers every innovation. Managers are no longer mere consumers of IT – they will be better placed they have basic programming skills and a working knowledge of cloud, IOT, analytics, digital marketing and related concepts. For example, a marketing manager will need to appreciate concepts such as search engine optimization (SEO), Google analytics etc. that help her target the appropriate customer with the correct product at the right place and time.
Soft skills: The digital revolution is not just about data and technology. It is also about disruption, transparency, creativity, co-creation, innovation. Managers will need to be:

Quick learners: The most critical skill will be the ability to learn – driven by the need to adapt to the speed and magnitude of change. Concepts and business models will become obsolete very quickly - you have to learn how to learn.
Good communicators: Communication will be, as it always is, a key skill in this uncertain and complex world. The ability to listen and absorb, ask the right questions, collaborate and present complex concepts in easy-to-understand ways are skills every manager will need to possess
Comfortable with uncertainty: Technology and business models are getting disrupted every day. If you cannot thrive in an environment which is essentially unstable and occasionally ambiguous, working in the digital future can become a nightmare.
Careers360: How is Praxis gearing up to address these changes in skill requirement?
Charanpreet Singh: At Praxis we believe that as managers and leaders of the future, you have to be digitally literate, irrespective of the function you oversee. We have made changes to our pedagogy (curriculum, delivery and assessment) to drive the digital agenda.
Our first year core PGDM curriculum includes subjects like fundamentals of digital business management, data science and fintech. All PGDM students learn to write basic code in SQL and Python – and understand the components of a digital-ready business. We have added specializations in Data Science and Digital Business Management – for students who wish to make 'digital' their career. In addition, 'digital' is embedded in all our courses, across functional areas of marketing, finance, HR, systems and operations etc.
We emphasize a pedagogy that does not reward learning by rote, but focuses on approaches to thinking and learning. Manifestations of these are: delivery based on use cases and 'learning by doing'; continual assessment that rewards the ability to think. Our belief is that this is more likely to create people who are ready for the disruptions we will have to face as we move into what have been affectionately called the 'roaring twenties'.
Careers360: Have you witnessed any positive outcomes of this approach?
Charanpreet Singh: We are already seeing JDs changing – banks have digital banking on their wish list, marketing profiles emphasize knowledge of digital marketing, manufacturing companies seek managers with data science skills. While we are better positioned than many institutes to address these needs today, I believe that eventually pedagogy will have to change across institutes if they have to remain relevant.
Praxis Business School, Kolkata Updates and Articles
Questions related to Praxis Business School, Kolkata
Showing 3 out of 3 Questions
82 Views
I am looking for mba at praxis , i want to know the exact placement scenario?
hi,
peraxis business school is one of the best mba institute in kolkata. placement is excellent as per students review, the average salary offers to the previous year batches is 6.5 lpa, and highest salary package offers is 13 lpa, some of the companies visits the campus is IMRB, Neilson, ICICI, HDFC , L&T, indusInd Bank, Kotak Mahindra Bank ,  Mjunction , pwc ,  Value Labs