Academics, Placements, and more at AIMS Institutes, Bangalore - Interview with COO, Dr. Priyanandan Reddy
AIMS Institutes, formerly Acharya Institute of Management and Sciences, Bangalore is a private, self-financed institution in Bengaluru affiliated to the Bengaluru University. AIMS Bangalore focuses on developing management skills and providing real-life applicable education to its students. Here's an interview with Dr. Priyanandan Reddy, Chief Operations Officer of this B-school detailing facilities, academics, internship, placements, and more.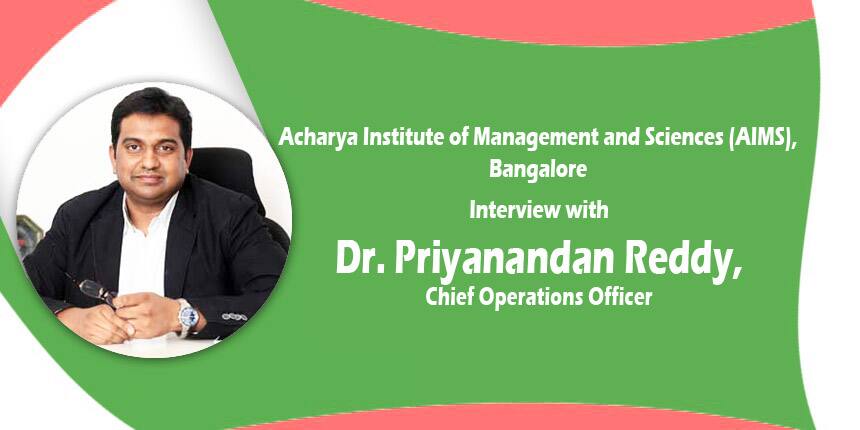 Careers360: Tell us something about the institute; when it was set up, mission and vision
Dr. Priyanandan Reddy: AIMS Institutes (managed by JMJ Charitable Education Society) was established in the year 1994 with a vision to expand the horizons of teaching-learning realms, wherein, the students' intrapersonal and interpersonal disposition is groomed. It is a great pleasure to state that the AIMS fraternity is enduringly infusing resilient confidence among the students to excel in their academic, professional endeavors, and personal lives.
AIMS began its journey in the field of academics in 1994 by offering a Bachelor's Degree in Hotel Management and Bachelor's Degree in Science with Computer Science as a specialization that is affiliated with Bangalore University.
It was a humble beginning for the institute with 60 students. As a testimony to its academic excellence and quality assurance, the number of students greatly increased and the institution added various doctoral, postgraduate, and undergraduate programmes in Business, Commerce & Finance, Information Technology, Hospitality & Tourism, Liberal & Performing Arts, and Life Sciences.
AIMS Institutes was established in the year 1994 with a vision:
"To transform youth into professionals of global excellence with a deep concern for society".
And a mission to:
Establish and maintain the state of - the - art infrastructure

Engage faculty of the highest competence

Improve teaching aids, methodologies, and training tools for both faculty and student

Inculcate in students the spirit of teamwork, leadership, entrepreneurship, global perspective, quality, values of ethical behavior, and sensitivity to society.

Nurture professionalism and effective industry interaction.
Careers360: Tell us something about the AIMS admission process?
Dr. Priyanandan Reddy: As an institution, our objective is to provide a platform for deserving and meritorious students from different strata of society, apart from maintaining balance in terms of diversity and supporting the communities around us.
Admission into our MBA programme (management quota) is through the AIMS Selection Process which consists of:
Statement of Purpose

Extempore

Discussion on Extempore Topic

Personal Interview
The eligibility to apply for AIMS Selection Process is:
The applicant must hold a bachelor's degree, with a score of 50% (45% for SC/ ST/ CAT-1) or above in graduation from a recognized university or equivalent CGPA.

Apart from a recognized degree, the applicant must score as per the following to become eligible for admission:

Applicants who have registered for either of the above tests can appear for the selection process, but their admission offer will be made only after submission of the test score as per the requirement.

A candidate appearing for the final year bachelor's degree/ equivalent qualification examination and those who have completed the degree requirements and are awaiting results are also eligible to apply for AIMS Admission 2021-23.

It is mandatory for a final year student, who is provisionally considered eligible by AIMS and offered admission, to submit the mark-sheet and degree certificate of the final year bachelor's degree examination at a later date as decided by AIMS.
Admission into other postgraduate and undergraduate programmes is through a screening process consisting of various parameters like communication skills, analytical skills, subject knowledge, general knowledge, among others.
In order to encourage deserving and meritorious students, we have a range of scholarships and concessions available including scholarships for achievements in academics, sports, arts, and encouraging budding entrepreneurs.
We have concessions available for children of defense personnel, healthcare professionals, etc. For more information, you can visit the admission section on our website (www.theaims.ac.in).
Careers360: What kind of infrastructure can students expect at the AIMS institute? Please elaborate?
Dr. Priyanandan Reddy: In terms of infrastructure, we have all the required infrastructure that is sufficient for students to excel in respective programmes including computer labs with latest software's, library (including digital library), cafeteria, wi-fi enabled campus, business lab, training labs, basketball court, auditorium, amphitheater, a clinic with a nurse, indoor games, equipped classrooms, ATM, restaurant, mock-up rooms, among others.
Apart from the above, we also have off-campus accommodation facilities for men & women with free transportation between campus and accommodation. All accommodation facilities are wi-fi enabled and have reading rooms, entertainment zones, and dining facilities.
As an Apple Authorised Training Centre for Education, we also have a dedicated lab with iMacs and Mac minis where we deliver Apple certification programmes, and we are proud to say that we are among the first institutions in India to associate with Apple.
Careers360: There is a lot of stress that is being made with regard to interaction with the industry as well as companies that recruit. What are the steps being taken by the institute in this direction?
Dr. Priyanandan Reddy: AIMS Institutes has enjoyed a great rapport with the industry for many years through various activities like recruitment drives, conferences, events, seminars, research activities, consulting, inviting industry leaders to be part of our advisory boards, supporting them through development programmes, among many other activities.
We are also proud to have our alumni who are in various responsible positions across industries actively involved with the institution and sharing knowledge and opportunities with the aspiring students on campus.
Our constant endeavor is to increase our engagement and add value to the industry and alumni who are among key stakeholders.
Careers360: Internships are now mandatory as per AICTE guidelines. Does the institute help students with this? If yes, how?
Dr. Priyanandan Reddy: We have always emphasized internships for the students as we believe they add to the exposure and knowledge of an individual, and internships have been mandatory for years. We have been assisting students for internships through our "Corporate & Public Relations" department.
In fact, for the past few years, we have been seeing internships converting into job offers for some of our students, which is an encouraging sign.
Careers360: Can you please share details if there is any collaboration with universities abroad?
Dr. Priyanandan Reddy: AIMS Institutes has been very active with respect to global collaborations and actively engaging in student & faculty exchange programmes, joint conferences & events, cultural exchange programmes, global immersion programmes, guest lectures, etc.
Our collaborations are in Australia, North America, Italy, Germany, France, Japan, Vietnam, Indonesia, Malaysia, Spain, Latvia, and Romania which offer a great variety of options for our students and other stakeholders to explore and utilize the opportunities.
We are happy to constantly engage with exchange students from our global partner universities and provide them with many opportunities during their stay with us.
Careers360: Please share placement statistics with information on the average package, highest and lowest package, number of students placed, and details of companies that have recruited.
Dr. Priyanandan Reddy: AIMS Centre for Corporate and Public Relations started its journey with a well-defined objective of bridging the gap between industry and academia, through mutually exploring the opportunities for students, institutions, professionals, and the corporate world at large towards better growth and development.
AIMS Centre for Corporate and public relations focus on understanding the requirements of the corporate and then develops the abilities of our students and guides them in getting proper information about the market changes, industry expectations, nature of opportunities, salary structure, industry openings, on-campus and off-campus interviews for internship, projects, and placements, career counseling and career development preparation.
AIMS has a strong corporate backup sponsored by effective alumni members. The Centre for Corporate and Public Relations thus facilitates training, research, consultancy, and placement through the right networking.
Key Placement Statistics - 2020
| | |
| --- | --- |
| Total numbers of Offers made | 141 |
| Overall Highest Package | 22 LPA |
| Highest Annual Compensation | 7.5 LPA |
| Average package | 4 LPA |
| Lowest package | 3 LPA |
| A number of students placed and details of companies that have recruited. | ICICI Securities, ICICI Prudential, ICICI Bank, Byju's, Unacademy, Bandhan Bank, Square Yards, PWC |
AIMS Institutes, Bangalore Updates and Articles
Questions related to AIMS Institutes, Bangalore
Showing 18 out of 18 Questions