MBA in Digital Marketing Management: Digitalisation opening countless opportunities
MBA in Digital Marketing Management - As the reach of digitalisation increases, brands need digital marketing managers to market their services and products on this medium. And that's where the need of MBA in Digital Marketing Management Programme comes in to picture. With fast changing technology, digitalization is increasingly influencing different sectors and impacting all aspects of businesses. The digital devices and services have exceptionally changed the way we deal in daily lives and work activities. This scenario has created the need of a specialised programme – MBA in Digital Marketing Management. As the digital marketing is becoming the need of the hour for the businesses across the globe, the industry requires more marketing professionals than ever. Let's read more about specialising MBA in Digital Marketing Management in the article below.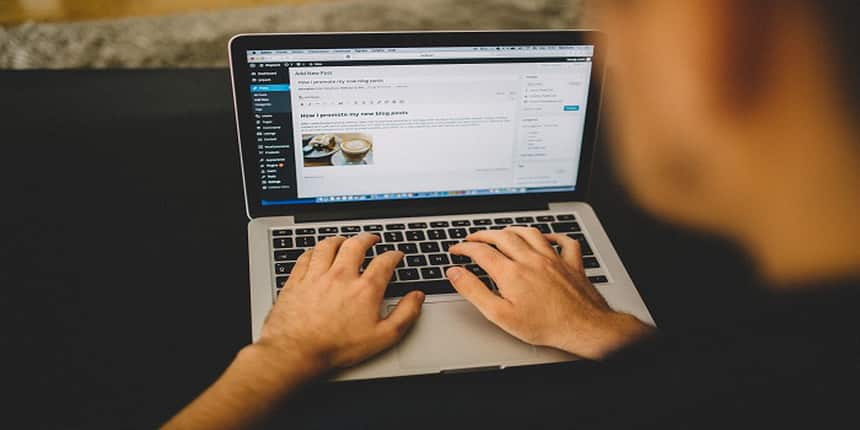 What is Digital Marketing Management?
Digital marketing is the marketing of services and products using digital technologies, not on the Internet, but also on mobile phones, display advertising, and any other digital medium. The digital marketing entails various marketing techniques, including campaign marketing, e-mail direct marketing and content marketing, to name a few. The use of digital marketing in the digital era allows brands to market their services and products. The use of social media communication allows companies/brands to receive both positive and negative review from the users that in return helps the company to work on their flaws and better the overall experience.
MBA in Digital Marketing Management – Course Curriculum
The course curriculum includes Search Engine Optimisation (SEO), Search Engine Marketing (SEM), Content and Blog Marketing (CBM), Web Analytics, Email Marketing, among others.
The specialisation programme introduces students to several new case studies, frameworks and applications of digital marketing strategies in different organisations. The areas that are covered in the course include Digital Marketing Strategy, Inbound Marketing, Digital Advertising, Email Marketing, Mobile Marketing, Social Media Marketing, Marketing Analytics, etc. The course allows students to learn through a mix of interactive discussions, case studies, hands-on exercise, group assignments, and experience sharing.
Digital Marketing as Industry
According to Digital First Journey report by KPMG, in India, the growing internet penetration and data usage are likely to help push the digital advertisement spending at a compounded rate of 30.8 percent between 2016 and 2021. This growth is only a reflection of how consumers are adapting to the digital way of life. This, however, also requires well-trained professionals managing products and services in such a way that it reaches well to the targeted audience who are available on different digital platforms.
Dr. Anil Kumar Sinha, Director, Fortune Institute of International Business, says, "Social media would be the prominent mode of E-Commerce communication; Facebook is an example, according to one estimate as reported in media, India would need around 5 lakh digital marketing professionals in the next three years".
With the rising demand for professionals in digital marketing and data analytics, management institutes are updating the course and curriculum with relevant programmes.
Prof. Y K Bhushan, Senior Advisor, IBS, says, "In keeping with its spirit of staying contemporary and relevant, IBS has taken note of new areas like Social Media Marketing, Digital Marketing and Data Analytics in various functions. It has also included them in the curricula. In fact, students are also being given special practical exposure in these areas."
MBA in Digital Marketing Management - Way ahead
As per the Cisco Visual Networking Index (VNI), the digital transformation in India will take the country's internet population to 830 million by 2021. While another report by StatCounter Global Stats stated India is leading the mobile Internet usage with 79 percent putting behind US at 37 percent and the UK at 34 percent. A wide range of organizations and companies across sectors now offer digital marketing jobs, as more businesses invest in developing their own digital marketing teams. Advertising agencies remain among the largest providers of digital marketing jobs. Others include independent digital marketing agencies, media agencies, PR agencies, social media consultancy and market research agencies.
The possibilities are endless in the digital marketing field with an increase in government's spending and initiative on digital marketing to carry forward the goal of Digital India.
INTERVIEW
Dr. Gautam Sinha,
Director, IIM Kashipur
Relevance is the key


Q. What is the scope of Digital Marketing?
A. There is a scope of 'Digital Marketing Management' because of industry demand. "Relevance is the key". With multiple functional areas merging in the current management context, particularly Marketing, IT and Operations because of the advent of the Internet and digitally connected devices, a growing demand for Digital marketing professionals is imperative. The interesting part is that it is just on the cusp of the revolution. Organizations are slowly realizing that if they don't invest in the workforce which is trained in digital marketing, they will lose the opportunity to capture initial gains in their respective industry. Hence, job prospects and career growth opportunities are increasing in this domain.
Q. What is the seat capacity in your college/institute and complete fee structure for the programme?
A. The Digital Marketing Course is part of the second year electives for the regular PGP students. The programme is delivered in class and there is a batch capacity of 140 students per year who can opt for the course. No separate fee is charged for the course as it is part of their two-year course curriculum. Besides, we also offer Digital Marketing Certification course which is attended by executives from across the world. The seat capacity is between 100-200. The fee for the five-month programme is Rs. 70,000 exclusive of taxes.
INTERVIEW
Kamlesh Sawal,
Programme Lead MDI, MD & CEO - Radical Knights Pvt Ltd.
Specialization remains untapped
Q. 'Digital Marketing Management' does bring an edge over a general management programme in terms of job prospects and career growth. Could you justify, how?
A. Digital marketing management is a leading management programme with focus on the digital world. It is a trending career option for those with an eye for social media and its allied digital sources. The specialization remains untapped as for every 100 digital marketing jobs there are about 35 trained digital marketing professionals. On the other hand, for non-digital marketing MBA jobs, there are over 400 job applicants. The numbers reflect the dearth of professionals in the digital marketing sector. In terms of salary, generally, a Digital Marketing professional is likely to secure on an average 35 percent increment every year.
Q. What is your seat capacity and complete fee structure for the 'Digital Marketing Management' Programme?
A. The Digital Marketing specialization at our institute has a seat capacity of 25-30 students. The programme will cost Rs. 60,000 plus taxes.
Q. How has been the industry demand for MBA in 'Digital Marketing Management' changing over last four-five years?
A. Brands in India are trying to leverage Digital Marketing and they need professionals on board who understand the real potential of Digital Marketing.