How to Prepare for DU JAT 2022 in 1 month?
How to prepare for DU JAT 2022 in 1 month - One of the most difficult questions for candidates appearing in the entrance exam is how to prepare for DU JAT 2022 in 1 month? Since the whole admission process has somewhere been delayed from the past two years due to the COVID 19 scenario, candidates are likely to feel distracted and perplexed on part of preparation.

Candidates willing to take admission in BBA or any other undergraduate courses offered by Delhi University and other affiliated colleges are required to mandatorily appear in DU JAT 2022. To score well with just one month of preparation requires a well-planned approach to studying. DU JAT is a university-level exam that is being conducted by the National Testing Agency. Careers360 aims to answer the question of how to prepare for DU JAT in 1 month by providing major preparation strategies or tips keeping in view the exam pattern of DU JAT 2022.
Stay up-to date with DUET News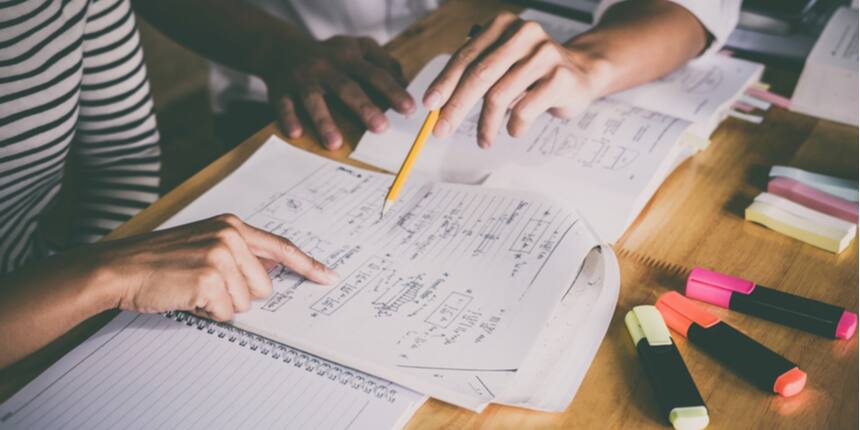 Other Top BBA Entrance Exams
DU JAT Exam Pattern 2022
The first and foremost step to be followed for DU JAT 2022 preparation in 1 month is to quickly understand the exam pattern of DU JAT 2022. Delhi University will provide the official DU JAT 202w exam pattern. Details related to the mode of exam, type of questions, sections to be covered, time duration, and all are provided under the DU JAT exam pattern 202w. Being aware of the DU JAT exam pattern will help in formulating a good plan.
Exam Pattern of DU JAT 2022
| | |
| --- | --- |
| Details | Particulars |
| Duration | 120 minutes |
| Sections | Four |
| Type of Questions | MCQs |
| Total Questions | 100 |
Quick Links -
Major Strategies to Be Followed for DU JAT 2022
As per the exam dates of DU JAT 2022, the exam will be conducted in the first week of July in two slots. Given below strategies can be followed by candidates to prepare for DU JAT 2022 in one month.
Sectional Time Allotment - First 15 Days

Focus on Strengths - First 15 Days

Practice Question Sets - Day 16 to Day 25 (10 days)

Revision is Mandatory - Remaining 5 days
Sectional Time Allotment - First 15 Days
As mentioned above for the purpose of preparation it is mandatory to know what areas or sections are included in DU JAT 2022 exam. As per the pattern of the paper, DU JAT 2022 question paper will have a total of four sections i.e. General English, Business and General Awareness, Quantitative Ability and Reasoning, and Analytical Ability. In the initial 15 days, candidates must focus on each section as follows -
Take a print of the DU JAT syllabus 2022 and highlight the topics of each section that you are familiar with.

Since all four sections will have equal weightage criteria, hence candidates should devote at least 2 hours to each section to score well.

In the General English section, topics like synonyms, antonyms, reading comprehensions, analogies and etymology is to be prepared. Candidates should also focus on improving their vocabulary. Formulate a daily reading habit.

In the Business and General Awareness section, topics like Current Affairs, Books and Authors, Political Science, Economics are to be prepared.

In Reasoning and Analytical Ability topics like Verbal Reasoning, Terms, and Prepositions, Verbal Analogy is asked in DU JAT.

In Quantitative Ability topics like Circles & Mensuration, Geometry - Lines, Angles & Triangles, Simple & Compound Interest, Integration and Differentiation, Time and Work, Ratio and Proportion, etc are to be prepared.
Focus on Strengths - First 15 Days
Since the preparation time left is less, candidates should not feel blue and spoil their for the uncovered topics. Instead, the best topics already known should be highlighted and preparation at peek for those should be on the go. Since there will be negative marking for every incorrect answer, experts and previous year toppers suggest that candidates should attempt only those questions which they are sure about. Do not make haste and try to cover everything at once. Move one by one with topics.
Practice Question Sets - Day 16 to Day 25 (10 days)
Now that exam day is near, candidates should start practicing question sets of DU JAT to get an idea of the type of questions asked every year. Solving more and more question papers or DU JAT sample papers will help candidates to gauge their performance and uplift their preparation on areas of improvement. Above all, the confidence level will also get a boost with each good result. Initially, candidates may find it difficult to answer the questions or maybe understand some of the questions, but with regular practice, the flow will be maintained. Try to solve 2 sets on a daily basis.
Revision is Mandatory - Remaining 5 days
Revising what is already covered will increase the efficiency and confidence level. Candidates should revise those topics which are asked frequently (based on past question papers/ sample sets). Set a time limit and solve questions with accuracy. Pick any topic randomly out of the four sections and ask yourself related questions.
Lastly, remember every question in DU JAT 2022 will have an equal marking scheme hence it is advisable to leave what is unknown or confusing. Be confident and mark answers. Your preparation will not go in vain. Hope for the best!
Top BBA Colleges - Location Wise
Questions related to B.B.A/ B.M.S
Showing 17 out of 17 Questions