What After BBA? - Nowadays BBA has become the most popular graduate course among candidates who wish to embark on a journey of management. The major purpose of pursuing a degree in BBA is to gain knowledge and education about managerial and business principles. But, what after BBA becomes a big question for fresh graduates. A BBA degree gives you a sure shot advantage for pursuing an MBA, but it is not always necessary. There are a lot of options. In this article of what after BBA, Careers360 will provide you complete information about what career options are available with candidates after completing their graduation. BBA that is the abridged form of Bachelor of Business Administration is a three year managerial degree programme which is divided into six semesters. It is totally a candidate's choice if they wish to pursue MBA or interested in working directly after graduation, a BBA degree will help candidates in setting a base and groom the candidate's personality and work skills for the outside world.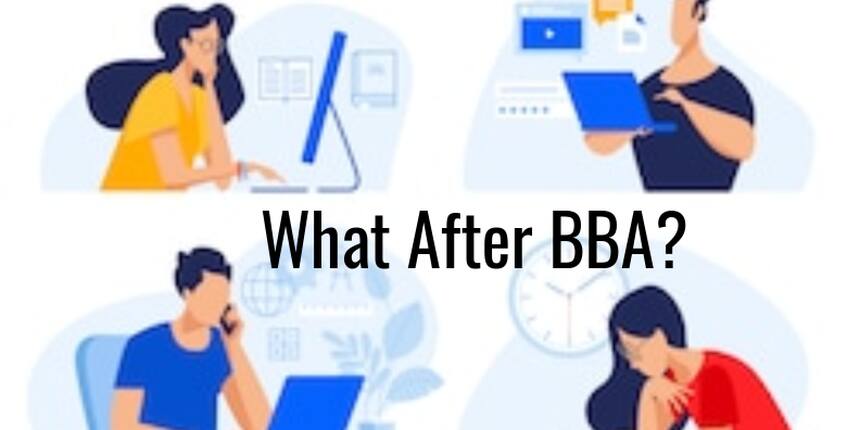 Options After BBA Degree
There are ample of opportunities available to fresh graduates having BBA degree. To be specific, candidates having BBA degree can work as marketing & sales executive, be management trainees in any firm. Major careers options available with candidates after pursuing a BBA degree are given below and discussed in an elaborative form which can be checked for better understanding.
Getting Jobs After BBA - Campus Placement

Pursue Higher Education

Become a Financial Analyst

Prepare for Competitive Exams

Be an Entrepreneur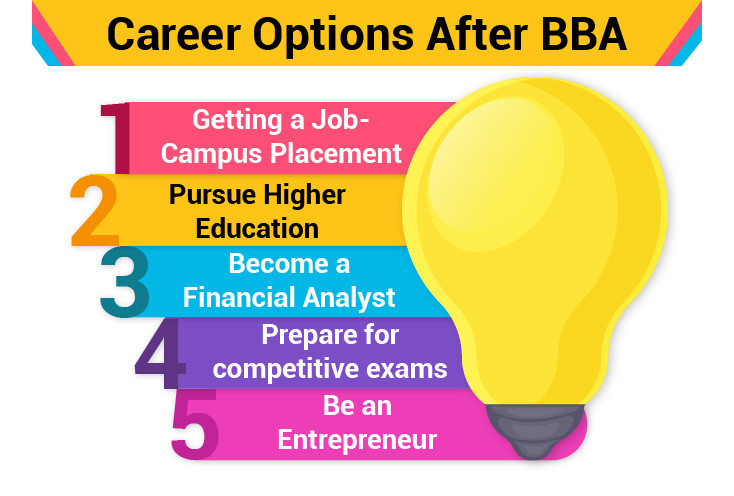 On the basis of their area of interest, passion, skill set etc., candidates can decide to pursue any of the above mentioned scope if they are thinking about - What after BBA? Above mentioned points are discussed in detail and can be referred to by candidates.
Getting Jobs After BBA - Campus Placement
Lot of private sector companies having competitive edge take part in the placement drive as recruiters in colleges offering BBA course like Symbiosis International (Deemed) University, Christ University, Bharati Vidyapeeth Deemed University, Delhi University and many more. Companies that participate in the campus placement of BBA courses look for candidates having exceptional communication, leadership, business, problem-solving skills and managerial decision making skills. Some of the campus placement offers made to candidates having BBA degree are -
Jobs After BBA as a Human Resource in any company - Suitable for females pursuing BBA degree

Operations Manager - Managing the operation of a business requires thorough knowledge of business process and is now considered to be one of the highest paying jobs after BBA in managerial field

Sales & Marketing Executive - Most of the male candidates prefer going in sales & marketing field
Pursue Higher Education
There are candidates who either do not wish to do jobs after BBA or don't get jobs as per their requirement. In both the cases, candidates may wish to study further and pursue a master's degree. Most of the candidates prefer going for a Master of Business Administration (MBA degree). Foundation level study topics of BBA courses are explained as real life courses in MBA course. Apart from MBA, PGDM or MMS are also alternate options available to candidates these days.
Quick Links -
Difference between PGDM and MBA?
Top Institutes Offering MBA/PGP/PGDM/MMS Courses:
Major Exams For Postgraduate Courses Admission:
Become a Financial Analyst
Candidates who pursue a BBA degree in finance have the option to turn into a financial analyst by helping companies maximize their investments and earn profits. Using the critical analysis techniques, jobs after BBA allows a BBA graduate to help companies in managing their assets and excel. Some of the colleges that offer BBA degree in India are Christ University, LPU, NMIMS etc.,
Quick Links -
How to Prepare for BBA Entrance Exam
Prepare for Competitive Exams
What after BBA will not be a question for those who have determined in advance that they will prepare for competitive exams soon after their graduation. Yes, if any candidate does not wish to pursue MBA degree, he/she has varied options after BBA degree. Competitive exams include banking exams, defence exams, civil service exams etc., Although the salary in the initial years in the government sector may not be as high as private jobs after BBA, yet due to low work pressure and job safety, candidates prefer giving government competitive exams. In the government banking sector the scope of BBA fresh graduates is increasing day by day.
Be an Entrepreneur
Large number of fresh graduates these days decide to have their own startups after understanding the basics and having sound knowledge of business terms through BBA courses. For those candidates who want to be their own boss, what after BBA is never a question. For funding or inverters, such candidates can contact big business houses if they think their idea is worth discussing and can attract investments. A lot of government schemes are also available to help small businesses and new startups grow.
Access the opportunities, look out for the best and decide which could be more productive for you. Remember to access all directions before selecting any course. Look what interests you more and then make a firm decision instead of asking yourself and others - What after BBA?