All about IPM programme through JIPMAT - An interview with IIM Bodh Gaya and IIM Jammu professors
The lure of management as a career path is strong. It's no secret that the graduate job market is a competitive one. But how do you step into it at an earliest level? The answer is, a relevant degree and it all starts from class 12. It is a turning point in every student's life where one is on the fence making career choices that can impact their whole life. Enrolling in management courses after class 12 is more hassle free than after graduation. Let's face it, who doesn't want a degree from IIM but acing CAT isn't everyone's piece of cake. Here is where a newly introduced JIPMAT exam comes to your rescue.
Latest Updates for JIPMAT
Stay up-to date with JIPMAT News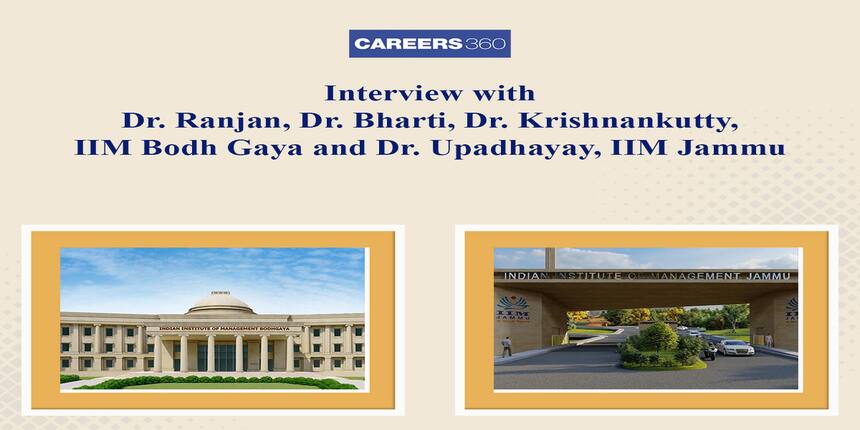 Joint Integrated Program in Management Aptitude Test or JIPMAT 2021 is a national level entrance exam targeted at Class 10+2 students and is conducted by NTA. The exam offers admission in a five year integrated programme in management in IIM Jammu and IIM Bodh Gaya. Earlier the five year IPM was only offered at IIM Indore and IIM Rohtak.
Careers360 interviewed Prof. Prabhat Ranjan, Prof. Teena Bharti and Prof. Raveesh Krishnankutty from IIM Bodh Gaya while Prof. Nitin Upadhayay from IIM Jammu to get insights about this newly introduced programme through JIPMAT. Read the interview here.

To view the full interview Dr. Ranjan, Dr. Bharti, Dr. Krishnankutty, IIM Bodh Gaya and Dr. Upadhayay, IIM Jammu , click here
Careers360: Tell us about JIPMAT exam. Which all IIMs are offering this five year integrated programme in management?
Prof. Prabhat Ranjan, IIM Bodh Gaya: The JIPMAT 2021 exam is for admission to the integrated MBA programme. For the flagship MBA, we already have the CAT examination which is being conducted on behalf of the 20 IIMs across the country.
IIM Indore started the first integrated programme in management some 10 years ago and after that IIM Rohtak started it last year. These colleges conduct their own entrance exams called IPM Aptitude Test or IPMAT. IIM Ranchi has already announced their course and their admission process.
From 2021, IIM Bodh Gaya has started offering the integrated programme for which we need a national level test. As IPMAT scores are limited to students who have studied Mathematics in class 12, we decided to take a test that has all features of the CAT exam. This is so that students from all backgrounds have a fair chance for admission. We contacted NTA for the same. Along came IIM Jammu, which started offering IPM courses from this year and hence we came together to conduct JIPMAT.
From next year, if any IIM wishes to start this course, we welcome them to join us. We could start a joint examination in which the scores can be used by not just IIMs but other institutions which offer BBA and integrated programmes.
Careers360: MBA vs BBA+MBA, what are the qualities of students that can be showcased in comparison?
Prof. Nitin Upadhayay, IIM Jammu: IIMs have infrastructural resources and vision to start a good quality curriculum. When both the institutes started looking at the integrated programme in management, we had deliberation and discussion on how we can improve the quality of the program. We want to have a strong foundation for these students to be distinguished in core abilities and skills so that they stand out in leadership and match up to the quality of a two year MBA graduate. We also have different corporate internships so that the students learn about different projects so that there is no difference between a two year or three year MBS student.
Prof. Raveesh Krishnankutty, IIM Bodh Gaya: After class 12, students go for engineering or any other degree because they are unsure. But being with us for five years, they are mentored by industrialists and high quality teachers with all facilities and amenities.Hence IPM stands much better than flagship MBA in this aspect. Also the IPM course stands out to be the best option for commerce students as they do not have any other institute of eminence.
Careers360: Are there any similarities between JIPMAT exam pattern and CAT exam pattern 2021?
Prof. Ranjan, IIM Bodh Gaya: The syllabus is very similar to the CAT. There are three sections. The first section includes quantitative aptitude based on class 10 maths, logical reasoning and data interpretation, verbal ability and reading comprehension. The level of difficulty is lesser than CAT. Otherwise, the pattern is very similar to CAT.
Careers360: How many seats are there in IIMs for admission to the IPM programme. Is there any reservation policy?
Prof. Krishnankutty, IIM Bodh Gaya: Our target is to get at least 10,000 applications. Each institute is offering 60 seats. For IIM Bodhgaya, 50 out of the total are gender neutral seats and 10 are reserved for women candidates. In Jammu, there are different types of gender diversity schemes. In the merit list, computing the composite score, women candidates will be awarded 10 marks.
Careers360: How are the students affiliated on completion of the program?
Prof. Upadhayay, IIM Jammu: We award BBA degree to students who complete three years in the course and then MBA degree to students who complete two more years. The students have an exit option at the end of three years.
Careers360: Are there separate faculties for UG and PG courses?
Prof. Ranjan, IIM Bodh Gaya: As of now divided the faculties both teachers teach MBA and BBA classes.
Careers360: What are the infrastructure facilities provided at IIM Jammu and IIM Bodh Gaya?
Prof. Upadhayay, IIM Jammu: Currently we are running from the old university campus, that is right in the middle of the city making it well-connected to markets and railway stations. The new campus is expected to be complete by the third quarter of the next year. We offer all the facilities anticipated by an IIM student such as sports facilities like basketball courts, football fields, and gymnasiums. We also have a mess facility and hostel.
Prof. Teena, IIM Bodh Gaya: We have a campus equipped with hostels, gymnasium, sports stadiums, basketball courts and other facilities that are necessary for students' well-being and mental health. By the end 2022 we will have our new campus ready.
Careers360: What is the difference between the courses offered by IIM Bodh Gaya and IIM Indore. Please elaborate the IIM Bodh Gaya course structure in detail.
Prof. Krishnankutty, IIM Bodh Gaya: If you look at IIM Indore bachelor's programme they are high into quantitative techniques. We too are emphasising on that however, we want to capture all the stream of the students. For holistic development of students, we have core management courses, social sciences courses, and communication courses. We have 55 courses that have been planned according to the NEP 2020 and meet the industry requirements as well.
Courses at IIM Bodh Gaya are open to a wide variety of students. For example, for Hindi medium students we have a communication course which is the most important aspect of management studies keeping in mind the communication skills. We also focus on quantitative aspects as we focus on basic mathematics. Someone who does not have a mathematical background can also cope up. In every semester, we have one communication, quantitative and social science course to reduce the burden of learning. None of our semesters are overloaded. We have a balanced semester.
Our managerial course is also focused on the well-being and positivity of students. This program is highly focused. From the first year onwards you get corporate exposure so that there is no need for repetition at pg level. This will allow students to build their qualities and strength through the facilities we have. We have an incubation centre now. In a two year course, it's a little fast and students may not learn it. We are looking for meritorious students. If students are from a financially weaker section we have economic assistance as well.
Careers360: Is there a student exchange option available? Please throw some light on the university tie-ups and exchange programmes.
Prof. Raveesh, IIM Bodh Gaya: Both our IIMs are offering student exchange programmes. At IIM Bodh Gaya, from the second year onwards they can spend one semester abroad. We already have tie-ups with many institutes in the US and European countries so the same with Jammu, they have ties-up with many institutes. And students won't have to pay any additional fees, they have to just pay for travel.
Careers360: The degree is BBA and MBA and then there is a word, IPM. Can you please explain what the students are getting into so that they have a clear picture.
Prof. Raveesh, IIM Bodh Gaya: The word IPM is used in the same matter that we call the postgraduate programme. The most frequently used term for our MBA programme is postgraduate programme in management. In the same manner we're calling it an integrated programme in management. But the degree we are offering will be BBA plus MBA.
Here you are getting a direct entry (into the postgraduate programme). Otherwise, you'd have to write CAT. But here also, with direct entry, there's a restriction. In IIM Bodh Gaya one must have a minimum CGPA 5.5 to get into MBA and for Jammu, it is 6 CGPA.
In Jammu, we have another option which is the exit option. For example, we are giving three exit options to students. If they want to exit after the first year, they'll get a certificate in Basics of Management. If they want to exit after two years, they'll get an advanced certificate in management. if they want to exit after 3 years, they'll get a BBA degree. After 3 years, if they maintain a CGPA of 6, they can join the MBA programme. So a minimum of 6 CGPA is required. It is not that everyone who is doing this integrated programme in management will get into the MBA programme. They'll have to secure a CGPA of 6.
Careers360: How do you expect in five years the two MBAs will compare in terms of placements, aspiration, demands etc? Ultimately this is what will be judged upon by the management fraternity.
Prof. Raveesh, IIM Bodh Gaya: In terms of the IPM programme or MBA programme and after three years, all students are one. We have 60 students in this and three batches of MBA. After three years we'll shift 10 in each batch. Once they are into MBA there will be no difference in placement and everything they are equal.
That is why we are offering the JIPMAT examination. The MBA student should not feel that the IPM student goes in freely. They also come through a national-level test and they are also qualified students.
Prof. Upadhayay, IIM Jammu: This is a great opportunity because students just out of Class 12 can go straight into an IIM. If you look at the five-year integrated programme in management, it will help you to establish those managerial and decision-making capabilities that are really helpful to understand and explore the business space and ecosystems and how trade happens.
Careers360: What is the revised schedule of JIPMAT 2021 as released by NTA?
Prof. Prabhat Ranjan, IIM Bodh Gaya: The earlier date of examination was June 20 but we already have shifted our original last date of JIPMAT application form filling to May 31 so we expect that there will be a delay in examination also. The fresh date of examination will soon be confirmed by NTA once the CBSE 10+2 level exam details are out. And it will be somewhere when the IIT Advanced exam will happen-- perhaps a week or two before or after. The original schedule for the course starting was August but due to delay in +2 board exams, we expect a delay in JIPMAT too.
Questions related to JIPMAT
Showing 2 out of 2 Questions
768 Views
hi..can anyone tell about jipmat expected cut off for five year integrated program. regards
Hi Aspirant,
In IPMAT Cutoff for IIM Indore and IIM Rohtak are nearly same which are as follows:-
For general category
MCQ cutoff marks- Approx 144
WAT/PI cutoff marks- Approx 48
10th cutoff marks- Approx 85.14%
12th cutoff marks- Approx 85.97%
IIM-J and IIM Bodh gaya  Expected cutoff for 2021 are as follows:-
General- 265-280 Marks
EWS- 225+ Marks
OBC- 245+ Marks
SC-195+ Marks
ST- 165+ Marks
The predicted cut-off is based on past year's trends from IPMAT/JIPMAT exams.
This cutoff gets changes every year, So target your score accordingly, Target for the highest number score to get the best.
Hope this help.
Good Luck!
646 Views
Is there a sectional cutt off or time limit for jipmat?
Hello,
The three-section is consisting Quantitative altitude, Data Interpretation and Logical reasoning, Verbal Ability, and reading comprehension. There is a total of 100 questions and the exam duration is 150 minutes. There's no time boundary for any section you need to solve the paper in 150mins.
Please refer to the given site for more details-
https://bschool.careers360.com/articles/jipmat-exam-pattern
Hope this will help, All the best.!!