How Entrepreneurs Can Use Machine Learning to Make their Business Successful?
With big data, machine learning, and artificial intelligence gaining traction, businesses are now getting curious about the applications and benefits of artificial intelligence in service. A lot of people have actually most likely become aware of ML, but do not truly understand just what it is, what business-related issues it can solve, or the value it can contribute to their business. Machine Learning is a data analysis procedure which leverages ML algorithms to iteratively gain from the existing data and assist computer systems to discover covert insights without being explicitly built for this purpose.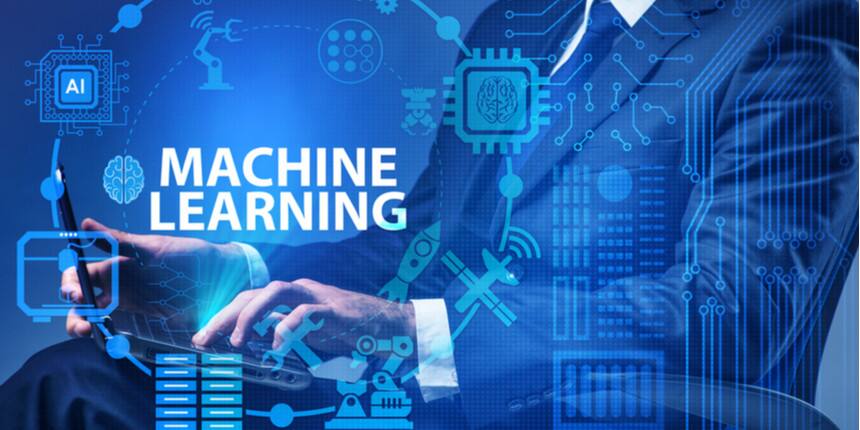 With Google, Amazon, and Microsoft Azure releasing their Cloud Machine Learning platforms for Entrepreneurs, we have experienced AI and ML acquiring the spotlight in recent years. Remarkably, we all have experienced ML without in fact understanding it. Some of the most typical instances are 'Spam' detection by your email service company, and Facebook's proprietary face-tagging. As an example, Gmail looks for keywords and patterns to keep spam out. On the other hand, Facebook immediately tags uploaded images using the image (face) acknowledgment method. The business benefits of AI and ML are numerous.
Role of Machine Learning for Entrepreneurship
Streamlines Product Marketing and Assists in Accurate Sales Forecasts
ML assists enterprises in several ways to promote their products better and make precise sales projections. ML offers huge advantages to the sales and marketing segment. Following are the two most significant benefits:
Massive Data Consumption from Unlimited Sources
ML essentially consumes an unlimited quantity of detailed data. The consumed data can then be utilized to continuously evaluate and modify your sales and marketing strategies based on customer behavioural patterns.
Rapid Analysis Prediction
ML's impressive pace of data recognition makes it possible for businesses to take suitable measures at the correct time. For example, ML will enhance the best subsequent offer for your consumer. The consumer will be able to see the best deal at all times, without you, in fact, investing time to strategy and make the ideal ad visible for your customers.
Interpret Past Customer Behaviors
ML will let you examine the information related to past behaviours or results and analyze them. Therefore, based upon the various and brand-new information you will be able to make better predictions of client behaviours.
Helps With Accurate Medical Diagnoses and forecasts
In the healthcare industry, ML helps in easy recognition of high-risk patients, make near best diagnoses, suggest the finest possible medications, and forecast readmissions. In this method, ML has made it possible to keep a close eye on the patient's well-being for very little expenses in the medical sector.
Documentation made simple
Data duplication and error are the significant issues challenged by companies wishing to automate their data entry procedure. Well, this scenario can be considerably improved by predictive modelling and artificial intelligence algorithms. With this, devices can perform time-intensive information entry tasks, leaving your competent resources totally free to concentrate on other value-add activities.
Financial Models report better results
Some of the common findings are the benefits in Financial sectors such as loan underwriting, portfolio management, and fraud detection, to name a few. Moreover, an E&Y report on 'The Future of Underwriting' states that ML helps with continual data assessments for identifying and evaluating anomalies and nuances.
Robust Spam Detection
Amongst one of the earlier problems fixed by Machine Learning was Spam Detection. A couple of years ago email suppliers made use of rule-based strategies to filter out spam. However, with the growth of ML into a more mature segment, spam filters are making new rules utilizing brain-like neural networks to eliminate spam emails. The neural networks recognize phishing messages and junk mail by examining the rules across a big network of computer systems.
Predictive Maintenance efficiency rise
This is precisely where ML can be of fantastic aid. ML helps in the development of highly efficient predictive maintenance strategies.
Much Better Customer Segmentation and Accurate Lifetime Value Prediction
Sales and marketing units will have huge quantities of pertinent information sourced from different channels, such as lead data, website visitors and e-mail projects. Accurate predictions for incentives and private marketing offers can be quickly achieved with ML. Smart online marketers now utilize ML to get rid of the guesswork associated with data-driven marketing.
Suggesting the Right Product
Competitively developed Machine Learning models are capable of analysing the purchase history of several customers, thereby subsequently identifying those products from your item stock in which a client is interested. This procedure is known as unsupervised learning, which is a special form of the ML algorithm. In this way, without supervision learning assists in producing a remarkable product-based suggestion system.
All these applications make Machine Learning a leading value-producing digital development pattern. Furthermore, ML allows companies to effortlessly discover new patterns and patterns from diverse and big information sets. Organisations can now automate analysis to analyze service interactions, which were traditionally done by people, to take evidence-based actions. This empowers enterprises to provide new, tailored or differentiated services and products. Considering Machine Learning as a strategic arsenal can be a financially rewarding decision. However, an implementation may carry certain business risks that ensue. For that reason, it is much better to approach financial investment choices with utmost care.
The Importance of Machine Learning for Entrepreneurs
With strong roots in data, Machine Learning is becoming one of the most immersive and interesting computer technology fields to work in. There is an endless supply of markets and applications to which Machine Learning can be applied to make them more efficient and intelligent.
Chatbots, spam filtering, advertisement serving, search engines, and fraud detection, are amongst some vital examples of how machine learning models participate in everyday life. Artificial intelligence is what lets us discover patterns and produce mathematical designs for things that would often be difficult for people to do.
Unlike information science courses, which include topics like exploratory information analysis, stats, communication, and visualization methods, artificial intelligence and machine learning courses focus only on incorporating patterns in algorithms, their mathematical function, and the way to utilize them in a new language.
Now, it's time to begin. Here's a TL; DR of the leading 5 machine learning courses as of now.
Top Machine Learning Courses are as follows:
Artificial Intelligence for Everyone by edX
The course has a perfect combination of theory and practical training that helps you understand the applications and uses of Artificial Intelligence to the core. The course is of 4 weeks and students will need to dedicate 1-2 hours per week.
Machine Learning by Coursera
Offered by Stanford, the online course will give you an idea about the most effective machine learning techniques, teach you to implement them. You will gain practical know-how to quickly apply these techniques to all the problems. You will need approximately 60 hours to complete the course.
Deep Learning Specialisation by Coursera
Offered by deeplearning.ai, the course will help you learn the basics of Deep Learning, understand the process of building neural networks and learn to manage successful machine learning projects. The course will need approximately 4 months to complete.
Advanced Machine Learning Specialisation-- Coursera
Offered by National Research University Higher School of Economics, the course helps you understand deep learning, Bayesian methods, natural language understanding. The course is of approximately 10 months and students need to dedicate 6 hours per week.
What makes an apt machine learning course
Each course in the list goes through the following criteria. The course ought to:
Strictly concentrate on machine learning

Use free, open-source programming languages, such as Python, Octave, or R

Usage of open-source libraries for the languages involved. Some suppliers and trainers use business plans, so these courses are eliminated from factor to consider

Contain programs and projects for practice and practical experience

Explanation of the mathematical function of algorithms

Be self-paced, on-demand or readily available monthly or so

Have engaging trainers and intriguing lectures

Have above-average ratings and reviews from numerous aggregators and online forums
With that, the total pool naturally gets culled down quickly, however, the objective is to help you select a course that's worth your resources.
To commit yourself and discover ML as fast and adequately as possible, you ought to likewise seek out numerous books in addition to your online knowledge. Below are two books that made a big effect on overall study experience, and remain in close proximity for references.
Two Excellent Book Companions
In addition to taking any of the video courses below, if you're fairly brand-new to artificial intelligence you need to think about reading the following books:
Introduction to Statistical Learning, which is likewise readily available totally free online.
This book has incredibly clear and uncomplicated examples and explanations to boost your general mathematical intuition for a lot of the fundamental artificial intelligence strategies. This book is more on the theory side of things, however, it does include many workouts and examples utilizing the R language.
Hands-On Machine Learning with Scikit-Learn and TensorFlow, also readily available through a Safari membership
A great enhancement to the previous book considering that this text focuses more on the application of machine learning utilizing Python. Together with any of the courses listed below, this book will enhance your programs abilities and reveal how to use machine finding jobs instantly.
Types of Machine Learning:
Supervised

Unsupervised

Reinforcement
Supervised
Supervised knowing is the most popular paradigm for machine learning. It is the easiest to comprehend and the simplest to carry out. It is extremely comparable to teaching a kid using flashcards.
Given the information in the form of examples with labels, we can feed a knowing algorithm these example-label sets one by one, permitting the algorithm to anticipate the label for each example, and providing it feedback regarding whether it predicted the right answer or not. In time, the algorithm will discover to approximate the specific nature of the relationship between examples and their labels. When fully-trained, the supervised learning algorithm will be able to observe a brand-new, never-before-seen example and predict a good label for it.
Unsupervised
Without supervision, learning is really much the opposite of supervised knowing. From there, it can find out to group, cluster, and/or arrange the data in a method such that a human (or another intelligent algorithm) can come in and make sense of the newly organized data.
What makes learning without supervision such an intriguing area is that an overwhelming bulk of information in this world is unlabeled. Having intelligent algorithms that can take our terabytes and terabytes of unlabeled data and make sense of it is a big source of prospective revenue for lots of markets. That alone might help boost efficiency in a number of fields.
Reinforcement
Reinforcement learning is fairly different when compared to supervised and not being watched learning. Where we can easily see the relationship in between supervised and without supervision (the existence or absence of labels), the relationship to support learning is a bit murkier. Some people try to tie reinforcement learning closer to the two by describing it as a kind of learning that relies on a time-dependent series of labels.
Learning to play competitive games is one of the most fancied examples of reinforcement Machine Learning. Google had a reinforcement learning application named Alpha-Zero and Alpha-Go which learned to play the game "GO". Currently, there are very few production-grade games that have deployed a reinforcement learning agent, but one can imagine that this will soon be a viable option for game developers to put to use.
Frequently Asked Question (FAQs) - How Entrepreneurs Can Use Machine Learning to Make their Business Successful?
Question: Is Machine Learning useful in Finance?
Answer:
Yes, ML finds numerous applications for Finance professionals. Some of them being in investment banking, stockbroking, mutual funds, trade settlements, prevention of money laundering, process automation. Thus, it can be seen that trained Finance experts stand to gain.
Question: Can Machine Learning be learnt for free?
Answer:
There are decent online classrooms being run by reputed brands to impart knowledge in the field of Machine Learning. Some of them are free while others are economical too. However, some certifications cost money while it is free to audit the course. Among them are Google, Columbia University, and MIT.
Question: How difficult is Machine Learning?
Answer:
It is recommended that incumbents interested in formal studies in the Machine Learning arena undertake a self-assessment by the institution of their choice. This is because there are certain subjects that are critical for a successful career in this segment. The student's comfort level with these will mostly determine the ease of understanding the core concepts.
Question: Can I learn Machine Learning on my own?
Answer:
Machine learning has some technicalities that you can't learn on your own. This is the reason why it is advisable to opt for an online machine learning course, which gives you an in-depth knowledge of the course.
Question: What Skills are Needed to Get a Machine Learning and Artificial Intelligence job?
Answer:
For machine learning and artificial intelligence jobs, you need to have a deep understanding of Algorithms, Statistics, Programming Languages, Analytical and problem solving skills.
Question: Is Machine Learning required for Artificial Learning?
Answer:
Machine learning is not required for Artificial learning. However, Machine Learning supports AI. In short, machine learning is necessary but not sufficient to achieve the goals of AI.
Question: What are the advantages of AI?
Answer:
AI has a low error rate as compared to humans, provided it is coded efficiently. AI has incredible accuracy as well as speed to complete different types of tasks with ease.
Question: Who can opt for this course?
Answer:
A graduate or postgraduate in engineering, economics, pure or applied Science and Maths and Computer Applications can apply for this course.
Entrepreneurship Updates and Articles
There are many best entrepreneurship courses in india. Check w...
21 Sep 2020
Questions related to Entrepreneurship
Showing 89 out of 89 Questions