IBA Campus Life Demonstrated by Deepti Nair (Second Year PGDM Candidate)
IBA Campus Life - Getting into a premier management school, takes a lot of hard and smart work. There are thousands of candidates who want to pursue their Management from top B-Schools and before getting into it they are interested in knowing how life is at the campus after getting admitted. Many candidates take admission in B-Schools with a lot of assumptions like how's the faculty member, how the campus will be, will there be extra-curricular activities, about medical or hostel facilities, etc. Deepti Nair, student of PGDM Marketing + Finance candidate at IBA Bangalore, tells us how life goes on the campus of IBA which is one of the premier B-Schools in the country.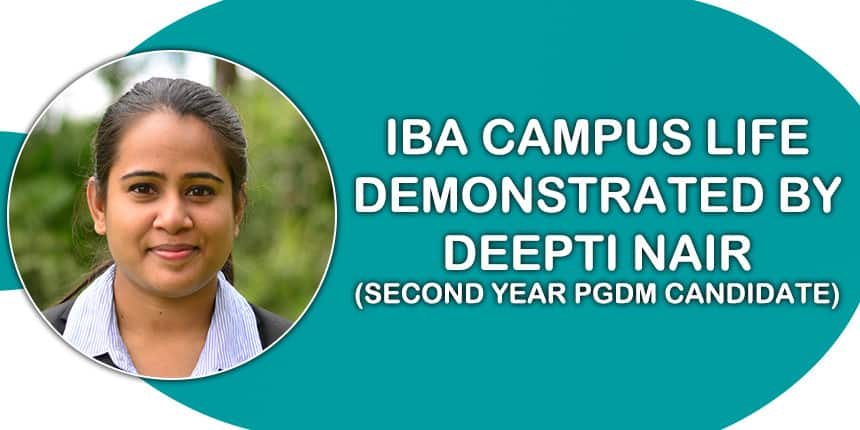 Careers360- Tell us something about yourself such as from which place are you from?
Deepti Nair- I am Deepti Nair, a Malayalee girl born and brought up in Delhi. Hence, it would be apt to say that I am a girl having a mix of both southern and northern culture.
Careers360- Presently which course are you pursuing and in which year are you?
Deepti Nair- PGDM Marketing + Finance student, and at present in 2nd year of my post-graduation.
Careers360- Did you face any difficulty in the initial months when you joined the institute?
Deepti Nair- There were no difficulties as such, just I had to adapt to the residential campus environment, as staying in a hostel was all new to me. Other than that everything was good and went with the flow.
Careers360- What activities are offered in the institute? Are there any clubs etc for the various extracurricular activities? Which ones have you taken up and are a part of?
Deepti Nair- This college defines an apt combination of academics and extracurricular activities. There are clubs that bring in the practicality of what all is taught during classes, there are clubs for Marketing, Finance, Retail, Communications, IT, Operations, Business Quiz, Human resources. Also, do not miss there are committees which represent the college in various dimensions like, HOPE for Social causes, I3 for placements, YMCC for cultural, Santripti for Mess, Newsletter for campus events. All these clubs and committees are student driven under the guidance of our mentors, who are either part of the faculty or staff group. Our CEO also heads a few committees and clubs and is also a guiding member for entire co-curricular clubs and committees in college.
I am a part of the HOPE committee and Hunterz Ignite (Marketing Club of IBA Bangalore.)
Careers360- Describe a typical day at your institute – what do you do from the time you wake up till you go to sleep?
Deepti Nair- I wake up at around 8 in the morning, get ready and, go for breakfast to the mess. Thereafter we have our classes from 9:30 to 12:45 followed by lunch in the mess. Then I take a rest for some time and at 2:00 we have the second half classes till 5:15. Post academic sessions we get evening snacks in mess. Then after that, it is students' time, we gather in 3D Block (common room for boys & girls) to complete assignments/presentations. After that, I go for evening walks either in college or to near-by places. At 8, I go for dinner and then sit with my friends near grocery (Grocery is the favorite spot for all students, where you can see many students sitting with a bottle of coke/juices and sharing fun conversations). Then at 9:30, we have our mess sign, post which we have various activities organized by clubs/committee on the campus. After that, either I come back to the hostel or just go for a night walk around the campus with my friends. This sums up my day and then I go to sleep by 12:30-1 am, after completion of all assignments and club/committee activity meetings.
If there are any upcoming events then we all stay in CR block and complete our work for the same. The most amazing part is before Achish, National level management fest when all students can be seen working, decorating, practicing for various planned events.
Careers360- Tell us about the faculty-student ratio here and about the teacher-student relationship in your understanding.
Deepti Nair- The faculty-student ratio is very good, as it is a residential campus we get more time with them and we can discuss our doubts or take up advice from them post classes as well. All the students have faculty mentors who are always there to assist us whenever we need one.
Careers360- What all facilities do you have on campus? What do you like here the most which you feel is unique and differentiating?
Deepti Nair- There are many facilities available in the campus like 3D center for discussions, student activity and training center, library with internet reference facilities and an audio-visual center, wifi, campus doctor, open-air amphitheater, gym, laundry, grocery, special pathways for differently-abled, Auditorium, Theatre classrooms, mess and many more, steps connecting various parts of the campus.
I like open-air amphitheaters the most, as it suits the Bangalore climate. We can sit in the open air and see various student activities especially before and during any cultural events.
Careers360- How comfortable are your hostels and how about the cleanliness factor over there?
Deepti Nair- Hostel rooms are very good and neatly maintained. There is a sufficient number of washrooms for students who stay in non-attached rooms, and all the rooms, floors, grounds, washrooms of the hostel are clean and neat. The cleanliness factor is always taken care of.
Careers360- What about the medical facilities? Can you avail of requisite medical attention if needed in an emergency?
Deepti Nair- There is a doctor who is available in the campus till the evening. Post that if there is any medical emergency we have faculty and staff who stay on campus, and emergency transport always ready to help in case of emergency needs.
Careers360- How do you balance your studies, projects, exams, and other activities?
Deepti Nair- At first, I thought it would be difficult to maintain academics and extracurricular balance but with time this college has actually helped me a lot with time management. I divide my work according to the time available and split it in between what is important and urgent with a to-do list always stick to my mirror. This way I do not miss any task and complete everything on time.
Careers360- Tell us about the clubs and societies at the campus and how significant are they from your point of view or students' point of view?
Deepti Nair- There are 8 clubs - Hunterz Ignite: Marketing Club, Barcodes: Retail Club, Navigators: Finance Club, Cosmos: Business Quiz Club, Infinite: IT Club, Spandan: HR Club, Dolphins: Communication Club, OM: Operations Club.
For extracurricular, placements, CSR, mess food, college fests, there are 5 committees in our college: HOPE for Social causes, I3 for placements, YMCC for cultural, Santripti for Mess, Newsletter for reporting all the campus events and broadcast campus news. Since all these clubs and committees are student-driven with mentor guidance, we get to lead, work in a team, plan and execute all the work. The infusion of co-curricular aspects of the program allows students to round off their experience and reach their potential and also prepares us with the qualities of what it takes to be the future managers.
Careers360- Is there any in-house magazine or journal for the latest events or happenings at the institute?
Deepti Nair- The newsletter committee is responsible for reporting all campus events, students' or faculty activities and achievements. The committee releases a quarterly newsletter – 'UDGHOSH' that is circulated on the campus, among the Corporates, B-schools and a strong alumni network. UDGHOSH acts as a platform for the students to showcase their competencies.
Careers360- What are the popular hangouts at the institute? What, according to you, are the most- visited places nearby?
Deepti Nair- Grocery is the most popular hangout in the college. After dinner students gather around for cold drinks, tea/coffee, snacks and have a fun conversation over there. Besides grocery, there are also, other hangouts like Cricket, Basketball and Volleyball courts, TT room for table tennis, carrom and other indoor sports, amphitheater, rose garden and sitting area outside mess and not to forget the respective hostel grounds and stairs for late-night conversations.
Careers360- How do you spend your leisure time at the campus?
Deepti Nair- I have my girls gang, and my leisure time is generally spent with them either in one of our hostel rooms, stairs or outside grocery chit-chatting and sharing all fun conversations. At times we also dance and sing in our rooms and charge ourselves, as dancing and singing is the best way to refresh one's mood.
Careers360- Do you have any Facebook page of your campus where the students express their views, jokes or ideas, or maybe even a blog where they write about their experience of life at Campus?
Deepti Nair- IBA has its Facebook page with all the latest updates, besides that there are various pages for clubs and committees in Facebook, wherein we share all the updates for upcoming, ongoing events as well as post-event pictures and snippets.
Careers360- What type of companies come for campus recruitment and what percentage of students get placed every year? How is the recruitment process here?
Deepti Nair- Placement percentage is 100%, and there are companies coming for varied roles and responsibilities from various organizations across the industry like for retail, finance, marketing, operations, analytics, human resource.
IBA Bangalore Updates and Articles
Questions related to IBA Bangalore
Showing 57 out of 57 Questions