Vivekananda Global University hosts AARAMBH 2019
Vivekananda Global University curated a special event to welcome the new batch to inspire and show them the way to achieve their Dreams. With the new academic session at colleges, our Youngsters are all excited to enter their dream colleges and start exploring the University life. In this league, one of India's premier institutions Vivekananda Global University curated a special event named "Aarambh" to welcome the new batch.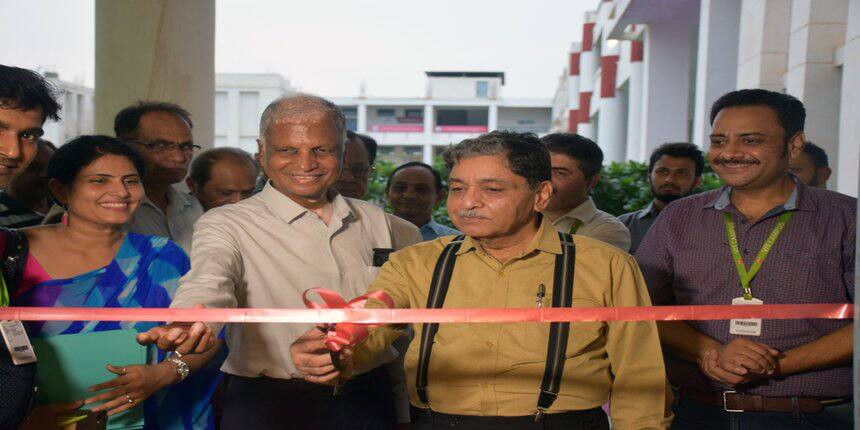 Aarambh is designed to support new students as they begin their journey at college. The aim is to create opportunities and offer experiences that are directly informed by the educational philosophy and practices of the College, and through which students will be able to engage their passions, challenge their beliefs, and continue to grow intellectually, socially, and emotionally.
The event hosted a few popular dignitaries including Director of Dangal Nitesh Tiwari, Founder of Jaipur Rugs N K Chaudhary, International Artist Percussionist Brothers along with RJ Sahil and Rj Arjun.
Registrar Praveen Choudhary, CEO Omkar Bagaria and President of VGU Prof.P.M.Udani acknowledged the global educational approach of the University while execution of Aarambh 2019. The event hosted more than 2000 students across the world including countries such as South Africa and Singapore. The cultural event was hosted by popular music channel with its festival 9xm Bharat Bass Festival was more than 60 performances including fashion show, dancing, Music, Drama and many more.
To introduce a new approach, the Centre For Design Excellence (CODE) a constituent body of Vivekanand University (VGU) Jaipur has been conducting a 15 day Orientation Program from 15 July 2019 to 1st August 2019. The idea is to come up with unusual and interesting activities to get their fresher's acquainted with their new college.
The program aims to provide upcoming young design and architecture students, and insight about the courses in architecture and design through various workshops and activities, conducted by well-known designers and Architects from all over India such such as Rameshwari Kaul, Prachi God and Vikas Shimpi. The idea is to provide an interactive platform for students to enhance their talent as well as experience varied aspects of design profession as a whole through hands-on workshop, brainstorming, quiz exhibition and theatre and dance workshops.
By setting up most unique orientation program, CODE has lined up a new standard of learning required for advance education. Activities and Workshops like doodling and caricature design are being conducted for engaging their engaging the minds of the budding architects and designers.
"With professional learning approach, workshops for personal betterment of the students like hostel food hacks, Rock climbing, photography, theatre and dance workshops are getting a good response" said Shweta Choudhary, the faculty, VGU. She also mentioned that "the program is also facilitating students to go on educational industrial tools and heritage works to exposure explore the beautiful city of Jaipur which is now a UNESCO World Heritage City"
Major Highlights of the event includes
Cultural Program - Saraswati Vandana

REDFM Event by RJ Arjun

Ramp walk

Walk of Wisdom by popular band of Patiala

Gully Cricket in IPL Format

Mehram Poetry and storytelling Festival

Theater Workshop

5 -a -Side Football

Leadership Session

Lifestyle Workshop

Concert Night with 9xm Artist
In the world of Modern education, the place of innovation and creativity involved in such welcome program will set a role model for other institutions for the future. VGU is indeed the first premier institute to introduce the most unique approach with the global exposure the new students.
Vivekananda Global University, Jaipur Updates and Articles
Questions related to Vivekananda Global University, Jaipur
Showing 1 out of 1 Questions
31 Views
I live far from the college so i will live in hostel and what are the food facilities
Hello!!
You can know about the hostel and food facilities and other details by visiting the  official website of the college in which you want to pursue your under graduation in.You can also get to know about the hostel and mess fee structure from the official website.You can also get the reviews of hostel from  the students and alumni of the college in the official websites.Try to browse through the brochure provided to you during your counseling to get those details.