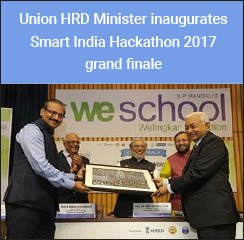 The Union Human Resource Development Minister, Mr. Prakash Javadekar, inaugurated the grand finale of 'Smart India Hackathon 2017' at the Prin. L. N. Welingkar Institute of Management Development & Research (WeSchool) in Mumbai on Saturday, April 1. The Minister was joined at the inaugural ceremony by Prof (Dr.) Anil Sahasrabudhe, Chairman, All India Council for Technical Education (AICTE), Mr. R Balasubramaniam, Nodal Officer, Department of Atomic Energy,  Advocate Sohanlal K. Jain, Chairman, LMC WeSchool & Managing Council, Shikshana Prasaraka Mandali and Prof (Dr.) Uday Salunkhe, Group Director, WeSchool, along with heads of various other educational institutes in Mumbai.
Organized by the AICTE under the aegis of the MHRD, National Informatics Centre (NIC) and MyGov, the Smart India Hackathon 2017 was conceptualized as the world's largest ever open innovation model and saw over 2100 technical institutes from across 33 locations in India concurrently compete for top honors in a 36 hour long digital programming marathon. The objective of the Hackathon was to let participating teams find digital yet sustainable innovative solutions to the problems of 29 union ministries and government departments to add to their efficiency and transparency. Along with WeSchool, one other B-School and 24 engineering institutions were selected from across India to host the nationwide initiative.
Mr. Javadekar, while addressing young innovators at all the centres through web conferencing from the WeSchool Campus, said, "Our Government envisions a New India in young minds and budding talent who innovate to bring out sustainable profitability in the country. We believe innovation is the only resurgent way of progressing. Small innovations can bring a big change in the economic and social development of India". The Minister, also the event's Chief Patron, added, ""This is the first time the Government of India is organizing a Hackathon. It will encourage students to apply knowledge to real-life situations and find innovative solutions that will contribute positively in improving quality of life".
At the WeSchool campus, 32 teams comprising 237 young innovators from institutes across India strove to solve a variety of problem statements shared by the Department of Atomic Energy like Personal Radiation Dosage Calculator, Digital Public Outreach Platform for Nuclear Energy, Cyber Attacks Threat Map, GPS Mapping of Resources for Crisis Management among many others. 
Prof Sahasrabudhe, delivering the keynote address as the Chairman of Smart India Hackathon 2017 said, "We welcome the spirit of the youth who have come forward to solve problems of the nation. The HRD Ministry has played a pivotal role in taking this initiative forward. We are enthused by the students who applied for this Hackathon and had a tough time in shortlisting them. This is a golden moment for technical education in the country. I am confident that initiatives like these will seed the start-up movements for the nation."
At the conclusion of the Hackathon, the proposed solutions were judged by academic experts and a team of scientist-innovators from the Department of Atomic Energy and the winning teams were awarded prize money.
Check out bschool.careers360.com for the latest news and updates on management institutes in India!
Compare Colleges
College Comparison based on Courses, Placement, Rank, Fee
Compare Now
More like Prin LN Welingkar Institute of Management Development and Research, Bangalore
PDGM 2013 admissions at WE School
Admissions are open for the 2 year full time Post graduate Diploma in Management (PGDM) programme...
Questions related to Prin LN Welingkar Institute of Management Development and Research, Bangalore