OPJEMS 2013 Scholarship Entrance Exam to be Held on September 7
Scholarship: O P Jindal Engineering and Management Scholarships (OPJEMS) 2013
Every year, 100 students from 40 premier engineering and management institutions are awarded scholarships to promote academic and leadership excellence. OPJEMS scholarships, led by O. P. Jindal Charitable Trust, instituted in 2007, have been awarded to meritorious students who emulate the vision and values of Shri. O.P. Jindal and have the potential to become leaders in entrepreneurial excellence and innovation.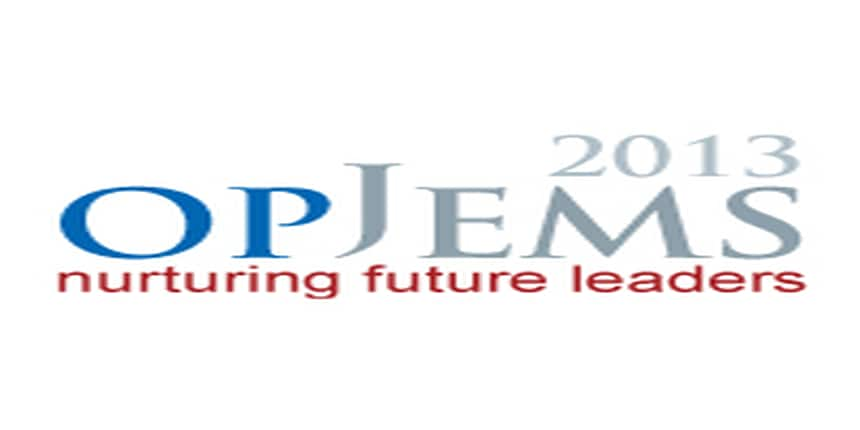 OPJEMS 2013 program was launched on 7th August 2013 on the birth anniversary of Shri. O. P. Jindal, founder of $18 billion O. P. Jindal group, whose flagship companies comprise of Jindal Stainless, JSW, Jindal SAW and JSPL.

OPJEMS 2013 Scholarship Value
Yearly Scholarship Amount:
Rs. 1, 25, 000 for an MBA student along with a Silver Medallion and a merit certificate

Rs. 65, 000 for an Engineering student along with Silver Medallion and a merit certificate

Eligibility: The management scholarships will be offered to the first 10 toppers of 2nd year based on the academic performance in the first year of regular PGDBM or MBA course are eligible.

Participating Institutes: The participating institutes are as follows:
FMS Delhi

MDI Gurgaon

Jindal Global Business School

IIM Lucknow

IIM Ahmedabad

IIM Bangalore

IIM Calcutta

IIM Kozhikode

IIM Ranchi

IIM Raipur

IIM Rohtak

XLRI Jamshedpur

SPJIMR Mumbai

JBIMS Mumbai

IIFT Delhi
Selection Procedure: The candidates will be selected on the basis of an online leadership test which will be held on Saturday, September 7, 2013. The test will be completed within 8 minutes. The test will assess the leadership qualities of the candidates. The shortlisted candidates will have to appear for Personal Interview round.
Special Conditions of the test: In case a candidate is unable to take the test due to medical or any other valid exigency, she/he would be provided an alternative test date. However, prior permission should be there.
Online Technical Support shall be provided during the online leadership assessment test. In case any student faces difficulty in undertaking the test due to server or IT challenges, the invigilator will give her/him option to complete the test in a paper-pencil format.
Important Dates: The date of the online test is Sturday, September 7, 2013.
Phone: +91 9310046643
Email: opjems.scholarship@jsw.in
Website: http://www.opjems.com