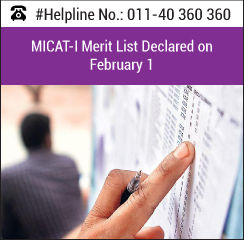 MICA has announced the final selection result of the candidates who had appeared for MICAT-I held on December 13, 2015 on February 1, 2016. The shortlisted candidates had appeared for the GE-PI rounds held over January 16 to 19, 2016. The candidates have been communicated their admission or selection status through email. MICA mentions, "For those who haven't got an e-mail as yet, kindly be patient. All candidates (confirmed offers, merit list, and rejects, if any) will get an e mail by February 2, 2016 EOD."


42 candidates get confirmed offers
Out of the total 5251 test takers of MICAT-I, 559 candidates were shortlisted for GE-PI rounds. A total of 42 candidates have been given confirmed offers and 307 candidates have been merit listed. The total number of rejections is 194. The total number of intakes is 180.


MICA is also expected to declare the score card of the test takers by February 2. On January 28, MICA had announced that they had audited the scores of the candidates and it was found out that there were 23 more eligible candidates were called for GE-PI rounds in Kolkata and Mumbai held on January 30-31, 2016.


The shortlist of candidates for MICAT Phase I was declared on December 23, 2015. After which the candidates demanded score cards in order to know the shortlist criteria. After several requests from students and open letter by Careers360, Dr Atish Chattopadhyay, Dean, MICA assured that the score cards will be made available to the test takers. Earlier, as per the policy of MICA, the score cards were not announced. This year, the policy has been changed.


MICAT-II Registration ends on February 4
The registration process for MICAT-II will end on February 4, 2016. The deadline has been extended from the erstwhile January 30, 2016. The exam will be held on February 14.


Also Read
MICAT-I scorecard audit points to process lapse; finds 23 more candidates eligible for GE-PI
MICAT Results 2016: MICA now says MICAT scorecard will be made available to candidates


Stay tuned to bschool.careers360.com for more news and updates on MICAT 2016.


First published on February 2, 2016.
Questions related to MICAT