JGBS SAP Student Testimonials
Students at Jindal Global Business School were asked to write about their experiences on four different aspects during their SAP at hosting school/ university. Ruchika Sharma student of Jindal Global Business School, Sonipat writes about four different aspects during her experience at SAP at Singapore Management University, Singapore. Ruchika Sharma is a student of programme IBM batch 2014 who is pursuing a Master of Science in Management'19, Lee Kong Chian School of Business, SMU.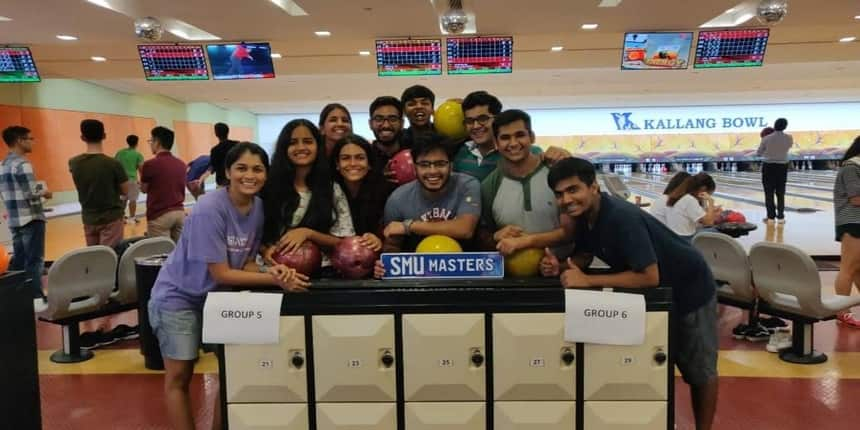 About the Infrastructure, facilities of hosting University:
SMU has a beautiful city campus right in the heart of Downtown Singapore. The business school building is conveniently connected to the rest of the departments and the library/admin block via an underground concourse. This allows the students to also have a common space for a range of activities right under the busy streets of Singapore. We have a 5 level library that has both physical and digital access to journals, books, and qualified support staff to assist students in research activities. The campus also has multiple avenues for study spaces – graduate lounges (only for PG students), library space, learning commons (24*7 access) and group study rooms. The classrooms are essentially smart equipped with the latest tools for smart learning. Owing to the central location, the SMU campus has easy access via both buses and the mass rapid transportation with 3 metro stations running different lines in the vicinity.
About Professors & Staff:
In the 8 courses I have attended so far at SMU, I have absolutely enjoyed the learning experience I have had. The professors are passionate about academia and would instill that interest in the subject among the students as well. The classes are highly interactive which ensures there is a two-way flow of ideas. At SMU class participation is given a heavy weightage and therefore professors play an important role in letting a discussion flow in the correct direction. We would have breakout sessions, case study discussions and class presentations. We had established professors from diverse ethnic and academic backgrounds but all great in their respective fields.
How your SAP goals, aspirations are accomplishing:
One of the main reasons for a SAP was for me to get global exposure, meet and work with people from different backgrounds and further broadening my perspectives. Coming to Singapore has definitely helped me in achieving those aspirations. SMU has a wide range of extracurricular opportunities that we could participate in, further we also have an active career services department that is available to the students for industrial and workplace training as well as a one-on-one internship. The central location of the college also allows the students for a chance to take up part-time roles in the companies nearby. This allowed me to explore the work culture in Singapore pretty soon and also provided me with the opportunity to work with international superiors and co-workers.
How about your knowledge and skills:
Along with adding knowledge and teaching the traditional management courses, classroom engagement at SMU certainly helped us in improving our contemporary knowledge. The course structure is also modified and updated with respect to corporate requirements to make the students more work ready. Further, the compulsory presentations, career workshops as well as class participation requirements aid us in improving our communication skills. I've also now had the experience of working with people from varied cultural backgrounds and have started to appreciate different perspectives.
Jindal Global Business School, Sonipat Updates and Articles
Questions related to Jindal Global Business School, Sonipat
Showing 1 out of 1 Questions
22 Views
Does Jindal GBS Provide ipm Course
Dear Aspirant,
I hope that by IPM you mean Integrated program for management. So Jindal Business School provides integrated BBA ( Hons) course + MBA. The course duration is 5 years. You have to apply for this course after 12th by securing minimum 60% and then clearing the entrance exam conducted by Institute.
Hope this helps