JGBS Alumni Speaks- Vishnu Ramachandran's Journey Through JGBS and Beyond
Vishnu Ramachandran, alumni of Jindal Global Business School, Sonipat, recollects his experience and journey at JGBS. Vishnu Ramachandran speaks about his days at JGBS after having wrapped up his important phase of life which was High school. In Vishnu Ramachandran's journey through JGBS and beyond - JGBS alumni speaks that students must look for opportunities and look forward to taking on new challenges. As a part of integrated BBA-MBA programme, Vishnu Ramachandran faced many curveballs which were of great experience and prepared him for the real world. In exclusive talk with Careers360, Vishnu Ramachandran speaks that other than learning about the real world, he developed himself personally by being independent and interacting with students from diverse cultures. Read this complete article to know more about JGBS alumni- Vishnu Ramachandran's journey through JGBS and beyond.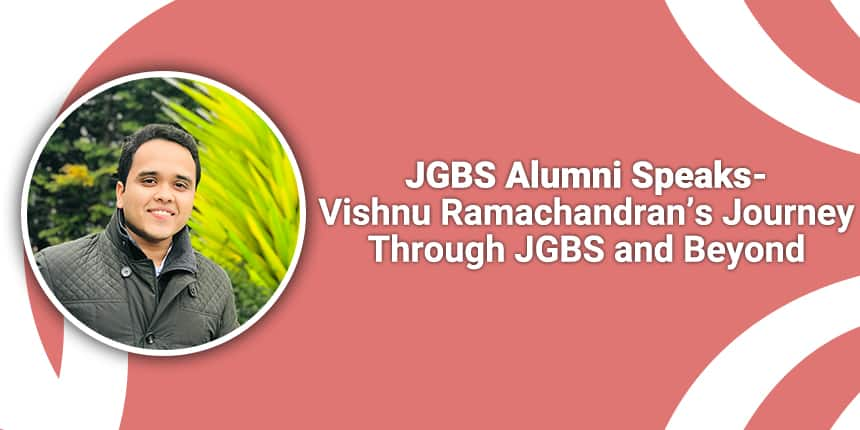 Vishnu Ramachandran's Journey Through JGBS and Beyond
This journey started off in 2013 just after wrapping up a very important chapter of my life which was high school. I still remember the day I joined JGBS, each and every one who were in that auditorium was going through the excitement, nervousness and uncertainty as we were heading into uncharted waters that we had never explored in our lives. That being said, I would urge the new students to look forward and take on challenges thrown at them. This would be really helpful once you step out into the real world.
For me Jindal has given amazing opportunities to hone my managerial, communication and team working skills by letting me take on leadership positions at organizing events. Over the years JGBS made us emotional strong and strong willed to achieve our goals. As we were very much part of the university and stayed on campus, it had become quite like home for me. As were the pioneering batch for the integrated BBA - MBA programme, we experienced a lot of curveballs along the way which is of course part of the learning curve. The modules taken were precise enough to give you the competitiveness in the real world. There was always a helping hand to pull me up when I needed the extra push from my professors.
In 2017, I went on to pursue my dual degree MSc at Queen's University Belfast. This was undoubtedly the most memorable experience for me. I have learnt so much about different cultures, people and become very much independent. I am grateful to JGBS for giving me such an amazing platform. This wouldn't have been possible without all my professors pushing me harder to achieve what I wished for and never give up. My only word of wisdom to all those joining JGBS is to never lose faith in yourself and work hard to achieve your goals. I can tell from my personal experience that the integrated BBA-MBA degree has given me an edge over others.
Jindal Global Business School, Sonipat Updates and Articles
Questions related to Jindal Global Business School, Sonipat
Showing 1 out of 1 Questions
22 Views
Does Jindal GBS Provide ipm Course
Dear Aspirant,
I hope that by IPM you mean Integrated program for management. So Jindal Business School provides integrated BBA ( Hons) course + MBA. The course duration is 5 years. You have to apply for this course after 12th by securing minimum 60% and then clearing the entrance exam conducted by Institute.
Hope this helps