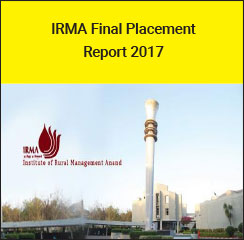 UNICEF was among the top recruiting firms present at the placement drive of Institute of Rural Management Anand (IRMA) which witnessed 100 per cent placement offers made to the 169 students of the outgoing batch of 2017. UNICEF came for campus placements of IRMA for the first time this year and offered jobs to five students. The overall average salary offered to this year's batch witnessed an increase and settled at INR 10.22 lpa, while the highest salary offered went up to INR 46.50 lpa.

The companies attending the IRMA placement session mainly belonged to the development sector  – NGOs, Cooperatives and Government Development Agencies). A total of 92 firms were present and gave out 220 job offers to the participating candidates. Pre-Placement Offers (PPO) were made to 21 candidates. The Gujarat Co-operative Milk Marketing Federation (GCMMF), owning the brand Amul, emerged as the single largest recruiter, offering job roles to 19 candidates of the 2017 IRMA batch. The Cooperatives/Producers Collectives as a sector offered job roles to as many as 28 candidates. Bihar Rural Livelihood Promotion (BRLPS) was identified as the second largest recruiter and made 11 selections in total. Following close by was Pidilite Industries Ltd. (Rurban Division) and ICICI Lombard General Insurance Company Ltd. hiring 9 and 8 students respectively.
The salaries offered by the recruiting firms also vary, with the development sector giving out an average salary of INR 9.37 lakhs and the corporate sector offering INR 10.57 lakhs as the average salary.
Among the Non-Government Development Organisations present were SRIJAN, WomenWeave Charitable Trust, Gujarat State Women's Sewa Co-operative Federation, Industree Crafts Foundation, RISE India Trust, and Naandi Community Water Services. The Government Development Agencies included UNICEF, Rajasthan Grameen Ajeevika Parishad, and Bihar Rural Livelihood Promotion Society (BRLPS).
Also Read
Stay tuned to www.bschool.careers360.com for more news and updates on IRMA
Compare Colleges
College Comparison based on Courses, Placement, Rank, Fee
Compare Now
More like Institute of Rural Management, Anand
Questions related to Institute of Rural Management, Anand