Explore SSN SoM with T. Annu Eswari
As Charles Darwin states, "A man who dares to waste one hour of time has not discovered the value of life." We, at Careers360, always encourage students to pull up their socks from day 1 to avoid last minute rush, best described by Dr Seuss' "How did it get so late so soon?". At SSN School of Management (SoM), candidates persevere to make the most of the 2 years in college which pass by in a jiffy. This requires a proper balance of academic as well as social life, both of which are served in a platter by SSN SoM. A recent alumnus, T. Annu Eswari, an MBA degree holder specializing in Marketing and Human Resource Management, is all praise about the institute's lush, green campus, first-class faculty, and quality placements, all of which contributed in her successfully bagging a desirable position in Rane TRW Steering system Pvt. Ltd. Let's hop onto T. Annu Eswari's shoes to know what makes SSN SoM different from the rest.
Latest: Click here to Apply for the MBA programme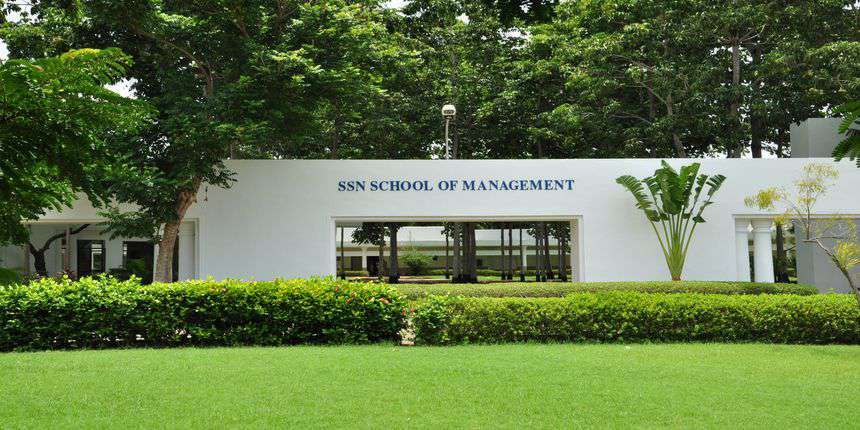 Careers360: How is the campus life at "College Name"? What's the daily routine? Is it all packed up in a routine or equally divided between fun and study? What is the best thing about the campus, something that differentiates it from the other B-schools?
T. Annu Eswari: We are part of SSN Institutions founded by Dr Shiv Nadar. The Foundation is committed to the cause of education. The other renowned institutions are SSN College of Engineering and SSN School of Advanced Career Education.
SSN is different. It lays great emphasis on pedagogy that has resulted in today's ranking (NIRF) and accreditation (NAAC A++). We get a very open environment of learning with a balance on academics and living skills. This is reflected in the ultimate outcome – our quality placements.
As regards "fun", it depends on what is fun. But putting it straight, MBA is a serious program.
Few good things about the Institution:

250+ acres green campus, Wi-Fi enabled.

Faculty with industry and academic blend

Two internships (8 weeks and 16 weeks) building interface with industry

Good peer learning (we attract quality students)

Residential program

360-degree perspective holistic learning

Strong SSN brand association as quality education stakeholder
Careers360: Does your college organise corporate trips or casual college trips? If yes, share the experience.
T. Annu Eswari: Yes. 2 to 3 visits during the program
The two internships during the program do provide great orientation for students towards the organizational environment.
Careers360: Is there any club or committees at the campus? Are you a part of any club or committee? Share some of the activities and experience.
T. Annu Eswari: We are encouraged to explore anything we wish to. We have clubs as a part of student-led initiatives. Debating Club, Business Club, Book Review Club are some of these. Our Rotaract Club of the Institution provides a window to social service. The Institution plays a facilitating role. This eventually leads to team-working and leadership skills. Another important activity that we do is the business newspaper review once a week. This will enhance our contemporary understanding with a strong focus on a few industries that we could master as per the choice. This is also a matter of choice left to the students.
Careers360: Tell us something about your college's cultural fests, business/sports competitions or other activities.
T. Annu Eswari: We are encouraged to participate in external activities of reputed institutions to improve our competitiveness.
Daksha is a symposium organized by the students of SSN SoM. The Business Quiz of the event is led by one of the alumni as the quizmaster and attracts quality participation from other institutions.
Careers360: What do you do when you are not studying or not attending the classes?
T. Annu Eswari: Being a residential program, students do have a lot of time. Putting this into good use in the limited duration of the program is the key to success. We are encouraged to form our own groups, do projects and participate in informal learning. Many of the courses have pre-session readings which need to be completed. This generates class participation. This, in turn, makes the class sessions very effective.
In general, any good MBA is a transformational course which comes with high expectations from the industry. Extensive reading is what distinguishes a good MBA from an average MBA. A well-stocked library in the campus facilitates this.
We have excellent sports facilities too. These are shared with other SSN Institutions since we are housed on the same campus. And, there are enough multiplexes and hangouts in nearby areas outside the campus for an occasional outing.
Careers360: There are always normal hangouts and few special hangouts like boys' secret corridors or the secret corner. What are some such special spots at the campus?
T. Annu Eswari: The lawns of the School of Management are expansive. If we are able to name the other spots, they are no longer "secret". There is also an imposing tower clock around which we spend many of our evenings engaging in arguments, discussions and gossiping.
A fully functional food-court is available for those who want variety.
Careers360: Tell us something about hostel life? What makes it special from other hostels?
T. Annu Eswari: Hostel life in SSN is unique. For many of us, this is the first instance where we are forced to manage our own lives and live independently (first signs of a manager!). The single room occupancy gives us privacy when we need it.
Wi-fi enabled and secured campus hostels assist in anytime and anywhere learning. Many of the strong outcomes of the program are directly related to informal learning outside the class.
Careers360: Tell us about the placement process/experience?
T. Annu Eswari: SSN creates good opportunities. Each student is encouraged to select the jobs of their choice and apply to it. The students cherish their learning and assess their strengths correctly and position themselves for job opportunities. About 90% of us get placed through campus. The others get good opportunities once they graduate. Only reputed companies participate in our placement process and job descriptions are well defined.
SSN believes that placement is a much-desired outcome rather than an objective. Those of us who do it right, mostly get placed. However, SSN is not an employment exchange.
Careers360: The new batch will join soon while you will be graduating. What would be your message to the juniors?
T. Annu Eswari: Two years go by in a flash so start from day 1. Drop your shackles. Inculcate good reading habits and focus on articulation.
SSN School of Management, Kalavakkam Updates and Articles
Questions related to SSN School of Management, Kalavakkam
Showing 1 out of 1 Questions