'Does college education help develop practical skills?' Says Sanjiv Marwah, Director, JK Business School
Prof (Dr) Sanjiv Marwah, Director, JK Business School was invited to speak at the prestigious Oxford Debate at Oxford University where he spoke on the topic 'Does college education help develop practical skills and find a job faster? Should the syllabus be changed drastically?' Dr. Marwah attended the event alongside noted participants from universities across the world.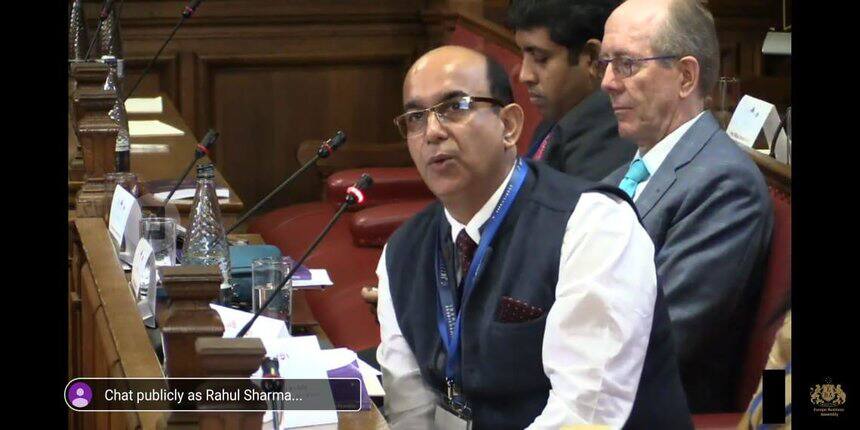 In his talk, Dr. Marwah said, "Traditionally, college education was expected to impart an education that could lead to building a career that, in turn, would lead to a viable economic activity and income generation. Colleges were expected to work closely with the industry and prepare students with the theoretical base of skills that would lead to practical skills of use in the industry."
Practical skills could be built and modified as per need and, therefore, were adaptable. It was thought that these acquired skills would help students find jobs faster. Unfortunately, surveys across the world have shown challenges in the employment of graduates. A survey by McKinsey Global Institute shows that corporations find only 25% of Indian engineers employable. A key reason for this has been increased acceleration in the obsolescence of jobs and the increased pace of innovation across industries. A second reason has been that the utilisation of skills has started to cover multiple industries or areas of study. Hence, students need additional expertise to find jobs.
The relationship between industry and academia needs to move from 'Producer-Consumer' to 'Collaborative- Interactive'. A dynamic and fast-paced change in industry warrants adaptive academia that is able to take inputs from the industry in an era where the half-life of skills is falling rapidly.
Dr. Marwah also suggested a syllabus updation framework to tackle the issue. The industry and the institution both need to develop a framework to facilitate industry interactions with faculty. Presently, both operate in different worlds. The updation of the syllabus is usually an annual or biennial activity but the interface of faculty and industry in the framework provides the requisite inputs for change. The frameworks may vary but the following are the general interaction platforms where sharing of learning experiences takes place -
Trade journals and magazines.

Live projects.

Summer projects or internships.

Capstone projects.

Research projects.

Academic writing.

Case writing.

Applied research.
Dr. Marwah cited IIT Madras (IITM) Research Park as an example of an initiative to promote such harmony. He said, "It helps companies with a research focus to set up a base in the Park and leverage the expertise of IIT Madras. The joint lab of Saint Gobain and IITM is a clear win-win example of such a relationship." He cited various aspects of this successful initiative –
Co-teaching sessions.

Workshops.

Professional associations.

Conferences / conclaves / seminars.

Consulting.

Faculty immersion programmes.

Strategic alliances.
Dr. Marwah cited a case study of JPMorgan Chase & Co. and Syracuse University that set out to transform the way students are educated, with a focus on better preparing students for technology careers in global organizations. Prior to this time, the two organizations had not worked together. However, from the start there was a shared vision to create a long-term relationship (10+years, JPMC funding of $30M) that focused on a range of activities, including research, curriculum and internships.
The collaboration has occurred at all levels of both organizations. Involvement and support by senior executives has been crucial to the success of this effort, as has been the involvement of faculty and technologists within JPMC. In fact, the collaboration has engaged hundreds of JPMC employees, hundreds of students (often working as interns) and faculty across all schools within the university.
The collaboration has resulted in joint applied research, many in the domain of IT risk and cybersecurity. These research efforts have reached into Syracuse University classrooms, impacting undergraduate curriculum content and engaged faculty and graduate students in real-world applied research. It has also resulted in the creation of a new domain, Global Enterprise Technology, and related programs. Further the collaboration has led to valuable internships.
To close, Dr. Marwah stated, "College education is invaluable as structured knowledge that helps students to find jobs faster and keep them for a longer time. But, as the rate of innovation accelerates across industry, academia needs to keep pace. The driving force behind the academic structure is the syllabus that needs to be regularly updated and managed."
JK Business School, Gurgaon Updates and Articles
Questions related to JK Business School, Gurgaon
Showing 18 out of 18 Questions