Director Interview of LBISM 'Institute aims to develop pragmatic approach' says Dr. DK Srivastava
Dr. D.K. Srivastava, Director of Lal Bahadur Shastri Institute of Management, Delhi believe in just having a bachelor's degree is not enough. Doing a postgraduate degree has become mandatory to shape up your careers. In this interview with Careers360, Dr. Srivastava talks on the PGDM program at Lal Bahadur Shastri Institute of Management, placement and academic trends and challenges of the management education at large.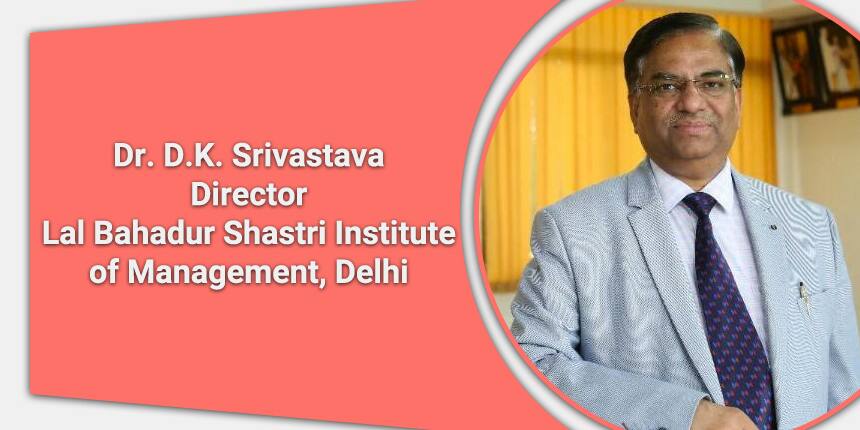 Excerpts from the Interview
Careers360: Tell us something about the institute; when it was set up, vision and mission?
Dr. Srivastava: Lal Bahadur Shastri Institute of Management (LBSIM) was established in 1995 to perpetuate the memory of India's second Prime Minister, Bharat Ratna, Shri Lal Bahadur Shastri. Since then, it has emerged as one of the prominent B-Schools in the country. It takes pride in being recognized as a pioneering institution providing value-based business education. It is a leading institution with a distinct philosophy that inculcates a deep rooted Indian value system among young budding minds. The Institute in its 25 years of existence continues to produce a cadre-based of professionals with a humane and pragmatic approach who strives for corporate excellence from time to time and contribute effectively to society as responsible citizens. The Institute provides quality-based business education to diversified student communities representing nook and corner of India by adopting innovative teaching methodology, developing scientific temper, fostering industrial links and engaging in research.
Vision: Leadership through Excellence in Value-Based Management and Technology Education.
Mission: To nurture and groom socially sensitive business leaders with a global outlook, supported by strategic national and international partnerships.
Careers360: Tell us something about the admission process?
Dr. Srivastava: LBSIM seeks admission to the PGDM(General), PGDM(Finance), PGDM (Research & Business Analytics) and PGDM (Logistics & Supply Chain Management) programs through a rigorous selection process comprising scores from competitive examinations like CAT, GMAT, followed by Written Ability Test (WAT), Group Discussion and Personal Interview (GD &PI). Students are selected by a group of experienced faculty members, industry experts, and distinguished alumni. This enables the Institute to select candidates from diverse educational and cultural backgrounds.
Careers360: What kind of infrastructure can students expect at the institute? Please elaborate
Dr. Srivastava: Bloomberg Lab: The institute has established an up-to-date finance lab with the support of Bloomberg India. It has a 12-terminal Bloomberg lab with a seating capacity of 24 students to give them access to live data feed from national and international financial markets. The latest financial data and reports available on Bloomberg act as a valuable resource to provide hands-on experience to students. It demonstrates macroeconomic data, market and
asset behaviors with real-time examples along with a visual introduction to the financial markets through Bloomberg Market Concepts (BMC).
Analytics Lab: The Analytics Lab at LBSIM is equipped with the latest tools required for Descriptive Analytics, Predictive Analytics, Big Data Analytics, and Business Analytics with the support of SAS India, IBM SPSS, IBM Amos and EViews. This software brings together business-focused academics and data science techniques to do cutting-edge research diverse areas related to automation, machine learning, Big data, text mining and the Internet of Things. The hands-on practice in these industry-relevant areas supports the industry readiness of students.
Auditorium: The state-of-the-art elegant auditorium having a seating capacity of 260 persons is equipped with 8000 Lumens Panasonic Projector Along with Wi-Fi connectivity and ultra-modern sound & lighting system. The spectacular stage with green room facility offers a magnificent venue for conducting national and international level conferences, seminars and other functions.
Lecture Halls: The campus hosts spacious, air-conditioned lecture halls and classrooms having Wi-Fi internet connectivity. All lecture halls and classrooms are equipped with a whiteboard, multimedia projectors, notebook/ laptops, and a modern sound system.
Library at LBSIM: LBSIM's library is one of the well-equipped libraries in terms of resources, services and infrastructural facilities in Delhi and NCR area. The air-conditioned library is situated on two floors having large seating & reading area. It has automated all its library activities for easy access to its wide range of academic resources such as books, journals, and online databases. At present, the library has a collection of about 42,000 select documents in the form of books/ reports, and other non-book materials, in varied areas of Management and Information Technology. It is subscribing to 133 select periodicals in print format and is having online access of over 4,154 periodicals. It has a dedicated E-Resource Section for accessing
electronic resources. Network resource sharing facilities are provided through DELNET. The library has been subscribing to prestigious electronic resources like EBSCO (Business Source Complete), EMERALD E-Journals, Sage E-Journals, IEEE-Computer Society Digital Library, PROWESSIQ-CMIE, CRISIL Research Database, Economic Outlook-CMIE, Indiastat.com,
Regional Business News, Ebsco-Ebook Business Collection, ET Cases & Harvard Business Publishing Cases, etc.
Computer Centre: LBSIM is a fully Wi-Fi enabled campus having twenty access points for 24X7 internet connectivity. The Computer Centre is equipped with over 100 networked computers having the latest licensed software and hardware offering 1:1 facilities through its 100 Mbps lease line.
Sports Facilities: The institute has facilities for indoor games such as chess, carom, and table-tennis. The campus also has a well-equipped gymnasium with modern equipment for physical exercises. The institute has corporate membership of DDA Sports Complex, Dwarka and its facilities are utilized for conducting various outdoor sports events from time to time.
Residence: LBSIM has partnered with an outside agency for providing separate hostel facilities to its boys and girl students. The hostels are located within a radius of 3 Km from the campus. The air-conditioned accommodation is on twin sharing basis. The institute has transportation arrangements for the commuting from campus to hostel and vice-versa.
Cafeteria: The air-conditioned and well-furnished cafeteria that has two floors offers a variety of cuisines and dishes for breakfast, lunch and dinner from 8 am to 8 pm. It caters to the needs of faculty, staff and students by offering home-style food & beverages at reasonable rates. Cleanliness and hygiene are the hallmarks of the cafeteria.
Medical Facilities: The institute has a well-equipped Medical Inspection (MI) room under the supervision of a Doctor, who visits thrice a week. The institute has also made an arrangement with Venkateshwara Hospital, Rockland and Akash Hospitals in Dwarka for Ambulance facility as well as other emergency treatments. There is a special tie-up with Venkateshwara Hospital for conducting Faculty Annual Medical Check-up.
Careers360: Industry interaction is being stressed by the AICTE as well as companies that recruit. What are the steps being taken by the institute in this direction?
Dr. Srivastava: Industry interface is one of the key activities in our institute and is very much a part of the curriculum. The CI (Corporate Interface) day is arranged once in a fortnight wherein industry experts share their views with the students. The industry practitioners and alumni are involved in curriculum review and revision, workshop and training programs, conferences and certificate programs. They are also invited for GD & PI process and are also part of BOG and Academic Advisory body of the institute.
Careers360: Internships are now mandatory as per AICTE guidelines. Does the institute help students with this? If yes, how?
Dr. Srivastava: Each student is required to undertake summer training in a company of repute for the duration of 8-10 weeks as part of a course curriculum after the third trimester examination. They also need to undertake a project assignment with the company. This project training provides an opportunity for the students to have first-hand practical exposure and allows them to relate the conceptual and analytical skills acquired in the classroom to actual managerial practices. The Institute, faculty, as well as the expert from the organization where these projects are carried out, evaluate various projects undertaken by the students. The institute has a placement cell and summer internship cell, primarily run by students, under faculty guidance. We have a strong network of industry mentors, alumni, and recruiters. The student bodies help in placing all the students for the internship. The process is rigorous and runs continuously till all students are placed.
Careers360: Can you please share details if there is any collaboration with universities abroad?
Dr. Srivastava: Lal Bahadur Shastri Institute of Management (LBSIM), Delhi initiated academic collaborations and linkages with several international institutions of repute. These are:
1. College of Business, Northern Illinois University (NIU), Dekalb, Illinois, USA
2. European Higher School for Economics & Management (EHSEM), Sofia, Bulgaria
3. Nipissing University, Ontario, Canada
LBSIM Placement Highlights
| | |
| --- | --- |
| Number of participating students | 240 |
| Number of participating companies | 113 |
| Number of first-time recruiters | 22 |
| Number of offers | 262 |
| Average salary | 9.2 L/annum |
| Highest salary | 28 L/annum |
| Lowest salary | 6.5 L/annum |
| Highest recruiting sector | Consulting |
| Highest recruiting domain/ profile/ function | Consulting/ Analyst |
| Company making the highest offer | DE SHAW |
| Top recruiting companies | DE SHAW, KPMG, Bain, Deloitte, E&Y etc |
LBSIM Updates and Articles
Questions related to LBSIM
Showing 28 out of 28 Questions